Redskins running backs coach Randy Jordan played nine years in the NFL. To be more specific, he played 122 career games from 1993 to 2002 with the Los Angeles Raiders, the Jacksonville Jaguars and then back with the Raiders in Oakland.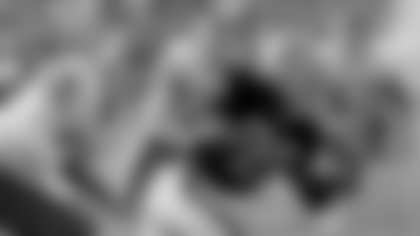 In fact, Jordan is the first player to have scored a touchdown, a 71-yard reception, for Jacksonville, which joined as an expansion team in 1995.
But in the middle of his career, Jordan was more obsessed with the reasoning behind the play-calling. Why did they run a certain play this way? He wanted to understand the orders he was given more than just follow them.
"All of a sudden I wanted to know why are we running this play? How does it affect cover-two, what's the coverage for this, what's the check?" Jordan said on a recent episode of "Redskins Nation."  "I went from memorizing plays to trying to figure out how I can attack this defense. What kind of coverage is this backer playing? Why are we running the wide look against this particular look? Why are we going to the shade? It's so many different things and so once that triggered in my mind, then I said this is something I wanted to do."
Jordan got his shot in 2003 with Oakland as a special teams assistant before becoming the running backs coach at Nebraska. He moved onto Texas A&M and then to his alma mater, North Carolina, in the same role. Then got the call back up to the NFL with the Redskins in 2014.