Redskins.com's Stephen Czarda breaks down the key players and matchups to keep an eye on during Friday's Redskins-Bills Preseason Week 3 showdown at FedExField.
"Redskins-Falcons: Ingredients For Victory" is presented by Papa John's.
Every Monday after a Redskins game, get a Large Cheese Pizza for just $9.99. Receive a FREE TOPPING for every Redskins touchdown. DOUBLE THE FREE TOPPINGS when the Redskins win!
---
THE TEST RUN
After most of the starters played only sparingly in the preseason opener against the Atlanta Falcons and some sat out the entirety of the Redskins' victory over the New York Jets last Friday, the first-team offensive and defensive units will likely play quite a bit against the Buffalo Bills.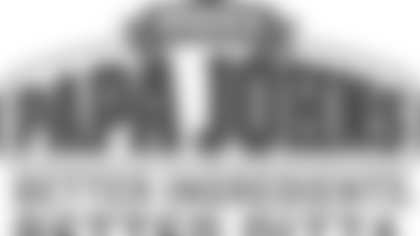 The third preseason game is traditionally one in which the starters will play around a half or so in their last appearance before the regular season.
"A lot of it is going to depend on how we are doing in the first half but I'd like to at least to get a good half," Redskins head coach Jay Gruden said. "Sometimes offense is out there a long time, defense isn't, or vice versa. We may need to come out for the third quarter. We'll see how the play count is and we'll go from there."
While quarterback Trent Williams has thrown just five passes in the preseason, he's received all of the first-team reps at the position throughout the entire offseason, a luxury he wasn't afforded last year.
"I feel like I've thrown a lot more than five passes because of how many reps I'm getting every day in practice," Cousins said. "And as a starting quarterback I'm getting a lot of reps, so much more than I would've as a backup quarterback. So, I feel very ready and then more importantly is the fact that we have this entire week to get ready like a normal rhythm to a game week. So those two things I think gets you about as prepared as you can."
You can also chalk up starting strong safety David Bruton Jr. as someone who is "extremely excited" to get extended action.
"I've only had 18 or 19 defensive snaps, so it's a little different for me," Bruton Jr. said. "I'm excited to go out there and play with the guys, at least a half, and see what we can do when we got everyone out there."
HIT THE GROUND RUNNING
Not only is Rob Kelley confirmed out for the final two preseason games, but Chris Thompson may be held out of the game against the Bills.
That means that Keith Marshall and Rob Kelley – who combine for just 25 preseason carries in their careers – will get a majority of the calls at running back.
Marshall is a seventh-round pick taken in this year's NFL Draft while Kelley was signed as a college free agent out of Tulane.
"I think [Robert] and Keith will get a lion's share of the carries," Gruden said. "It will be interesting to watch these guys. These guys have shown a lot of promise in training camp. We want to see them in game situations against a good Buffalo team and it will be a good test for them. Good for everybody."
Along with both trying to prove their worth as ball carriers, Gruden wants to see how they hold up in pass protection.
Defensive coordinator Joe Barry has been dialing up the pressure some in practice in an effort to increase their awareness.
"They've had their share of mix-ups and miscommunications, blocking the wrong guy or not blocking anybody," Gruden admitted. "As most rookies do, they learn by experience and we've given them a lot of opportunities to get some experience in walkthroughs and in practice, and they're learning from it."
PROVE YOUR WORTH
For the last time this year, the Redskins will carry a 90-man roster into a game. After the conclusion of the Bills game, Washington must cut down the roster to 75 players by 4 p.m. Tuesday.
Then by next Saturday, the roster will be sized down to just 53 players.
Even though the team has quite a bit of practice film on every player in the locker room, game performance is one of the biggest influencers in the process.
"You're the CEO of your own business," rookie running back Kelsey Young said. "You have to think about it business-wise. You have to do your best to maximize your potential with this team and also your career down the road, every scenario, the best case and the worst case."
Like Young, rookie wide receiver T.J. Thorpe knows that a strong performance in the preseason can go a long way in gaining attention across the league.
"Even if we're not here, it's an audition for the 31 other teams," Thorpe said. "Maybe somebody we're playing against likes it or somebody sees it on film, so we're not necessarily playing for here, we're playing for everyone."
Getting rid of young players that have given it their all in a means to make the roster, only to come up short, is never an easy moment for any coach.
"It is always hard to cut people," Gruden said. "These guys have worked hard. We have them from OTAs, minicamps obviously, then training camp, and you get to know these guys, you work with them, you see their improvement and then to have to let them go, it is very tough. But you're right, we have great competition at a lot of spots. The numbers are what they are and we have to just be selective and it has to be done. Every team has to go through it and every team is probably saying the same thing about right now. It is going to be difficult but we have to do it and we'll figure it out."
STAY POSITIVE
By Friday morning, the preseason will be in the rearview mirror for the Redskins before jumping right into the regular season with a primetime home matchup against the Pittsburgh Steelers, a team that is always a tough out.
As the team balances roster decisions with keeping the starters sharp, Gruden just wants his team surrounded by "positive vibes" heading into the season.
"You want to come out with some great energy," Gruden said.  "And I think you just want to display what we're all about – the effort, getting out of the huddle, tempo, all of that stuff. Offensively, defensively, the communication, all of that is very necessary. Hopefully we get some two-minute, some different situational work to coach off of and learn from, and we'll go from there."
As for Cousins, he just wants to show that he can still be the catalyst for an effective offensive unit.
"I want to make good decisions with the football, manage the game well for however long I'm in there," Cousins said. "I do expect it to be a good number of series. Just move the football efficiently. We'll see if it turns into a lot of points, but that's always the goal – to score points and get our offense going so we can feel really well heading into Monday night against the Steelers."