Redskins.com's Stephen Czarda breaks down the key players and matchups to keep an eye on during Thursday's Redskins-Buccaneers Preseason Week 4 showdown at Raymond James Stadium.
"Redskins-Buccaneers: Ingredients For Victory" is presented by Papa John's.
Every Monday after a Redskins game, get a Large Cheese Pizza for just $9.99. Receive a FREE TOPPING for every Redskins touchdown. DOUBLE THE FREE TOPPINGS when the Redskins win!
---
TIME FOR THE SUDFELD SHOW
The plan for Thursday's preseason finale against the Buccaneers – as was the case last year – is to have Nate Sudfeld start and play the entire game at quarterback.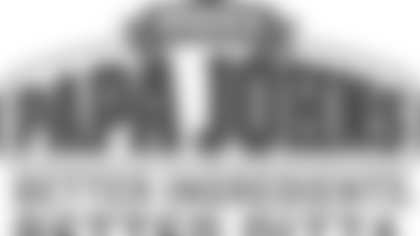 Since being selected in the sixth round of the 2016 NFL Draft last year, Sudfeld has been Washington's No. 3 quarterback behind Trent Williams and Colt McCoy.
His reps are few and far between as the third string quarterback, so Thursday will show just how much he's progressed in the past year.
"The thing about Nate is that Colt and Kirk are very selfish when it comes to reps so he doesn't get a lot," said Redskins head coach Jay Gruden. "So this is a great opportunity for him to show what he can do. He's had a few sprinkled in here – he played I think half against Baltimore Week 1, sparingly, he didn't play last week, and he played sparingly Week 2, so we'll see how he does. All those roster decisions, they are going to come up come Friday morning when we get back."
So far this preseason, Sudfeld has completed 11-of-23 passes for 132 yards along with five rushing yards. Last year, the Indiana product capped off his first preseason completing eight passes for 72 yards and a touchdown in a driving rainstorm at Raymond James Stadium.
ENCORE PERFORMANCE FOR MACK?
In that rainy weather last year, Washington was able to show the depth of the running back position with Mack Brown (149) and Rob Kelley (99) rushing for a combined 248 yards.
It was the conclusion of a training camp battle that would see Kelley edge out Brown for a spot on the Redskins' first 53-man roster. But Brown would reemerge after spending the first half of the year on the practice squad.
In a Week 16 victory over the Chicago Bears, Brown rushed for a game-high 82 yards, 61 of which came on a fourth quarter touchdown run.
With Kelley, Chris Thompson and rookie Samaje Perine expected locks on the active roster this year, Brown's performance against the Buccaneers on Thursday could go a long way into Washington's brass needing to keep four running backs up.
During the offseason, Brown cut down on his body fat while honing in on improved agility and speed through the help of players like LeSean McCoy and Tevin Coleman.
His hope is that it'll result in a stronger 2017 campaign.
"You watch [Thompson] every day and see that he is quick but then you see McCoy and I have never seen feet like that in person before," Brown said. "He would just tell me think about Kobe Bryant. Kobe worked on his shot every day, his dribble every day, post moves so why not work on your cuts every day. He was right. I lift and run but I don't do footwork every day. He said he works on his balance and footwork every day so he can come out his cuts better. So ever since then I have been working on coming out my cuts and balance drills."
THE SEARCH FOR THE RIGHT COMBINATION COMES TO A CLOSE
While training camp and the preseason can tell a story for how reps will be delved out during the regular season for most position groups, that isn't the case for the defensive linemen.
Under new defensive line coach Jim Tomsula, the Redskins have tried just about every combination possible with the linemen on the 90-man roster.
Washington, of course, lost Phil Taylor Sr. for the season with a torn quad tendon. The veteran was atop the depth chart at the nose tackle position. So how players like Joey Mbu and A.J. Francis perform against the Buccaneers could help in final decisions for which defensive linemen to keep on the 53-man roster.
"We feel good about the depth we have at the defensive line," Gruden said. "I've said that from day one. I think with Joey and A.J., they're playing well. Obviously Matt [Ioannidis] is playing well and Stacy [McGee] and you've got Terrell [McClain] and Ziggy [Hood], so we've got a good group. Anthony Lanier is young and he's still getting better. So we feel pretty good about our depth."
ONE LAST IMPRESSION
Less than 48 hours after the opening kickoff goes into the air at Raymond James Stadium, Washington will have to slice down the roster from 90 players to 53.
There will certainly be difficult decisions for the front office – as is the case every year – and there will be nerves for the players on the bubble.
But Gruden's hope is that everyone who dresses (the starters likely won't) have their best performance yet.
"Obviously we're excited to see how these guys play," Gruden said. "Last week, a lot of them didn't get a lot of chances to play. This is a good week for them to show how much they've learned throughout the OTAs  and training camp and now it's their opportunity to play well against a good Tampa team.  Not a lot of preparation time, obviously, which is a negative for them, but we hope that the fundamentals that we've taught and the plays that we have should be good versus everything and we'll see how they react and adjust."
For the pro scouts, they'll have a busy weekend ahead, but Gruden is confident the staff is prepared to assemble the best 53-man roster.
"Like I said, the scouts know them all a lot better than I do right at this second, so we'll get a look at who's out there and if we feel like they can make our team better, we'll look at them," Gruden said. "But I feel good about the guys we're going to keep. I don't want to let any of these guys go right now, but we're going to have to make those tough decisions. I like the guys that we have and I think we can compete with the ones that we have."