One hundred high school football players gathered around current and former NFL players to get advice on life outside of football at the Washington Redskins Charitable Foundation's 16th annual 4th & Life High School Football Forum on Tuesday at FedExField.
The event was emceed by returning guest, former NFL Pro Bowl defensive lineman and co-founder of the InsideOut Initiative, Joe Ehrmann.
Ehrmann started the event by encouraging the high schoolers to search for answers to questions they might not be asking yet, particularly with looking at their life after football.
Ehrmann noted that not many high school players go on to become professional athletes – the NCAA estimates that only 1.6 percent of college players go on to play pro football. But he told the kids that they could be successful and impactful in areas outside of football.
"You are the hope for the future," he said. "You are signs of hope, you are agents of hope."
With that introduction, the event kicked off a panel discussion featuring guests of Redskins players past and present. Current Redskins tight end Vernon Davis and center Tony Bergstrom sat alongside former Redskins running back Evan Royster and cornerback Josh Wilson.
Wilson, Royster and Davis are all from the D.C. area and are living proof to the high schoolers in attendance that they could make it, both on and off the field.
Royster, who had a decorated college career at Penn State (he's still the all-time leading rusher in school history) said he picked the Nittany Lions because of reasons outside of football.
"Things that I looked up when I chose to go to Penn State was their alumni association, their history and their tradition and the culture of how we treated life," Royster said. "It was a great experience and I couldn't have chosen a better route for myself."
After college, Royster played for four seasons in the NFL after getting drafted 177th overall by the Redskins in 2011. When his playing career ended, Royster pursued opportunities that led to his current profession as a financial adviser.
"Once I was released from the Redskins I was thinking about 'What's my next step?'" Royster said. "I just got my real estate license thinking 'Let me get used to doing something, let me get my feet wet,' and that kind of pushed me into other things and I think it was really just about staying active, just really doing something and not sitting back and waiting for something to come to me."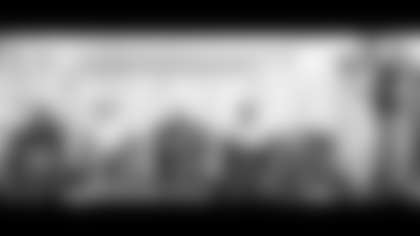 One of the major goals of 4th & Life event is to help high school players start thinking about a plan, like Royster did, for life after football.
After the panel concluded, the players and hosts split up into breakout sessions. Royster attended the session lead by Visa Inc. on financial literacy, educating students on how to deal with financial pitfalls such as unsecured credit and identity theft, through a fun and interactive football video game.
The other breakout sessions included social media and branding seminars led by Junior Achievement of Greater Washington, where students participated in a "social media scavenger hunt," where they had to find a positive influencer on social media who had successfully created their own brand.
Ehrmann also led a special breakout session for coaches based on his InSideOut Initiative, which focuses on eliminating the "win-at-all-costs" emphasis in high school sports and promotes a human-growth oriented approach.
Ehrmann ended the panel with a strong message for the student athletes in attendance.
"What you're going to learn in the game of football is discipline, moral and performance character, that's what's going to allow you to live the life that you want to live," he said. "And you can see it from the men up here, not only are they great athletes but they're great men of character."