The Redskins.com crew breaks down the key players and matchups to keep an eye on during Sunday's Redskins-Eagles 2017 Week 1 showdown at FedExField in Landover, Md.
"Redskins-Eagles: Ingredients For Victory" is presented by Papa John's.
Every Monday after a Redskins game, get a Large Cheese Pizza for just $9.99. Receive a FREE TOPPING for every Redskins touchdown. DOUBLE THE FREE TOPPINGS when the Redskins win!
---
KEEP IT UP, KIRK
The Redskins have won their last five games against the Eagles, with Trent Williams serving as the team's starting quarterback for the past four matchups between NFC East foes.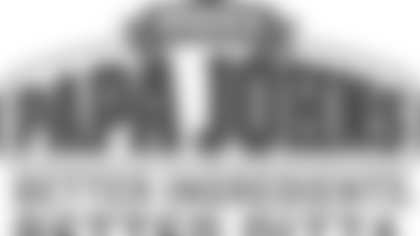 In those four starts against Philadelphia's defense, Cousins has completed 94-of-145 passes (64.8 percent) for 1,152 yards and nine touchdowns to just two interceptions. He also has a rushing score as well.
Despite his recent success against the Eagles, Cousins enters Sunday's game with a little less certainty with his weapons. Unlike last season where he return proven players in DeSean Jackson and Pierre Garçon, Cousins' top two receiving targets could be Terrelle Pryor Sr. and Josh Doctson.
Pryor is coming off a 1,000-yard season with the Cleveland Browns, but is still relatively new to the positon. He was brilliant during training camp, wowing fans with acrobatic catch after acrobatic catch. But he showed room for improvement during the preseason, struggling to retain some of his targets.
Doctson, meanwhile, oozes talent but could not stay healthy his rookie season as he appeared in just two games.
Even though the 2015 unanimous All-American is still somewhat of a mystery, Cousins thinks his natural abilities could make up for lost time on the field.
"We just do need him out there for him to be able to show what he can do and really make a difference for our team and for our offense," Cousins said. "I'm excited for that just like I'm sure the fan base is to see what he's got in the tank. We've had a good week of practice here. We've just got to continue to give him opportunities."
Cousins understands that the task ahead won't be easy, even if Doctson is at full health making players. Last season, the Pro Bowler threw two pick sixes against Philadelphia.
"They do have a good scheme," Cousins said. "Then when you think about the fact that it's now their second year in this scheme, that gives their team ability to get the personnel catered to what they want and to have more experience. It's going to be a really good challenge, and it's what you expect. Week 1, Redskins-Eagles. I think it'll live up to how intense you expect it to be."
TIME TO SHINE, SHAZE
With safety Su'a Cravens being placed on the Exempt/Left Squad list, head coach Jay Gruden called upon the next man up, Deshazor Everett, to take his place.
Everett fought his way onto Washington's active roster after transitioning from cornerback to safety. His best game at safety came during the Redskins' victory over the Eagles last December, as he recorded his first career interception on a throw into the end zone by Carson Wentz.
"I think he will do a good job," Gruden said. "It's just a matter of lining up correctly, getting the calls, communicating with D.J. [Swearinger] and making plays. I know the one thing he can do, he can tackle. He is not afraid."
Everett will be tasked with corralling Philadelphia's much improved receiving corps, led by new addition Alshon Jeffery. Everett will have help from cornerback Josh Norman when guarding Jeffery, but when it comes to deep jump-balls, Jeffery's specialty, the tall receiver has the height advantage.
"They've got some guys that can go deep on you," Everett said. "They've got some big body guys, Jeffery. They've got a guy in the slot that can do everything, a gadget guy. They've got Sproles who can line up at tailback and could split out and catch passes on screens. First down, second down, goal line, they just do it all."
REPEAT LAST YEAR'S GROUND GAME PRODUCTION VS. PHILLY
While the Redskins were inconsistent running the ball last season, two of Washington's best ground performances came against Philadelphia.
In a Week 6 27-20 victory, Washington's tailbacks combined for 230 rushing yards. Then in December, Rob Kelley and Chris Thompson each scored touchdowns as the duo combined for more than 100 yards on just 19 carries.
Gruden said this week that the offense, despite so many weapons out wide, is at its worst when they're not multi-dimensional. Center Spencer Long echoed the coach's sentiment, saying it will take a unit effort to make sure Washington's ground game anchors a well balanced attack.
"It's just being consistent; all 11 guys and clicking on all cylinders, and that means back-timing on the offensive line, not missing blocks, the edges holding up, the tight ends knowing their assignments," Long said. "It just takes everybody, so to have an efficient run game in this league, everyone's got to be on and a hat and on their assignments. That's what we've got to do."
Washington's rushing attack could be a three-headed effort with Kelley and Thompson this year joined by rookie Samaje Perine, a powerful runner who set Oklahoma's career rushing record last year.
But the group will be led by Kelley once again, Washington's starter for the final nine games last year. Settled into his role this year after clawing for time at the beginning of last season, Gruden expects a jump in Kelley's production.
"He knows protections, running lanes, the steps, the footwork and all that stuff," Gruden said. "He's a lot more comfortable or more natural where now he can get the ball in his hands and do his thing. Been impressed with how he's progressed from his rookie year to now."
DON'T LET THE BALL FLY OFF WENTZ' HAND
Redskins' fans and players alike experienced the true potential of quarterback Carson Wentz in the most recent matchup between these division rivals.
In the teams' most recent meeting, the then-rookie impressed, completing 32 of his 46 passes for 314 yards and a touchdown. Wentz had the Redskins defense on the ropes late in the fourth quarter as well, until Ryan Kerrigan's game-sealing strip sack with under a minute to go removed all doubt.
Wentz's performance that day represented one of the few bright spots in what was a tough second half of the season for him. He claimed the spotlight early on in the season, putting up passer ratings of 101.0, 86.6, 125.9 and 102.8 in his first four games as a pro, but those numbers soon began to fade. His average passer rating dipped to 72.1 in the last nine games of the season. Despite his inconsistency, Wentz showed flashes of a franchise quarterback in his rookie season. 
"He's a good quarterback, he definitely is," Everett said. "He can throw the ball well. He has mobility. You can't just give him a title of 'He's a pocket passer' or 'He's a runner,' because he'll run to create, or he'll sit in the pocket until he's hit and delivers a throw. That's maturity of the quarterback.
The 24-year-old enters his second season in the league with somewhat of a new supporting cast. Jeffery looks to be replacing Jordan Matthews in the top wide receiver spot after signing with the team this offseason, while fellow newcomer Torrey Smith is projected to start alongside him at wideout. Additionally, LeGarrette Blount will anchor the backfield after his standout season in New England.
The Redskins need to a find a way to frustrate him so that he can't get into a tempo with a rebuilt offense.
"We have to try to get them some third-and-longs and put our hand in the dirt and let Ryan Kerrigan and Junior Galette and all the rest of the guys rush," Gruden said.