From Sam Huff to Chris Hanburger, Kurt Gouveia to Monte Coleman, and Ken Harvey to London Fletcher, the Washington Redskins have employed some of the greatest linebackers in NFL history.
At some point, sometimes unbeknownst to the public eye, the proverbial torch of linebacker leadership is passed on.
Wednesday marked another moment of transition, but this time in front of local media as Fletcher eluded in a special press conference that 2013 will mark the end of his lengthy career.
He also admitted that the foundation of the next generation of superb linebacking has already been set in recent seasons with Perry Riley Jr., Ryan Kerrigan and Brian Orakpo.
Since 1998, Fletcher has appeared in 254 consecutive games, starting the last 213, the truest testament to his one-of-a-kind preparation skills and passion for the game. The streak is the longest by a linebacker in NFL history.
With four Pro Bowl selections, two playoff appearances and 552 tackles in Washington, D.C through six seasons, Fletcher said he was about 90 percent sure at the beginning of season No. 7 that he was going to retire at season's end.
He accomplished just about every goal he set in front of himself. Now he believes Riley Jr. is the players at the heart of the unit to take the defense to the next level.  
Really just looking at last year and our run, where I thought the state of the franchise was, I didn't feel like my work was done here just yet," Fletcher explained.
"But as this season has gone, I really wanted to help Perry Riley [Jr.] develop a little bit more. I think he's at that point where Perry doesn't need me anymore.
"He's that player that I know he can be."
Fletcher's last 38 starts have come alongside Riley Jr. who made his debut in the starting lineup in Week 10 of the 2011 regular season after Rocky McIntosh's struggles opened the door of opportunity.
Over the last two seasons as a full-time starter, the former fourth-round pick out of Louisiana State University has recorded at least 100 tackles, seven passes defensed and two sacks.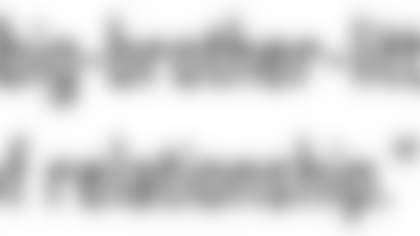 As someone Riley Jr. looks up to both on the gridiron and away from media spotlight, he explained that the Fletcher's approach to the game is something he and teammates have gravitated towards.
"It's definitely a big brother little brother type of relationship," Riley Jr. said shortly after Fletcher's announcement. "I have the utmost respect for him; he's helped me out a lot through the years. I've learned on and off the field how to become a pro.
"He's a great example of that. I thank him a lot and I owe him a lot. Even though he's been in the league for 16 years and he knows just about everything, he still tries to learn. He doesn't act like he knows everything. He's still trying to grow as a player. He still takes notes every week [and is] watching the film of practice.
"It's stuff like that that you only do if you really love the game. He's one those guys that really loves the game."
A 2012 Pro Bowler alongside Fletcher, Kerrigan said he has leaned on the veteran's presence since his selection in the first round of the 2011 NFL Draft.
"He's been a blessing," Kerrigan told Redskins.com. "For me to come into the league and he being a leader, especially at the linebacker position and my own position room, [I'm] really fortunate to have been able to play with him.
Kerrigan also attributed his work-ethic beyond gamedays as a point of emphasis in work week application.
"You hear stories about guys that don't practice during the week and then go out there and play on Sunday, but London does it every day in practice," Kerrigan said. "[He] brings the same intensity to practice and that's the thing I noticed right during my rookie year—how consistent he was in his preparation both physical and mental."
In 2009, Fletcher and Orakpo became the first set of Redskins linebackers to appear in a Pro Bowl alongside one another since Chuck Drazenovich and Torgy Torgeson did in 1956.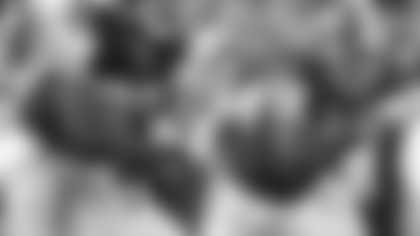 Together, they recorded 192 tackles and 13 sacks that season.
Four years later, Orakpo continues to tip his hat to Fletcher's extensive experience as a boost to a young unit.
"The way he prepares himself, the way that he knows stuff that's going to happen before it happens, the way he sees formations," Orakpo said. "He can kind of decipher the different plays they're going to run. Man it's amazing.
"London is a special guy that you can't replace."
Sunday's game may very well likely be Fletcher's last at FedExField, the site of many great moments over the last seven seasons.
Just as he does before every game, Fletcher will gather fellow linebackers and provide an invigorating motivational speech explaining that linebackers set the tone for the defense.
While he hasn't had any time to consider the void left behind, Kerrigan said knowing the next two weeks may very well being Fletcher's last are providing an extra layer of incentive to defeat two division foes.
"It's going to make me play that much hard these last couple of games knowing it's the last time I'm going out on the field with Fletch," Kerrigan said.
"What he says definitely carries a lot of weight. He's the guy that breaks us down before we take the field. He's the one that gets us fired up so it'll be different; I don't know who will take the reins. But it'll be different without Fletcher around and I'll definitely miss him."