The Washington Redskins are such an international phenomenon, that one of their biggest fans, Lukas Grossmann, flew 12 hours from Germany to Washington, D.C., just to see his favorite team take part in a minicamp practice last week.
"My friend lives here, and I planned on visiting him and he asked me then if I wanted to watch the Redskins practice and I was like, 'Sure it should be very exciting,' Grossmann said. "I watched a few games last year including the [Minnesota] Vikings [play the] Redskins and I became a fan."
Once Grossmann arrived at Redskins Park, he says the team rolled out the red carpet for him.
"It was very good," Grossmann said. "As we came they greeted me, and they already knew that I'm German, and they tried to spell my name which was very funny, and everyone was very, very nice and the food was very good, too. The facility was very nice and I was amazed with it because I have never seen something like that in Germany, so it was pretty awesome."
Just being on-site and watching his favorite team would've been enough for Grossmann, but the team didn't stop with their hospitality towards him. Grossmann also got to meet two of his favorite players.
"I think the part that was best for me was when this guy came over and said 'Do you want to meet [cornerback] Josh Norman and [wide receiver] DeSean [Jackson]?'" Grossmann said. "He then took me over to them and I had a 10 minute conversation with Josh Norman about soccer and Germany. I don't know I can't even describe it, it was awesome."
"I actually couldn't believe it because Josh Norman is one of the best players [in the NFL]," Grossmann said. "I actually at first thought it was a joke, but it's pretty amazing that they got him."
Grossmann admitted that it was a little "intimidating" when he first came into contact with Jackson, because he was such a huge fan of his, but Grossmann said Jackson put his mind at ease pretty quickly as they conversed.
"He was the first guy I really looked up to, as I watched YouTube videos of him," Grossmann said. "That was before he even signed with the Redskins. As I came to the U.S.A., I didn't know in the beginning, but I learned DeSean he is playing for the Redskins now and I go, 'Oh my gosh this is amazing.' And now I stand before him and actually seeing him practice and see his speed and everything, it was kind of a dream."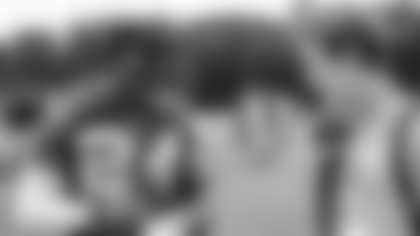 If you've ever been to one of the Redskins' practices, you know how big and fast the players are. Grossmann had never been to one, so he was completely blown away at what went down right in front of him.
"Yeah I was overwhelmed," Grossmann said. "I've never seen anyone run that fast and it wasn't just one person, but everyone was explosive, fast, and they were really going at it. I've also never seen people that were so huge and big and also that they are fast even with being so big. You don't see anything like that in Germany."
Grossmann wears his Redskins gear proudly back in his home country, and it actually attracts a crowd when he's out in public. The beautiful thing about being a fan of the Redskins is that Grossmann can run into perfect strangers and strike up a conversation, and learn that they're fans of the team, too.
The trip to the Washington, D.C., area has been a dream for Grossmann. Coming to Redskins Park, being treated like royalty, and meeting two of the Redskins' players was a perfect capper for him as he prepares to head back home next Monday.
Grossmann says he'll continue to follow and root for his beloved Redskins back in Germany. He saw the team do some wonderful things last season, and he's expecting a lot more out of them this coming season.
"I truly can [see something special]," Grossmann said. "I actually think that they will win at least one playoff game, because I think now with [quarterback] Trent Williams, the [wide] receivers are very good, [tight end] Jordan Reed, also with Josh Norman on defense, [we] will do a lot better. I'm pretty sure we'll make it pretty far and can build on last year's experience.
"I think playoffs for sure, division champions for sure, and might even, I don't know, maybe Super Bowl, I don't know," Grossmann said.