"Redskins Past To Present" is a new series for The Redskins Blog during the offseason that catches up with Redskins alumni – some famous, some forgotten – that have spent time, long and short, in the Redskins organization.
With their time removed from the game, we hope to highlight the many former players and coaches that once wore the burgundy and gold -- we'll talk about their memories, their experiences and what they're up to today, in no particular order, to give a snapshot of their lives as ex-football players.
Andre Lott played three seasons with the Redskins from 2002-2004 and then joined the Chargers, Bears and Steelers in 2006 before eventually retiring. He had 32 tackles and a sack in 31 games in the burgundy and gold. He currenty lives in Memphis, Tenn., as a teacher and coach. 
You played with the Redskins for a few years starting in 2002 when Steve Spurrier was hired as head coach. What was that like for you as a rookie?
Well, you know the crazy thing was he had just left Florida and I had just left Tennessee and that big rivalry that both colleges always had carried over a little bit.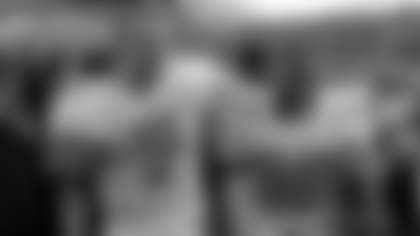 So that must have been very strange for you
It was. His son was the wide receiver coach and he had a lot of former Florida athletes on the team, but it was fun, it was a good time. But we had a rough year that year through that transition, but it worked out fine.
When Joe Gibbs returned in 2004, what was the feeling like around the team? Were you excited for him?
Absolutely. You can obviously tell there was a lot of experience, there was a lot of structure. It was more physical. It was more fun. We knew the expectations. We knew he was guiding in the right way. It was great. Loved his family, always around, which carried over into the locker room.
I know he had an impact on a lot of players, but did you get a chance to have a relationship with him at all?
Not really, because in his first year I was trying to install the new system, really get to know everybody that was in the organization. A little bit of time, but really no one-on-one. But the little bit that I knew, I knew he was a great man.
When you retired around 2007, what made you make that decision?
Definitely teams were calling. It's one thing to love football, but then to deal with the business side of it, really job security, and I just really made the decision that I wanted to focus on the second part of my career. It was a good time for me to start that. I have no regrets. I made some great friends that I still talk to to this day. That's really what it was. Job security, not knowing. That's really the tough part of it.
Compared to your era a decade ago, have you thought about what it would have been like playing as a safety in today's game?
Yeah, when I came out, I guess I was considered a "tweener" where I could play a corner and safety, the nickel package and also play the back end. Then being able to work with Matt Bowen and when Sean Taylor came in, seeing him, how physical he was in practice carrying over to the games, it's definitely different. Yeah there a lot of issues concerning the brain, the CTE, but I don't think, it's just my opinion, I still don't think it's going to change the effects when guys retire.
You mentioned Sean Taylor. What did you take away from your year on the field with him?
Man, Sean was a great man. I loved him to death. Like I said earlier, worked extremely hard. I know the beginning of the season didn't work as well as he wanted it to, just picking up Greg Williams' system, but eventually he was in the starting lineup. I was able to start a couple games together before I got injured. He was quiet, always having a good time, but when those lights came on, he was a different player for sure.
You recently spent some time as a character education coordinator at Tennessee. How did you get involved in that?
I was working in education trying to get back to my alma mater. My experience in the NFL dealing with money, dealing with life issues, I thought it was a great fit dealing with college athletes and all the pressures that they go through on a daily basis. The program is still doing very well.
What are you up to today? I saw you're living in the Memphis area now.
I am. I am a middle school dean of students. I also teach an upper school African-American history class for 12th graders. I also coach varsity football and varsity track.
What's that been like to get back into coaching?
It's fun. You always can guide students when they have adversity in football. It obviously carries over into their academic part and real life issues and it's great seeing them grow, seeing them graduate. It's fun. I usually don't tell them that I'm a [former] ballplayer but they usually find out through the internet. But once they find out they have tons of questions. They really focus more because of my experience.
So what's the first thing they ask you when they find out?
"Why didn't I tell them!" [laughing]. It's been fun. I'm actually thinking of coaching one more year and then I'm going to start on my PhD in education and administration [at Trevecca Nazarene University]. I got my Masters, that was basically the same thing, now it's just putting together a dissertation. 
Other Redskins Past To Present Interviews: