"Redskins Past To Present" is a new series for The Redskins Blog during the offseason that catches up with Redskins alumni – some famous, some forgotten – that have spent time, long and short, in the Redskins organization.
With their time removed from the game, we hope to highlight the many former players and coaches that once wore the burgundy and gold -- we'll talk about their memories, their experiences and what they're up to today, in no particular order, to give a snapshot of their lives as ex-football players.
Dan Ryczek started his nine-year career in the NFL with the Redskins at center in 1971 after being drafted in the 13th round from the Unversity of Virginia. He made his way back to head coach George Allen with the L.A. Rams at the end of the decade before retiring and currently lives in Gaithersburg, Md., working at a global investment company.
When you attended the University of Virginia, were the Redskins the team to root for while you were there?
Yeah I think they were, the Redskins were. We had the Colts up there, too.
I know you grew up in Ohio, but were you or your friends Redskins fans before you got drafted by them in the 13th round?
Yeah I'm from Ohio and I wasn't really a Redskins fan. Probably a Cleveland Browns fan. I was drafted in the 13th Round and that was George Allen's first year of course. I had a couple of knee operations in college and I was All-ACC my senior year and I got the award for the best offensive lineman of the year. And when I went into talk to the Redskins about a contract and so on, I said that and they said, "Well, that doesn't mean anything." They said, "We're going to give $15,000 a year for three years," and I think a $3,000 signing bonus and that was it, take it or leave it.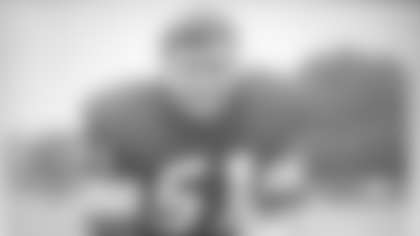 You were drafted in 1971, but I don't see stats for you until 1973…
Well, this is what happened. I go to training camp not realizing I didn't have a shot. I remember packing my car and driving to Carlisle, Pennsylvania. I go through training camp and somehow I end up being the guy. We have our first exhibition game in San Diego. I think we made like 50 bucks a game. I was the longsnapper. Snapping in the first half, not a problem. We come out the second half and we're receiving the kickoff and I'm in the wedge on the return team. We get the ball, run up field, I make a block. Unfortunately I got my right hand stepped on. So I come off the field and I talk to our trainer, Bubba. He says let's get some ice on it, so I sit down on the bench and I've got a big ice-pack on my hand. Of course the offense goes three and out. They're yelling "Ryczek! Ryczek" and I hop up, put my helmet on and I think the ball's on the 15-yard line. I proceeded to snap it over [punter] Mike Bragg's head through the goal posts and out of the end zone. To make a long story short we lost the game. George [Allen] had a thing about young guys and the story I got was I was cut on the plane coming back [laughing]. I was claimed by another team and then George took me off the waivers and waived me to injured/reserve.
So he did know your future value…
Well I was pretty cheap, too [laughing], but nobody was making a lot of money back then. I got a chance to snap the ball again in preseason in '72 and everything went fine, but then George put me on injured/reserve again. Everybody has injuries, it's a contact sport. Back then you played hurt.
How tough was it to see your team reach the Super Bowl that year without playing?
Well, I was there, I practiced with the team every day, and I did the other team's offense. When we went to L.A. for the Super Bowl, George took me, I was on the sidelines and I was keeping a chart. And then we come back in '73 and it was my job to win or lose and the rest is kind of history.
What did you make of George Allen in those first couple of years?
He was a great coach. We all loved him. He treated us like men, which was different than people were treated back then when you played football. Our practices were very long but we didn't do constant hitting. We did some hitting, but [practices] were so mental in their structure. So we get to the game and the mental mistakes are at a minimum.
I know George Allen traded back for you when he was with the L.A. Rams, too. **
What had happened was when the expansion teams, Tampa and Seattle, came on board, I was picked in the expansion draft by Tampa. I was there for two years. By that time I'm 28 and I'm too old for Tampa because they're rebuilding. Steve Spurrier was our quarterback for one year and I started most of the games when I was there. So George goes out to L.A. and he trades for me because they need a longsnapper. That's how I ended up in Los Angeles…I go out to L.A. my last two years and my last year there – '79 we went to the Super Bowl – a lot of guys got hurt. I was the backup center and I also played guard if I had to. I eventually played three games at guard for us and I had never played guard in my life. I knew the system and the assignments and when everybody came back we ended up going to the Super Bowl.
What was it like playing under George Allen in Los Angeles those years later?
It was so nice going to Los Angeles because No. 1, when you get traded like that, it's nice to be wanted. Somebody really wanted me. I was an older guy at the time but I was his type of age.
Right, his desire to have older player eventually worked out for you…
Exactly. The NFL is a hard place to make it. Every layer of sports is a weeding out process. Everybody's "All-Everything" where they came from and the difference is mental. The mental part of the game is so difficult up there. It is so fast, it's unbelievable.
What's the best piece of advice Allen gave you in terms of the mental game?
Study real hard. Our playbooks were very thick. Study real hard so you don't make any errors -- mental errors or physical errors -- that all the guys had. And play together. There was this thing about "We're against the world, because the world was against us." Most of the guys bought into that which is why he was so successful.
Are you still working today?
Still working. I had a job in the offseason where I was a stock broker. My major in college was economics. After I retired I went to the Philadelphia Stock exchange and started working for a little firm there, just basically taking orders over the phone and running them out to the broker. Then eventually I became one of the brokers out there executing orders and then it progressed to where I was trying to make money as a trader. That ran its course and I eventually started my own firm, mortgaged my house to give me seed money and I started trading there. I came back here [Washington, D.C.] in '85 and I started working for the Fund For Government Investors. With my experience on the floor trading options and stocks I created several mutual funds publically traded for investors. And then I started working for Loomis Sayles in 1993. My duties have evolved over the years and now I service about 80-100 accounts. I'm the guy that goes in there and talks to the board.
Living in the area, are you still connected with the team pretty well?
Oh yeah. Very involved in the alumni. When they have charity events around here I definitely make myself available. It's a great area. I've been here since 1971 so it's kind of neat. This is my home now. I'm very lucky. I was the right place, right time. I've got nine years towards my pension in the NFL and it was unbelievable.
[This interview was condensed and edited]
Other Redskins Past To Present Interviews: