"Redskins Past To Present" is a new series for The Redskins Blog during the offseason that catches up with Redskins alumni – some famous, some forgotten – that have spent time, long and short, in the Redskins organization.
With their time removed from the game, we hope to highlight the many former players and coaches that once wore the burgundy and gold -- we'll talk about their memories, their experiences and what they're up to today, in no particular order, to give a snapshot of their lives as ex-football players.
Dave Harbour was a walk-on at Illinois and found a roster spot with the Redskins during the 1988-89 seasons. He moved onto the London Monarchs for two years before finding a second career in sports sales and eventually real estate. He currently lives in Virginia. 
When you played football at Illinois, were you always the team's longsnapper?
I was a walk-on actually, I played offensive line but I did long snap.
How did you get involved with that position?
Ironically, I got into it because I broke my ankle in high school and I couldn't practice technically, so I just stayed on the sideline and longsnapped and eventually worked my way back through injury.
Did coaches tell you that skill was worth pursuing?
You know what's funny is, back then it wasn't as prominent as it was now. Now, they've got camps and people can make a career out of it. Back then, no, not so much.
Did you sign with Redskins after the 1988 NFL Draft?
They went to the Super Bowl in San Diego and I signed as a free agent a couple months later. They had a lot of fans here coming off the Super Bowl and had a lot of high-profile players and certainly [head] coach [Joe] Gibbs. I was honored to be on the same team as a coach of his caliber.
*Did you have NFL aspirations? *
You have to understand, I wasn't recruited. I walked on to a Big 10 University, not really playing my senior year, so it was like a Cinderella story. After two years I earned a scholarship, but I still was just happy to be there and get an education. It wasn't until my senior year when I started having some success and then eventually went to the Hula Bowl in Hawaii, an All-Star game for seniors, and I'm thinking "maybe." It might be nice just to go to a camp to say that to my kids. Then it just kind of parlayed.
How did the Redskins find you?
I have no idea. All I know is that they ended up signing my roommate and the guy that played right next to me on the line [Mike Scully].
To join a team after just winning the Super Bowl, what's going through your head?
You're star-struck, it's awesome, you're a college kid. Even as a free agent, you get a few dollars to sign and super excited just to be there. But there's actually a funny story that occurred with my signing and then going to camp. I was signed by Bobby Beathard, the general manager at the time, so I went through training camp and at the very last cut I was released, and they kept my roommate. The Monday against the Giants, he had a couple of bad snaps – he was also a longsnapper and they kept him over me. During that game you could hear the announcers saying "Bobby Beathard's probably looking for a longsnapper tonight." I was at home thinking "That's me! I was there in camp! They've got to call me." Well, a couple days had passed and no phone calls and depression had set in. I was outside cutting the grass and I remember my mom saying "Hey, David, Bobby Beathard is on the phone." I thought she was playing a joke on me. She said, "No, he's on the phone," and I told her to tell him, "Tell Bobby I'm cutting the grass, I'll get back to him." [laughing] It was him, and the rest is history.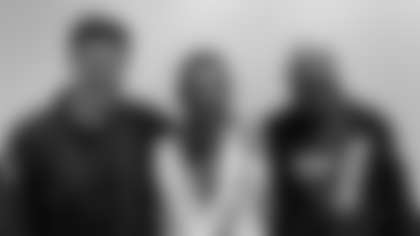 You played two seasons in Washington, correct?
Yeah, and then NFL Europe started and I was drafted by the London Monarchs and went over there and our first year we played at Wembley Stadium and won a world championship for London. And then I went to camps with the Lions and Steeler and my career was done.
Was the move to London a chance to keep playing?
Yeah my third training camp I got cut. I was always kind of an in-between player. Too small for offensive lineman, not fast enough for tight end, but I was still young and still wanted to play. I knew I could longsnap. So signing with London was awesome, still young and travelling the world and had a lot of fun in that league.
What was the biggest difference playing football in London?
In all fairness, it was actually more fun than the NFL. It wasn't quite the pay, but it wasn't as pressurized, it wasn't as structured, and yeah you're living abroad and we were getting paid to do it.
The Redskins are playing in Wembley this year. What do you remember about playing there and the fans in the U.K.?
Well, first of all, we absolutely packed them in there. We had 40-50,000 people out at games, which was fantastic. It's funny because they cheer a little differently over there for the game. Strange things like kickoffs or punts. They would just cheer at strange times during the game. And the other thing that I noticed is that they're constantly making noises, constantly singing almost like a soccer crowd would. It was a little strange at first but it was kind of neat.
What was your career path after football?
A friend of mine offered me a job in a sales and marketing development company. Did that for about  a year. I liked the training but didn't like the clients. A friend of mine who was working for Abe Pollin in the NBA said hey why don't you interview there, and so I interviewed and I became the director of sales for the Washington Bullets, and then the Wizards, for five years.
Are you still in the sports field?
No, my last year was 1998. That was when the Caps went to the Stanley Cup Finals against the Red wings. I hit a fork in the road and I made the choice of, I never want a boss anymore, so I got into real estate and ironically that was my first job in the offseason when I was with the Redskins. The rest of my teammates were off pumping iron and doing stuff and I put on a tie and got some stuff on my resume. I've been in real estate now for 18 years. I'd like to think I'm successful. I was even fortunate to do some television on HGTV. I did a show called "Get 'em Sold" and I was a re-ocurring real estate expert on several episodes.
Living in the area, have you been able to follow the Redskins pretty well?
Yeah. Since Bruce Allen came back, he's been very generous with including the alumni in a lot of events and the alumni game and stuff like that. I go [to the Alumni game] every year. I usually pick a friend who's never been just to give them that experience. 
[This interview was condensed and edited]
Other Redskins Past To Present Interviews: