"Redskins Past To Present" is a new series for The Redskins Blog during the offseason that catches up with Redskins alumni – some famous, some forgotten – that have spent time, long and short, in the Redskins organization.
With their time removed from the game, we hope to highlight the many former players and coaches that once wore the burgundy and gold -- we'll talk about their memories, their experiences and what they're up to today, in no particular order, to give a snapshot of their lives as ex-football players.
George Nock was a running back with the Redskins during the 1972 NFC championship season after playing two years with the Jets. He retired shortly after due to a knee injury and eventually turned a hobby sculpting clay into a full-time career. Today, he lives in Atlanta, Ga., continuing to make bronze sculptures, many of which you can see here, out of his own studio.
You played one season with the Redskins (1972), but do you feel like you picked the right one?
Yeah, I had played out my option with the Jets. And it came down to Pittsburgh, Jets or Cleveland Browns. Then George [Allen] remembered how I beat him. If you beat George somewhere along the way, he will remember.
What do you remember about George Allen?**
He was pretty straight. What he used to do is he would prepare, he would leave no stone untouched, and make sure you got it. I know we always realized that. We'd say "dang, these practices are almost three hours a day" vs. an hour-forty five minutes, two hours with the Jets. He was thorough. But the Jets were thorough in their way as well. They were two opposite coaches -- Weeb Ewbank and George Allen. And the thing is, both of them successful.
That season you were mostly the backup to Larry Brown, right?
Yeah, but the way the preseason was unfolding, I wasn't going to be a backup too long. The first time we practiced with Larry Brown, it came down to him and I and I guess I pushed him enough to be MVP of the year [laughing]. That year I had the least carries and the most yardage in preseason, and my first time carrying the ball in my first preseason game, I only played the second half, I gained over 120 yards. When I got off the field, I asked George Allen, I said, "We still haven't reached an agreement on what I'm getting paid." He said, "You keep running like that you won't have to worry about getting paid." [Larry Brown] had the position locked down. The thing is, if you slip, the way I look at it, you got it because you were there before.
You had a lot of amazing players on that team – Charley Taylor, Roy Jefferson. When you look back on thatyear what do you take away?
Well, the thing is, most of these guys were considered over the hill. We all knew what we were capable of doing because of our past presence in the NFL. Now, the biggest thing is to get on the same page, let's do this together, so that every play is a successful play and that no matter how you look at it, things will always work out. That's the way we played.  You had four all-pro receivers – Jerry Smith, Clifford McClain, Charley Taylor, Roy Jefferson – all of them had been to the Pro Bowl at least once. Then you had all these other guys that came from different places that were threatening to be All-Pros. You come to this game wanting to win, and that's what we did.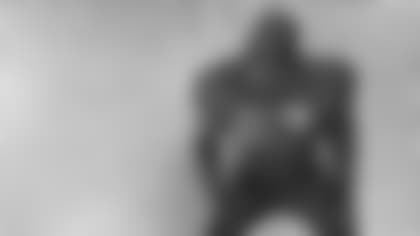 When you retired after that year at 26, was it because of the injury you sustained?
Yeah. My style of running and the way I did run, just for myself, that I could cut-off at either leg, full speed and I didn't have a problem with having enough strength. That was a piece of cake for me. So that was my style. I always look at Jim Brown and Gale Sayers and said if I can do both of them, I'm a winner. That was what I used to do. [The injury] was a preseason game against the Dolphins…shook my knee up back and forth and messed up the carpet.
Looking at your impressive art career since then, were you always an artist or did you develop a passion later on?
I was always drawing and doing something related to the arts. I pursued it in a way that could be considered a career at the time, [but] I pursued it as a hobby just because I loved to do it. Doing it on my own, I developed my skill. But after the injury, everything comes to fruition and you stop and think who and where and how and what are you going to do? And I think, while sitting in the hospital, should I go back to social services – because I had been working with them for 14 years – and I just decided to pursue the artwork, and see what happens. There's a thing that eats away at you and there's where your passion lies, so follow it. That's what I did.
Did you dive right into bronze sculpting, or did it take a while to figure out what you wanted to do specifically?
Well it took a while to do the bronze. I could always sculpt, but I never took a class. I'm self-taught. But then in '89, I decided to really take a look at it and I was at a football convention in L.A. and when I came back I just made up my mind to do bronzes. I just made up my mind. I went directly to a foundry out in Northern Virginia. They took me in and I asked if they could show me how to do this. [But] they said, "We don't let people [bronze] off the street." So I went and got this sculpture of a football player that I had done and brought it back to them. I said, "I'm going to be doing this for the rest of my life." They said, "come on in, man."  That's how that happened.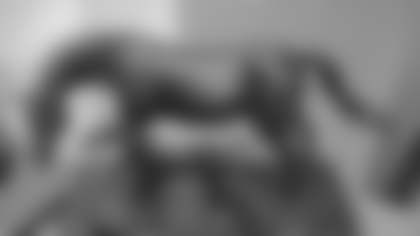 How much joy has it brought to you?
It's one of the biggest passions. I still want to draw and paint. But when I start sculpting, time is irrelevant. I might be working for 8-10 hours and not start thinking about it. Once I get the idea and start doing, it's just work.
What's your next project? What are you working on?
I'm trying to do some pieces that are smaller than what I put out so a lot of people can add me to their collections. I'm still going to do the medium to large pieces that I love to do. But I'm going to put out a series of things relating to women, sports, animals and music. I'm doing a flashback to things that were popular and I'm probably going to do them in a different style.
Do you still keep up with the Redskins?
Oh yeah, I do that. I'm always watching…I stay in contact with quite a few of the old guys. I missed the time we had the Alumni weekend this last year…you never know when the last time is you're going to see your friends.
[This article was condesned and edited, Photo credit: Morgan State University Alumni]
Other Redskins Past To Present Interviews: