"Redskins Past To Present" is a new series for The Redskins Blog during the offseason that catches up with Redskins alumni – some famous, some forgotten – that have spent time, long and short, in the Redskins organization.
With their time removed from the game, we hope to highlight the many former players and coaches that once wore the burgundy and gold -- we'll talk about their memories, their experiences and what they're up to today, in no particular order, to give a snapshot of their lives as ex-football players.
Jean Fugett began his career with the Cowboys in 1972 before Redskins head coach George Allen picked him up in free agency four years later. He played four seasons in Washington (1976-1979), which included a trip to the Pro Bowl in 1977. Currently he resides in Baltimore, Md., serving as legal counsel to various business firms, among his many responsbilities, while also writing about football for Walter Football during the season.
Was there any chance you were a Redskins fan when you were growing up in Baltimore?
No, I grew up as a Baltimore Colts fan. My parents had season tickets with the Baltimore Colts. So you can imagine in 1972 when I came back as a Dallas Cowboy to play against the Baltimore Colts, my mother told me she rooted for me, but she rooted for the Baltimore Colts. That's how loyalty was in our family. That's where I really developed a love for football because in the early days, one year she said she got season tickets for the kids if they bought season tickets. So I saw so many great games and one of the greatest games I ever saw – at the end of that game, the last game of the season, we rushed the field, it was the Colts vs. the Redskins and there was a rookie running back on the Washington Redskins who gave me his chin strap that I still have. Later we were teammates, and he's in the Hall of Fame…It was Charley Taylor. His first year he was a running back. We were teammates later and thanks to him and Roy Jefferson that's how I got into the Pro Bowl.
Then of course Taylor moves to flanker and the rest is history…**
Yeah. You know my father played for an undefeated No. 1 team at Morgan State in 1949. So he was a football player and he was a center. And then I played one year in high school and went to a Division III school and I was the 338th player picked in 1972, the last person in the 13th round by the Dallas Cowboys. And as fate would have it, a tight end got injured named Billy Truax and I was able to make the team.
So you're dad must have been pretty proud of you in that moment.
Yeah, well for all of us here in our family in Baltimore, it was a great experience. And they all came to Super Bowl X in my last game as a Cowboy. And then I went to work for the Washington Post as a reporter and years later Ben Bradley admitted that the owner of the Redskins put him up to hire me, even though I did have one front page story. So I signed with the Washington Post in February and then I signed with George Allen in May. I went to the press conference and at the press conference was myself, Calvin Hill and John Riggins. And Edward Bennett Williams, who represented the owner Jack Kent Cooke, said that he gave George Allen an unlimited budget, but he exceeded it, and I was happy to be part of that [laughing]. I was one of the first free agents and I played my option out with the Cowboys. The courts said that I was a free agent and George Allen was one of the few coaches who would sign players during that era.
So why did you end up taking this Washington Post job?
I always wanted to be a reporter. I was an intern with the Baltimore Sun and I was the No. 2 editor at my college paper. So I really had an interest in journalism. In fact I was the first African-American sports anchor in Washington D.C. when I was in Channel 9 in 1976. James Brown took my place when I left to go to New York as a lawyer.
When I talk to a lot of Redskins alumni, they usually mention the 1972 championship game. You were on the opposite side of that though. What was that game like from your perspective?
When I look back on my career, my first four years with the Cowboys, I was in the NFC Championship game three years out of those four years and I didn't have a clue of what was going on. I had played during the season as a shuttle tight end but when we got to the playoffs, [head coach Tom] Landry did not trust rookies and he said I would be on special teams. So I didn't play very much in that game, but it was a game well-remembered because I'll never forget that touchdown pass from Billy Kilmer to Charley Taylor. And I had little idea at that time that four years later they would be my teammates. That was the first time I was ever in a mob because all the fans just came down onto the field.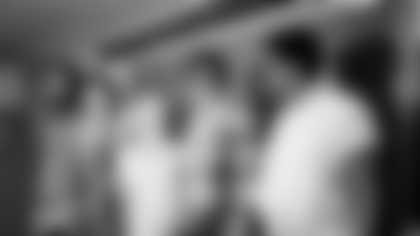 When you switch over to the Redskins and play with Charley Taylor, what was that experience like for you?
Well, to go from Tom Landry to George Allen, I was so lucky to play for two Hall of Fame coaches. To become part of that, I was a rookie all over again when I arrived in 1976. But Harold McClinton, Brig Owens, Jerry Smith, these guys really let me in as a teammate.
What do you make of the rivalry being on both sides of it?
Well, the two coaches had a lot to do with it because the two were, again, two of the best coaches in the league. Coaching still means a lot in the NFL but today not every team is as prepared as we were, so we were able to win a lot of games. As a Redskin, we were prepared for so many situations. And because of personalities and the histories of the coaches and the fact that Washington was such a media  center really contributed to making the rivalry something really big. During my career, those two teams were always fighting for the playoffs. So winning is what makes a good rivalry. The fact that the Redskins have won the division and the Cowboys have not will really made this rivalry stronger over the next few years.
Throughout your playing career you took classes at George Washington University and passed the bar exam shortly after your football career ended. How did you manage all of that?
It was a challenge because I continued to work at either Channel 9 or the Washington Post. Growing up in my household, work was a part of who we were and we were our work, so we always had to have something going, either a hobby, helping someone volunteering, or a job for pay to better ourselves. I was on a path to law school when I went to the NFL and I wasn't able to go to law school in Dallas. I got admitted into SMU law school and Tom Landry congratulated me but said I still had to come to practice, and they didn't have a night school. Washington, D.C., I think had five law schools you could go to at night.
My brother went to Harvard Law School and that changed his life forever and I wanted to do the same and follow in his steps. Now, I didn't get a chance to attend Harvard, but thanks to him I was able to be on their board of visitors for five years and I'll never forget the meeting where on one side was Justice Ginsburg and on my other side was Justice Kagan. It was a real honor. The international law library in Harvard is named after my brother Reginald F. Lewis. When he died at the age of 50, I had to move to Paris, France for five years to help run the business…my education and being born in my family – I tell everybody I'm Caroline Fugett's son, I'm Reginald F. Lewis' brother, and now, I'm more known for being [Orioles outfielder] Adam Jones' father-in-law. I'm getting ready to go to Opening Day now, so I'm heading out to Camden Yards.
So what's a typical day for you like?
I'm working with my mom and dad. My dad is in the hospital at the moment and we're trying to get him better. My mom is 90. That's my primary focus on a daily basis. After my parents, I move to my children and try to help them. My daughter just had another baby, my son's running for City Council. And soon I'll be helping my grandkids. But I'm working on my memoir. People are very interested in some of the things you're asking me about. So I'm trying to organize that into writing that I hope to finish this year at some point. I'm overwhelmed, so wish me luck [laughing].
[This interview was edited and condensed]
Other Redskins Past To Present Interviews: