"Redskins Past To Present" is a new series for The Redskins Blog during the offseason that catches up with Redskins alumni – some famous, some forgotten – that have spent time, long and short, in the Redskins organization.
With their time removed from the game, we hope to highlight the many former players and coaches that once wore the burgundy and gold -- we'll talk about their memories, their experiences and what they're up to today, in no particular order, to give a snapshot of their lives as ex-football players.
Mark Murphy is one of the "70 Greatest Redskins" after playing eight seasons as a safety, which included recording an interception in the team's Super Bowl XVII victory over the Dolphins. He finished his career in 1984 and several years later was named athletic director for Colgate University before taking over the same position at Northwestern in 2003. Since 2007, he has served as CEO and President of the Green Bay Packers, with whom he won Super Bowl XLV, and serves on the NFL's competition committee.
Redskins Blog: I have to start off with this. Back in January (for the Wild Card playoff game against Green Bay), was it tough to root for the Packers just a little bit?
Mark Murphy: [Laughing] I'll say this: No, it was not tough to root for the Packers. That's my job now. But I would say it was very emotional coming back. Well, maybe not emotional; it was almost surreal coming back. Of course, I played in RFK so that was different, but seeing so many former teammates on the sidelines, talking to people before the game it, well it was emotional, it brought a lot of memories back.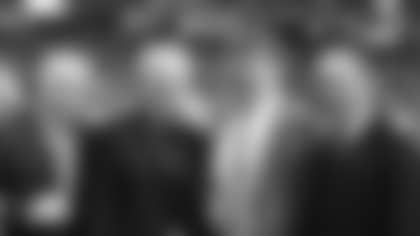 What former teammates did you get to see?
I saw Joe Theismann, Dexter Manley. I saw Rich Milot before the game and I actually saw Brig Owens, an old teammate.
I know this is a busy time of year. What is this month like for you, as the President and CEO of the Packers?
It's a busy time of the year for me. Particularly March, I'm on a number of league committees that this is really the time of year when we meet, gearing up for the annual March league meetings. I'm on the competition committee, which is basically the rules committee.  
How would you define a catch? These days that's still a big topic in terms of understanding the rules.
Well, I would defer to the competition committee [laughing]. No, that's something we've looked at. We've tinkered with it and it's changed over the year. We made a change last year. There's really three elements of it: two feet, control and then an element of time. The two feet and control are relatively easy. How long you have to control it for is a challenging one. What we used for years was "make a football move." Then we changed it last year to "establish yourself as a runner." I think that's been a little helpful. The challenge quite honestly is, just with the technology now, particularly with the cameras, the HD, the slow motion, we're seeing things in terms of the ball moving and things of that nature that we didn't know 5-10 years ago.
You look at quarterback Trent Williams getting a hefty franchise tag and Brock Osweiler receiving a lucrative deal in Houston. What are your thoughts on the financial climate of free agency?
We've had the salary cap system in place since 1993. I think it's really served the league and the players well. I think what we're seeing now though is the cap, three years in a row, has grown by more than $10 million each year, so we're seeing growth that we haven't seen in the past. I think some teams are flushed with money or either feeling flushed with money and are making commitments on contracts that they may not have done in the past because there's more money available.
Jumping into your Redskins career, is there any story you haven't shared about the experience of winning a Super Bowl?
Well, Super Bowl XVII, I've told some people this, but I'm not sure if it's been reported. My fondest memory of that is somehow, some way, my father got down to the locker room, and so to be able to share that moment with him was pretty special.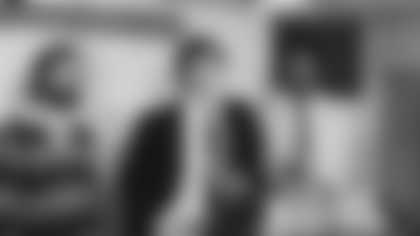 Did you ever ask him how he got down?
No, I think he just bullied his way. I'm sure security is not what it is now. But then when we, the Packers, won Super Bowl XLV, I grabbed my son -- he wasn't sitting with me -- but I grabbed him and took him down. So I was able to celebrate with him in the locker room, so it was kind of full circle for my family at least. A few years apart.
What did RFK Stadium do for you as a player and as a team?
Well, I think you have to be careful not to be too emotional. You still obviously have to be able to make your decisions you have to make and play the way you always play. I think there's no question that [NFC Championship game vs. the Cowboys] gave us confidence. We were so focused going into that game. The other thing I would say about that season was it was very unique. The strike, missing games, coming back, the expanded playoffs. Once we came back after the strike, it was just a whirlwind. Everything happened so fast. Rather than the normal playoffs, 16 teams made it, eight in each conference. We had called it the Super Bowl tournament. So we had three straight home games in a row. The Super Bowl, normally we have the extra bye week. We didn't have it that year. It all happened so fast, I don't think we had time to think about it. I think it was very helpful. It seemed like another game, not a Super Bowl.
What's the biggest difference for you in winning a Super Bowl as a player and winning one as the President of a team?
I think as an executive, or in my position with the Packers, I have a much greater appreciation of how difficult it is to win a Super Bowl. I don't think it's just because I'm 30 years older. But I think when you're a player, it's a little bit of, you take things for granted. I think you also don't really have an understanding of how many people contribute to getting a team to that point. But now in my position, I have such a great appreciation for the coaches, the trainers, everybody in our administration. So many people contribute to it. Organizations are a little bigger now, but I think it's just a much different view than I had as a player. Probably as a player, you're a little closer to it, so maybe a little more emotional, you feel like you can directly impact the outcome of the game than certainly you can in my current role.
What do you do for fun in Green Bay on a typical day in the offseason when you don't have any work to do?
No, I'm just joking. I cross-country ski quite a bit. We take advantage of the snow here. My wife and I have a lake house up in Door County [Wisc.], which is about an hour away from Green Bay and really enjoy spending time there. I've got my four children, my two grandchildren. They live all over the country but having a place like that is helpful. They come back for summers and other vacations. It's fun to spend time with them. I still try to stay pretty active. I play golf.
Does Green Bay have nice courses?
Oh yeah. It's a short season [laughing] but we've got some great courses.