It's uncertain who will line up under center for the Redskins when the New England Patriots come to FedExField on Sunday. Head coach Jay Gruden alluded on Monday that he "might have already made a decision," but he also wants to wait until later in the week to officially announce who will be the starting quarterback.
All three quarterbacks on the roster are under consideration, and Gruden said each brings something different to the table. While veterans Case Keenum and Colt McCoy are having their own injury issues -- the former in a walking boot and the latter coming back after missing the first quarter of the season -- Dwayne Haskins has shown flashes of being worth a first-round pick but still threw three interceptions in a 24-3 loss to the New York Giants.
It's obvious that all three want to be the one to get their number called later in the week, and all three have something else in common: they all want to help the team win, no matter what their role will be on Sunday.
"Whatever [the decision is], my role is to help this team win," Keenum said. "So whatever it is, I'm gonna do that. I'm gonna try to help this team win no matter what my role is come Sunday."
Keenum showed why he was worthy of earning the starting role when McCoy, the initial No. 1 quarterback during training camp, began missing practice with a leg injury. Keenum did not commit a single turnover in the first two games (both losses), and he currently has a completion percentage of 68.1% and a passer rating of 93.7.
But in Week 3, Keenum committed five turnovers (three interceptions and two fumbles) in a 31-15 defeat to the Chicago Bears on Monday Night Football. He then threw another interception on the opening possession against the Giants and was eventually replaced by Haskins.
Keenum was still playing through injury against the Giants, but he said that wasn't an excuse for how he played.
"I gotta make those throws whether I'm hurting or not," Keenum said Wednesday. "Everybody plays hurt, and this league and my team counts on me to make those throws and those are game-changing throws that you want back."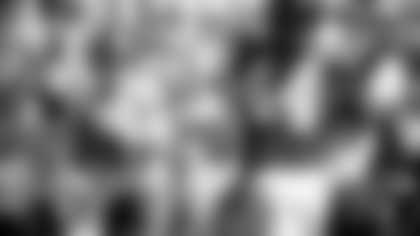 While Haskins came in and got the offense close enough to get a field goal on his first drive, his youth and inexperience were apparent during his NFL debut and magnified by his three interceptions. Keenum said it isn't his job to assess or judge how Haskins performed, but he thought the rookie "battled" throughout the game.
"Anytime you come off the bench when you haven't practiced all week, it's tough," Keenum said. "I've been in that position and I thought he battled and got some points on the board. [The Giants] brought some different stuff, and it's a tough gig to go in there like he did."
Haskins said his performance during his first game in which he finished 9 of 17 for 107 yards, was "definitely not his best play," but he's looking forward to his next opportunity.
"Just take your losses and you try and make them a lesson," Haskins said. "So I'll make sure I'm back stronger next time."
While Keenum and Haskins were preparing in practice, McCoy was recovering and trying to an "extra set of eyes" for his fellow quarterbacks to help whoever is on the field.
McCoy is back on the field, as he returned to practice last week and is getting reps with Keenum and Haskins. And while they're still waiting on Gruden to make his decision, all three of them are helping each other prepare for the starting job.
"I think we have a good room," McCoy said. "I think they're doing a great job with us. Dwayne and Case and I have been in there together for a while now and we'll support whatever Jay decides to do. And our focus is on doing our job the best we can figure out a way to turn things around here for us and play at a high level."
A lot has been made about which player will be the one to start, but none of them seem worried about it. In fact, Keenum said doesn't make much of it at all.
"I don't pay attention to any of it," he said. "Our quarterback room has been great. Dwayne and Colt and I have bounced each other's ideas off each other and we've watched a lot of film together and it's been really good to see."
Haskins said the communication between them has been very open. Each of them know they're in a competition with the others, but it hasn't stopped them from getting along and spending time together outside of practice
"It's just very intense when it comes to installing and watching film," Haskins said. "But when we have our time to take a break, we make some jokes and stuff like that to make it easy to breathe in [the meeting room]."
The team is patiently waiting for Gruden to make a final decision before they play the Patriots. but outside of that, it's business as usual for the players.
When asked what having uncertainty at quarterback during the season means to the team, Keenum summed it up by simply saying, "There's a lot more for [the media] to talk about."