Redskins.com's Stephen Czarda breaks down the key players and matchups to keep an eye on during Thursday's Redskins-Ravens Preseason Week 1 showdown at M&T Bank Stadium.
"Redskins-Ravens: Ingredients For Victory" is presented by Papa John's.
Every Monday after a Redskins game, get a Large Cheese Pizza for just $9.99. Receive a FREE TOPPING for every Redskins touchdown. DOUBLE THE FREE TOPPINGS when the Redskins win!
---
KNOCK OFF THE RUST
Even if it's just for a series or two, the Washington Redskins will have their starters on the field Thursday night against the Baltimore Ravens.
Redskins head coach Jay Gruden didn't specify how much the starters will play in the preseason opener, but he told the players that all should be ready to make appearances.
Last year in the preseason opener against the Atlanta Falcons, both the first-team offensive and defensive units were on the field for one drive.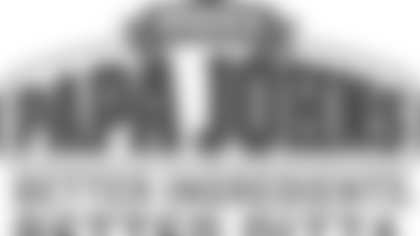 If it were up to quarterback Trent Williams, he'd take any many reps as possible.
"I would like to play as much as possible without the risk of injury," Cousins said Tuesday. "Just like practice, I want to get as many reps on the practice field as possible. So there is never too many reps. There's no such thing as 'I was too ready for the game, I had too much experience,' but I understand the need to pull a player when the value gained by playing isn't there and where the risk of injury is much higher. I want to play a lot but I also understand that those games don't count."
It will be the first time Washington's players will have gone against someone other than a teammate since Week 17 of last season.
"The value of preseason games is you go against a different defense, and I think that helps us," Cousins said. "To against the same guys every day in similar coverages, you're probably not getting a total picture of what are we going to look like as an offense. So, we want to see some different looks, some different players on the other side of the ball."
START TO FIND THE D-LINE ROTATION
Defensive line coach Jim Tomsula has made it clear over and over again that he's not one to have a depth chart be his guide to determining just how much players will appear in the rotation.
"We're D-line," Tomsula said last week. "We're not nose, end. We're D-line. You get into a game and you've got only so many guys that have got helmets on, and we've got to be able to finish the game, so everybody is going to have to cross train."
The Redskins have 11 different defensive linemen trying to crack the 53-man roster including nose tackle Phil Taylor Sr., who hasn't appeared in a regular season game since 2014.
A former first-round pick of the Cleveland Browns, Taylor experienced quite a bit of success in his first few seasons before injuries derailed his progress. He had a stint with the Denver Broncos last offseason but didn't make the final cut.
"That's the nature of this beast called NFL," Taylor said. "You know, you're going to get hurt, so it's just how you react to it, how you prepare yourself to get better each day after being injured."
Thursday's game will also mark the preseason debuts in Washington for Terrell McClain and Stacy McGee, two veterans the Redskins brought in within the first 24 hours of the free agency window opening this past March.
And then, of course, there's first-round pick Jonathan Allen, who the Redskins didn't think would be there for the taking with the No. 17-overall pick in the 2017 NFL Draft but was available once they were on the clock.
The Ashburn, Va., native has been impressive in training camp so far, as Pro Bowl tackle Trent Williams said his strength has been "pretty eye opening."
Now it's time to show it against someone other than a teammate.
"He's extremely strong so you have to be very mindful of playing with a good base when playing against him," Williams said. "He knows not to get past quarterback depth, which a lot of young guys make that mistake. You run them by pretty easy. I was just impressed when he gets to the depth of the pocket he turns his rush back into you."
SU'A IS BACK AT SAFETY
Coming out of USC, Su'a Cravens didn't have a concrete position when the Redskins selected him in the second round of the 2016 NFL Draft.
Some draft pundits viewed Cravens as too big to be a safety. Others thought he was a little too small to be a linebacker. It's an obstacle other NFL newcomers have faced in recent seasons.
"It's tough when it's new because they don't know how to play you or they don't know what to do with you," Cravens said. "So when you have a guy that's not really a set position, it's kind of like, 'Oh, well, he can't play either.' But now you have offenses that are attacking that guy that you don't really have to play in place now that you have that guy."
During his rookie year, Cravens was asked to be a situational linebacker, coming into the game during certain situations such as when the team was in a dime package. But in an offseason full of change on the defensive side of the football, Cravens is the team's starting strong safety.
 "It feels like I've played sort of a version of the position throughout my college career and a little bit last year," he said. "But it definitely feels good to be a solid, set position."
While Cravens may not see the field much Thursday (last year the starters only played one series in the preseason opener) it will give him a better feel for the position at the NFL level.
TIME TO MAKE YOUR DEBUT, ROOKS
Allen, of course, isn't alone in making his NFL debut Thursday night. In total, the Redskins have 20 rookies on the 90-man roster, all of whom are trying to prove their talents worthy of making the active roster when cuts happen early next month.
Those rookies are the following:
DL Jonathan Allen
LB Ryan Anderson
DL Colt McCoy * G Tyler Catalina * WR Robert Davis * LB Josh Harvey-Clemons * CB Joshua Holsey * CB Tevin Homer * WR Levern Jacobs * G Kyle Kalis * LB Nico Marley * CB Fabian Moreau * S Montae Nicholson * WR Zach Pascal * RB Samaje Perine * DL Ondre Pipkins * WR James Quick * C Chase Roullier * S Fish Smithson * TE Jeremy Sprinkle
In speaking to the rookies over the last week, they've expressed their eagerness to make their NFL debuts, albeit in preseason action.
"Man, I'm so excited I can't wait," said Smithson, who is from the Baltimore area and will have family in attendance. "This is something we've all been looking forward to since the draft. Of course, we have to go through the whole draft process and all that, but at the end of the day we just want to play football." 
Gruden said this week that his advice for the rookies is to stay confident on the biggest night of their young careers to date. 
"I think just play with your poise and, you know, be fundamentally sound and do the best you can with your assignments and then play hard," Gruden said. "That's all you've got to do, just play hard. They've been schooled up since OTAs – the majority of them, rookie minicamp – and have had a whole offseason and now training camp. They should be ready to roll. I'm excited to watch them all. You know, I think they've all shown they're worth a roster spot, now it's a matter of them going out and performing and showing what they have."
---
*Keep it locked for more Redskins coverage on ESPN 980 and televised programming. *
ESPN 980 programming streaming live on Redskins.com and the Redskins' official mobile app:
Thursday 8/10:  Inside The Locker Room from 1-2 p.m.
Friday 8/11:       The Cooley And Kevin Show from 8-9 a.m.
Friday 8/11:  Inside The Locker Room from 1-2 p.m.
Upcoming television programming:
Thursday 8/10: Redskins vs. Ravens, NBC/CSN 7:30 p.m.
Saturday 8/12: Redskins vs. Ravens replay, CSN 10 a.m.
Saturday 8/12: NFL Films Washington Redskins Year In Review, CSN 6:30 p.m.
Saturday 8/12: Redskins vs. Ravens replay, CSN 7 p.m.