Every home game, The Redskins Blog will profile a tailgater, or group of tailgaters, who make their trek to FedExField several hours before the game begins.
It's preseason for the Redskins but it's also preseason for tailgaters parking at FedExField.
On a Thursday night game, some are getting off from work early and therefore some of the typical preparation is cut short, the food not as immense, the flavor not as strong.
"This is low-key because it's preseason," said Roxanne Sowell of Landover, Md. "If it was regular season, you'd probably see baby back ribs, New York strip. We go all out for regular season."
Still, the table of fixings and platters of food covered in foil stretched the length of their setup, complete with a burgundy tent, a banner out front and a grill to cook and create some aroma.
"For our spread we've got shish kabobs, we've got hot dogs, burgers, veggies, a few potatoes that I'm getting ready to get warm and some green beans," she said. "This is the preseason for us. Usually we'll have four or five different meats. Usually we are in a group, H10 Tailgate, [and] we're about 100 deep and we all set up tents."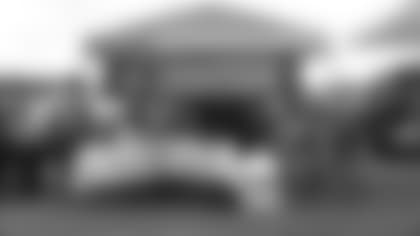 Like it does for the players, the preseason allows fans to figure out their timing – when to start the grill, when to open the first beer, when to invite others for dinner – and develop a game plan for the regular season when parking lots become filled even more.
The Sowell family first began tailgating seven years ago. Roxanne's husband, Will, remembers their first time, sitting in their car eating pizza from a fast food chain.
He looked around, saw the extravagance and the barbecues and the parties, and knew he'd be changing his methods on his next trip to FedExField.
"We did this," he said, pointing to his tailgate, "the next game."