The Redskins' first weekend of vacation came on the same weekend as Father's Day, which suited many players just fine, as they got a chance to see their dads and/or their sons to celebrate the day. Naturally, quarterback Kirk Cousins, no stranger to the golf course in recent weeks, managed to take his dad and brother to Erin Hills, Wisc., this weekend to watch the U.S. Open up close.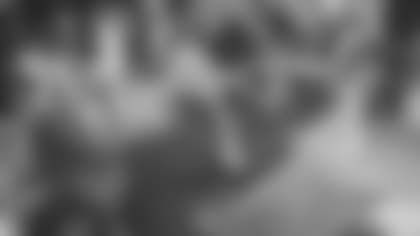 Ty Nsekhe shared a photo of his young son, Tylan, from a game last season. Following suit, safety D.J. Swearinger posted an image of him and his son, born just a few weeks ago. He had a busy weekend at home in Greenwood, S.C., hosting a free youth football camp, too.
Meanwhile, defensive lineman Ziggy Hood went way back in time to share some photos as a kid boxing with his dad.
Linebacker Zach Brown posted a photo with his father. It shows just how much they look like each other. "1st I will like to say happy father day to My dad. 2nd this is my twin lol," he captioned.
Tight end Niles Paul shared some truth about his dad. "Me & the big homie don't always see eye to eye but that's my pops, love this dude. Happy Fathers Day old man."
Trent Murphy shared a photo of another photo, one of his dad looking ripped in the gym. "Resilience runs in the family. Seeing this everyday is a great reminder to keep workin. Happy Fathers Day."
Continuing to have fun with his Instagram caption game, linebacker Will Compton shared an image of him and his father after the two of them took down a buck. It was apparently traumatic for young Will.
"You see a father and son after their first hunt together. A young boy with a terrible haircut from his mother, and meat to last you a couple months with burgers, steak, and sausage... What you don't see is the trauma behind my eyes. A boy who witnessed his his dad put 6 rounds in a buck. Taking an antler off, taking a few to the body, one to the jaw, and one to the neck. Only to watch it die as it seal-crawled before the final shot, grunting for help. You see a father and son who went on their first and last hunt together Bc I haven't been the same since.."