Defensive end Ricky Jean Francois is still a kid at heart. He loves his peanut butter and jelly sandwiches, he dresses up as his favorite Marvel superheroes and he still gets excited by the sound of an ice cream truck.
"As a kid, if you didn't remember nothing else, you remember that ice cream sound," Jean Francois said. "You always heard that song and you were attracted to it."
That's what helped his benevolent spirit kick in Sunday, when he provided all kids attending the last day of open training camp practice a free Kona Ice.
"Man, it's so hot out here, I said, 'lets buy the ice cream truck, I want to be the ice cream man,' just to make sure to buy [for] all the kids," he said. "We're used to being out here and hot, getting watered down. So, let the kids get something out of it. I know the parents are going to be out here, you're going to have to fry like us. But I want kids out here to enjoy themselves, run up there, get your ice cream, have fun, run around with the snow cone."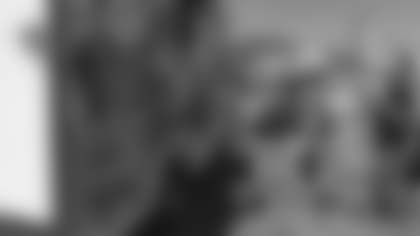 During practice, he kept looking over at the Kona Ice truck and wondered what it was selling. Once he found out what it was selling, his inner Miami-childhood came out.
"As long as you're having fun at this practice," he said, "I want these kids to remember so each and every year they come back."