Ricky Jean Francois' new baby boy, Ryan, hasn't left the hospital since being born last week, but already he owns the entire house.
"I used to have a wine cabinet with wine glasses – that's gone. Used to have a room for my shoes --that's gone, that's his room," Jean Francois joked Friday at Buffalo Wild Wings in Rockville, Md., supporting the Redskins recent partnership with Buzztime.
After watching his son arrive at 5:18 a.m. last Saturday, Jean Francois has been mentally preparing for the road ahead as his fiancée Julisha (below is one of their engagement photos) gets ready to bring their newest family member home. That hasn't been too much of a problem, however, considering a majority of the Redskins roster is currently experiencing the throes of parenting for the first time.
"Big Mo [Morgan Moses] is like, make sure you take full advantage of your sleep, because it's 2 in the morning, 6 a.m., you're going to be woken up," he said. "My girl knows right now in the offseason, she wants me to work out, but at the same time, those cries in the morning, you've got to get up and make a bottle, I want to be a part of that, that's something I want to remember…They grow up real fast…I just want to remember every step of it."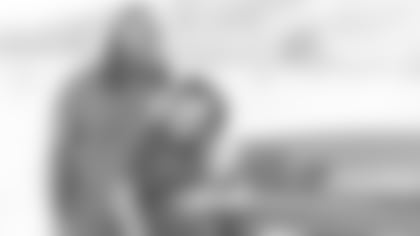 In a week that he's realized his new place in life, Jean Francois, at 29 years old, feels like he's becoming a man.
"I understand most people think you become a man at 21, but it feels like I'm becoming a man," he said. "I have a child. I have responsibilities. At one point it was just me and my girl, we could do everything. Now we've got to look at another person that has the same image as you. He looks like me, he looks like her, but now we want to raise him in this type of society to live productively, have a happy life, live good."
Jean Francois likes the idea of raising Ryan in Virginia, as opposed to where he grew up in Miami, Fla., "more of a fast-paced life," he said.
"I would love him to grow up here. The community is wonderful, everybody's friendly. Everybody's willing to help, show you the right path," Jean Francois said. "I want him to take his time. I want him to be able to go out fishing, get on the boat, playing roller hockey. They don't play that in Miami."
In other words, Jean Francois just wants to capture everything.
"It's been a blessing to us," he said. "It's a blessing to have him. God gave him to us. I just want to enjoy every moment of it."