Redskins owner Daniel M. Snyder needs to pack his suitcase for his trip to the Pro Football Hall of Fame but on Friday afternoon he was cramming school supplies into back packs.
The Redskins Charitable Foundation is aiding World Vision's National Capital Area division in a 'Stuff A Backpack' school supply drive to outfit children of needy families for the upcoming academic year.
"We are hoping that we'll be able to distribute at least 1,100 backpacks to children throughout the national capital area. With the support of the Charitable Foundation, we will be able to do even more," said Corwin Macklin of World Vision as he stood in front of the donation area just outside the front gate of Redskins Park.
"I'm ready to go back to school," Snyder said as he put binders, paper, erasers, pencils and markers in backpacks.
"You're the only one," said a voice from the crowd.
Rather than school, Snyder will head to Canton, Ohio, on Saturday to help celebrate Russ Grimm's induction into the Hall of Fame. Grimm, a guard and a founding member of the offensive line that gained fame as the Hogs, played in four Super Bowls during an 11-year career, won three championships and went to four consecutive Pro Bowls.
He is the only one of that group, which included – among others – Joe Jacoby (four Pro Bowls), Jeff Bostic and George Starke, to be honored. In 1983, Grimm, Jacoby and Bostic were all named to the NFC Pro Bowl team. Grimm currently serves as the Arizona Cardinals' assistant head coach.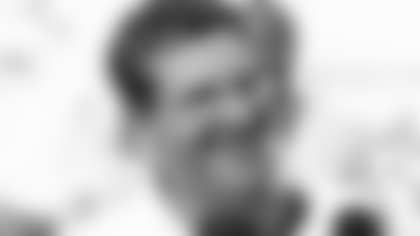 "He deserved it," Snyder said. "A great player and a fantastic guy. It's a big day for the Redskins tomorrow, a big day."
Could more Hogs attain the pinnacle of the profession?
"I hope so," Snyder said. "We talked about it actually this morning at practice. We were just chatting about it and we said, you know, 'We've got to get a couple more in now.' And I think we're due."
He will present Grimm with a watch and is throwing a party in his honor after the Saturday night ceremonies. There might be more to celebrate in the future.
"We haven't retired numbers much here traditionally, before I got here," Snyder said. "I think we'll look at things in the future a little bit. Hopefully we'll make him proud."