When Tanya Snyder and a small group of volunteers handed out the first 8,000 "THINK-PINK®" ribbons at a Washington Football Team home game in 1999, she had no idea it would be the start of a league-wide phenomenon.
Nearly ten million ribbons later, "THINK-PINK®" has become one of the organization's flagship initiatives. As the Washington Football Team undergoes a rebrand, one aspect that will remain unchanged is its steadfast dedication to battling a deadly disease that will affect 1 in 8 women over the course of their lifetime.
"We've heard so many stories over the years and we certainly know that we're making a difference, so it just makes me very proud," Tanya told Senior Vice President of Media and Content Julie Donaldson.
Tanya was a young girl when she first heard about breast cancer. She remembers being "very, very shocked and scared," and as someone who grew up with her mother and three sisters, the experience has had a lasting, memorable effect on her.
It was a cause that concerned Tanya, so she participated in charitable events she felt could make a difference throughout her life. Fast forward to when she and her husband, Dan Snyder, bought the team in 1999, and the two saw an opportunity to establish their own charitable foundation to make a positive impact in the community by providing support and services to those who need it most. That is when the "THINK-PINK®" initiative was born.
Ten years later, the team's efforts became more personal for Tanya. She found a lump two months after a mammogram in December of 2008. She assumed it was nothing, but it continued to bother her, so she scheduled an appointment with her doctor one month later.
"Please just tell me directly," she said after going through a sonogram. "I want to know. I just want to make sure everything is okay." That's when the doctor told her she may have breast cancer. Hearing the news was as if someone "took a baseball bat, swung it and just hit me right in the head."
"I didn't even know what to say," Tanya said. "I just expected to hear, 'Everything is okay.' I was always of the belief that I would never get cancer."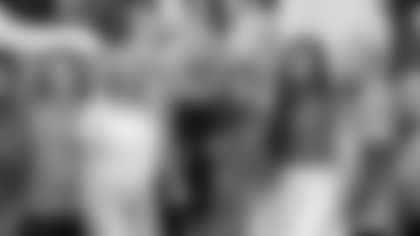 Tanya then had a biopsy which confirmed she had ductal breast cancer. Fortunately, the cancer was still in Stage 1, and it was considered estrogen receptive, which was a positive indicator. She would still have to undergo treatment though, so she did her research and looked at her options.
"I collected some great information and had the safest option for me since [the cancer] was detected so early," Tanya said. "I was able to take care of it within a year and didn't have to have radiation or [chemotherapy]."
In the years since her diagnosis and recovery, Tanya has heard the personal stories from women who want her advice. She takes that very seriously, she said, and is happy to support them. She also has a message for them: get regular checkups.
"If you find something from one October to the next, chances are you're getting it really early," she said. "When you get things early, you have a lot more choices and options for care to be able to take care of it."
"THINK-PINK®" has spread far and wide across the NFL since Tanya started the tradition with her Zeta Tau Alpha sorority sisters. The Washington Football Team is partnered with the American Cancer Society, the Brem Foundation and the Zeta Foundation. Since 2009, the NFL has raised $22 million that goes directly to communities and has helped conduct more than 200,000 cancer screenings.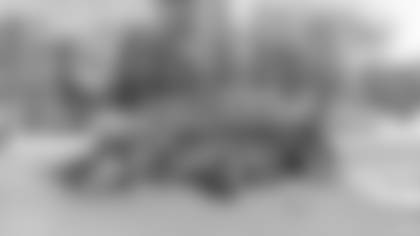 And Washington's players have also shown they are eager to get involved beyond just wearing pink. Many participate in the annual All-Stars Survivor Celebration, which was started by former tight end, Chris Cooley, partnering with the Washington Football Charitable Foundation.
"They made it happen by pulling women together for a day, making them smile, and making what would normally be an emotional, tough experience a happy and memorable day," Tanya said. "[It's] a day these women will never forget and the players will never forget, either.
"I'm so proud of our players," she added. "They've done a wonderful job and changed so many women's lives that are in the thick of treatment. It makes me very proud."
Tanya said she is heartbroken she will not be able to be with the fans in person this year. She'll miss the stories and hugs she gets every year, but she wants everyone to remain diligent and remember what the pink ribbon represents.
"I know it's saving lives," she said. "That's all that we can ask. We can't wait until there is no cancer, but until we find a cure, detecting it early is the next best thing."