Andre The Giant: Former potential football player for the Washington Redskins.
This is a Throwback Thursday story at its finest, and what better way to kick off training camp than with a mammoth wrestler that could have been a mammoth lineman. Training camp is all about getting stronger and looking at potential, anyways, right?
Temerario thought 7-foot-5, 445-pound pro wrestler Andre the Giant, a man known as the "8th wonder of the world," could fit the bill.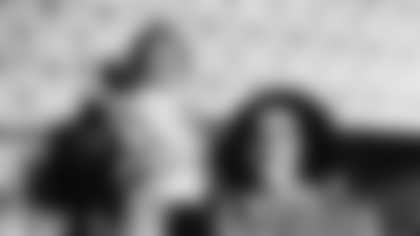 "After the draft, George Allen said he would like to sign someone unusual, maybe about seven feet tall," Temerario said. "I had heard about this wrestler and traced him through Vince McMahon. When he told me how much Andre earned, I was a little bit put off. It would take a long time to get him ready, but I knew he was quick and the agility to be a defensive tackle or end. We were interested, and I talked to Allen about it."
Then the starting franchise quarterback, Joe Theismann remembers the time vividly, because how could he not? It was July, 1975, and Theismann was at Duke Zeibert's restaurant in Washington, D.C., to publicize the possibility of him signing when Andre picked him up (seen above) just to demonstrate how easy it was.
"First of all when I shook his hand, I lost my arm. It's the biggest hand I've ever seen, it's the biggest head I've ever seen in my life," Theismann said. "And he picked me up like anybody would pick up a baby. That was effortless. That picture, it was effortless. I just could not believe how big he was. I'm used to being around big people, [but] that's big people."
Unfortunatly the French wrestler, who was accompanied at the press conference by his agent, future pro wrestling magnate Vince McMahon, bolted town that evening for a match at Madison Square Garden in New York.
By all accounts, he never tried out for the Redskins and never signed a contract.
Can you imagine if he did?