After nearly three weeks at the Bon Secours Washington Redskins Training Center, here's a look back at the lighter side of what we learned from practices, from the players and from the fans in Richmond, Va.
The second of three parts, today will focus on the second week of #SkinsCamp.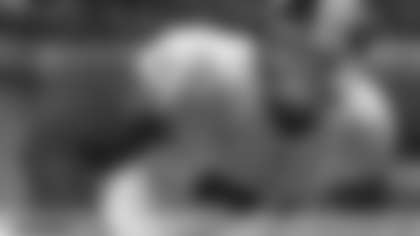 Some players weren't too pleased about their Madden Ratings:
EA Sports announced its new Madden ratings for every team in early August, and it would have been a missed opportunity had we not gotten the responses from some players to address their personal ratings.
Linebacker Will Compton was the most vocal, and upset, with his, which ranked him lower than his fellow inside linebacker Mason Foster.
"We shouldn't be rated that low," Compton said of him and Foster. "They better get it corrected."
He was mostly irked at the numbers for awareness and play recognition -- two things they excel at on the field. Compton, a 70 overall in Madden 17, plays Madden every year and would like to see his ratings rise in the next update.
"I don't know, I would say at least a respectable upper 70, lower 80s," Compton said. "That's reality, though, in my opinion...they got [Panthers linebacker Luke] Kuechly as a 99 and we're down there in the dumps!"
"As long as they have me looking right in the game, that's what matters," Foster said, calming Compton down. "The visor on, spat, nice gloves. You can always change your stats, you know what I mean? But they've got to have me looking right in the game so when somebody looks in the game they can see what I look like on the field."
Linebacker Ryan Kerrigan, however, was one of seven players in the game with a 99 stamina rating, which aligns well with his gym-rat mentality and work ethic throughout the entire year.
"That's a reflection of the hard work I put in to be in shape," Kerrigan said, "and with Madden, it's cool anytime you're involved in a video game."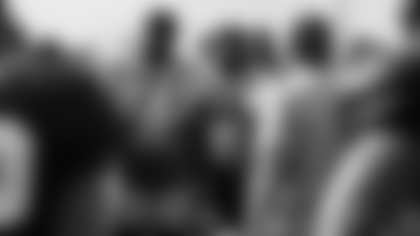 "Hogs 2.0" shirts weren't just a one-week trend:
After left tackle Trent Williams introduced the "Hogs 2.0" mantra with his fellow offensive linemen in Houston, Texas, it might have been understandable if the group of big men stopped wearing the customized T-shirts and hats to practice.
Not the case here. Even during the second week of camp, Williams and the rest of his O-line group continued to wear the shirts underneath their jerseys, embodying the spirit of the original Hogs.
"With us having that rich tradition, being Redskins and those guys, I figured there was a way we could channel that, pay our respects to them as well and also try to form my own path by adding a '2.0'because obviously we could never foresee us being as good as those guys, but we can obviously try," Williams said. "The thing we can take from them is playing with that camaraderie, that intensity, that nastiness they played with on a day to day basis."
D.C.-themed socks were trending:
Players showed off their style during training camp just as much as their skills.
Sometimes that was noticeable – bright neon gloves, hats and visors – while other times subtleties were just as important.
That was certainly the case here, as both Ricky Jean Francois (see above photo) and Jamison Crowder showed off their Washington, D.C.-themed socks. The little things count, too.
Jay Gruden Would Play Ping Pong In The Olympics:
Sometimes you need some levity during a press conference.
With the Rio Olympics happening during training camp, reporters were interested in knowing what sport head coach Jay Gruden would choose to participate in if given the opportunity. Tight end Vernon Davis jokingly suggested the backstroke. Gruden didn't find that so amusing.
"He said I would be good at the backstroke? Vernon, I like him better when he doesn't talk to the media [laughter]," Gruden said. "I don't know what my events would be. I like ping pong. Ping pong looks fun. I think that would be a fun event for me, I could try that. Other than that, I really don't know what I'd be good at. Golf, maybe. No, I can't do that either. I stink at everything – I'm old, I'm fat and out of shape [laughter]. That's what you guys say, right?"
A South Korean Redskins Fan Stopped By Practice:
Sung Min Kim grew up in South Korea but came to the states to attend College Park at the University of Maryland. While there, he grew attached to the Redskins and learned about the rules of football.
He's heading back to his home country to pursue graduate school options but had to make a stop to see Richmond, Va., and the Redskins before he left. He hopped on an Amtrak train for his first trip to the city and was one of the first people in line for training camp at the Bon Secours Washington Redskins Training Center.
"I'm excited in general to be around athletes. I do some sports photography, so it's my jam," Sung said.
As for the time difference watching NFL games back home, he says he'll find a way.
"When I go to South Korea, if it's a Sunday 1 p.m. game, I'm going to have to wake up on Monday at 2 a.m., but I'm going to do that man," Sung said. "Hail to the Redskins."