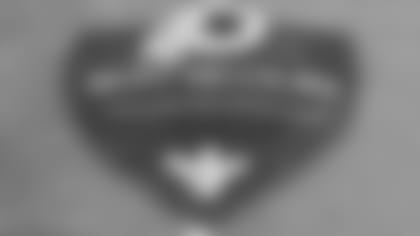 The Bon Secours Washington Redskins Training Center officially opens today in Richmond, Va. Watch the ceremony in its entirety, including performances by the Richmond All-City Marching Band, the National Anthem by Elliott Yamin, parachuters and comments from dignitaries and celebrities including Super Bowl-winning quarterback Joe Theismann.
Transcript of architects, elected officials and Redskins quarterback Joe Theismann:
Peter Bernard – CEO Bon Secour Virginia Health System:
"Thank you very much Larry, and thank you also to the great relationship. I think back about to picking up the telephone this last fall and it was with the mayor and the governor and I said, 'You want us to do what?'
"But seriously what a great day with skydivers, the children with the Pledge of Allegiance, the band, everything couldn't have been better. Even the good Lord held off with the weather and we're in good shape so we give the sisters a little bit of credit on that as well.
"But be that as it may this really is a world-class facility. I hope you get an opportunity to tour it later on. As we add some of our programs around fitness and wellness for the community, activities that we're proud of in terms of giving back to the poor and underserved with our caravan activities that what we call "Movin' Mania" which is the ability for us to address childhood obesity and that'll be headquartered here as well.
"It was kind of a long and stressful process over the last six months, but [Patrick] Hourigan and Mark [Gordon] did just an awesome job. I know that they poured themselves into this effort.
"Many, many people to be thankful for; the list is long. I pared it back to three: I'd like to recognize my Vice President for Advocacy, Jim Dunn. I'd like to recognize Charlotte Perkins for her tireless energy. And then the guy that I've become very fond of through the years, working together for 20-something years brought here from Louisville with me, my Vice President for construction, Richard Mantis; so thank you.
"The excitement is about to begin. I mentioned earlier that July 25th we're going to have three weeks of the Redskins here. We're just real excited about what that brings to the community, the tens of thousands of fans for their enjoyment and again some of the primary care activities that'll also be part of this fabulous facility.
"I just again want to thank the ministry of our board of directors at all supporting us in this public, private relationship not only with the governor's office, but we're proud of our efforts with the city and so it gives me great honor to introduce and individual that's worked very diligently in terms of his visionary leadership that's the honorable Mayor Dwight Jones."
"This is a great day for the city of Richmond, a great day for all of us who are gathered here; a day that we've been waiting for, for a long time.
"I just want to recognize some of the fine elected officials we have here today you've seen our city council and I would just like for them to stand again so you can see the folks who made this happen along with the administration: the Richmond City Council, let's give them a round of applause. They've done a wonderful job and I just want to thank them for their cooperation in this endeavor.
"I told Peter Bernard that I don't think I've ever seen anything happen this fast in my 40 years in Richmond, VA. So we're going to have to turn this over to this crowd to get some other things done.
"I also want to recognize some of our elected [officials]: state senator Henry Marsh is here; Henry stand up. Delegate Joe Morrissey is here, delegate John Cox, delegate Delores McQuinn, delegate Rosalyn Dance, and we also have the vice-chairman of the board of supervisors from Chesterfield Steve Elswick and the county administrator Jay Stegmaier is here, and of course Bobby Scott our congressman who is everywhere.
"We want to thank our electives for coming today. They've been extremely supportive and it signifies and symbolizes how great this day really is. We have had several things that have happened leading up to this day just a few days ago we were here for the hardhat tour.
"We had many meetings with our site selection committee and if there are any members of our site selection committee would you stand because you did a great job, those who worked to choose this site, thank you so much for your work as well.
"All of that has led us to this grand opening today and let me tell you, Bon Secours knows how to put on a grand opening. And we want to thank them for preparing this day and all of the work we have done allows us today that we are proud to present to you the Bon Secours Washington Redskins Training Center. It is done and we're so happy.
"This has been a cooperative agreement between Bon Secours, the Washington Redskins, the Economic Development Authority and the city of Richmond and we want to thank everybody who had their hands in this.
"This has all been directed toward our goal of stimulating tourism, job creation, and new investment particularly in underserved areas and so this training center has and will continue to impact our region.
"It will impact our region by the jobs it has provided, the general contractors, the construction companies and developers as well the subs and the local vendors. If they were here today they'd say, 'Amen, Reverend Mayor, we've done well in this particular endeavor.'
"It's presently going to impact the hundreds of vendors who are being engaged locally and regionally and the marketing of the events that will take place here, the merchandising areas, and through print, television and radio advertising.
"And was we look forward to the future and the tens of thousands of visitors that are going to be coming, positively impacted by those who are traveling to the city of Richmond and impacting our local economy and to that end we are in the position now of working to put together fan packages. We're developing them now that will combine Redskins' practices, dinners and Squirrels' games. Packages like this will highlight our local and regional offerings.
"And our city residents and local business are going to benefit by this training facility. The city is going to benefit from the invaluable national media attention that's going to come to the city. And the residents are going to benefit by the development a of kid-oriented physical fitness programming situation that will take place 48 weeks out of the year and when the Redskins aren't here, there will be opportunities for great things to be happening on this site.
"So this is a win-win and we're just as excited, as we can be that this day has come to fruition. Let me just thank our team that put all of this together, the Richmond Economic Development Authority thank you so much for the tireless effort that you put into this event. Three North Architects, the Timmons Group, and the Hourigan Construction Company.
"As I said before, this was miracle working to get this done in such a short period of time, so will you join me in thanking them as well. And there are a couple members of my team who have gone above and beyond who have worked beyond their expectation and I just want to give them a personal thank you today…
"This is a grand day and when I mentioned all or our partners I did not mention the Commonwealth of Virginia. But let me just say that we could not have been here today was it not for the state government and the state of Virginia and we would not be today if it wasn't for Gov. Bob McDonnell.
"The governor has done a wonderful job of maintaining consistent interest in the particular opportunity for the city and for the state and we want to thank publicly express our appreciation to him for standing by this particular project from the very beginning. He has been here before for several events and is with us today and I'm very, very proud to be able to present to you the governor of the Commonwealth of Virginia, Gov. Bob McDonnell."
"Thank you very much, Mayor Jones, I appreciate your leadership on this project in the great capital city of Richmond for capturing this vision along with the Redskins and Loudoun County and so many others for the last year and a half for making this happen.
"Thanks for you tremendous leadership in the sports area. Larry Michael, good to see you. I know you're here representing the Redskins organization. I want to congratulate all the coaches, Mike Shanahan, Dan Snyder and Bruce Allen. This is a great day for Richmond.
"Moving this training camp down here does so many things. It allows the young people around here, young and old, to see the Redskins practice for a couple of weeks, but Loudoun County will now be the permanent home for the Redskins and everything that goes with it.
"That's tremendous for our state. It's 1,832 jobs. It's $9.8 million in tax revenue for local and state government. That's why we wanted to bring this marvelous training facility to Richmond.
"I'm delighted to be here with my friend Joe Theismann, fellow Notre Dame graduate. I'm glad to have all of you here to celebrate this with us. I got to talk to some of the young players who are just coming in who will be able to go out into the community and be role models for the young children. I think it will be terrific.
"It will be great for athletes of any age to see the guys wearing burgundy and gold out in the community to be an inspiration for those in the community. I hope there's no concern, Larry. I saw RG3 just got married—I hope that doesn't slow him down a little bit.
"I've been a fan now for 45 years, being a native of Fairfax County. To have them in our backyard here to practice, to see them in this month of August is going to be a real treat.
"I know a majority of our fans come from this area and now fans from Hampton, Roanoke and southern Virginia can make a short drive to come see their team practice. As a lifelong Redskins fan, I am very excited about this all. Thank you very much."
Redskins great, Joe Theismann:
"Thank you very much for this opportunity to be here and wear the uniform of the Washington Redskins. The Washington Redskins will get to showcase their talent to so many more people by spreading out to such a broader area. They want to enhance life for more people.
"The facility is magnificent. The players are going to love it. Moving away from the D.C.-area, speaking from personal experiences, it's great to get a team away from everything in a facility where there's absolute total control by the coaches of what everyone does and where they go.
"You build a sense of camaraderie and you really learn what a team is. You build a sense of care for one another. That's what the Redskins are all about. Everyone has worked really hard to build the foundation for a team that will not only win in 2012 and 2013 but will win going forward.
"Having a first-class facility to come to camp for, only for three weeks, are very important weeks. These three weeks will be the single most important weeks for some of the young players' lives. They will impress coaches or be asked to leave. They will either make a football team or not make a team. What we have is a field of opportunity, a field of dreams.
"That's what's been created here in Richmond by everyone involved and who has worked hard to ensure the Bon Secours facility will be world class. From what I've seen, it's gone beyond that. Like [Redskins owner] Edward Williams said about George Allen, 'I gave him an unlimited budget and he exceeded it.'
"We all had a dream for what this facility would be, and it exceeds that. Thank you very much for having me."
Voice of the Redskins, Larry Michael:
"One thing worth noting, the Redskins and the community are going to be taking part in a lot of activities. We have found out who our participants will be. Ryan Kerrigan our Pro Bowl linebacker #91 and one of the most likable guys on Earth, Alfred Morris #46. Both guys have agreed to be the Bon Secure community partners.
"Redskins Camp opens July 25th. Admission is free. If you live in the Richmond area, come on down for camp, and if you live in the surrounding area, now is your time to book your road trip to Redskins Camp. Thank you very much and see you then."