A wise man once said that greatness isn't any one big thing; instead it's a lot of little things done right. Washington Redskins offensive tackle Trent Williams can attest to that—a lesson he had to learn at the NFL level.
College and pro scouts recognized the natural talent early, as his 6-5, 325-pound frame oozed with NFL potential. But it was the burning desire to be elite that understandably set Williams apart from the crowd.
It was the translation of that potential to consistent production that saw him elected to his first Pro Bowl a year ago. It is his development since then that has him eyeing a spot among the all-time greats at his position—when the time comes for such talk.
"I want to be great. I'm very competitive so I want to be able to say that I'm the best offensive tackle in the game," he said. "I don't know if I could say the best to ever play—that's long down the line, that's debatable.
"I want to definitely be the best that's playing, currently. I'm definitely not there yet but that's my goal. I'm going to try each year to get closer to that goal."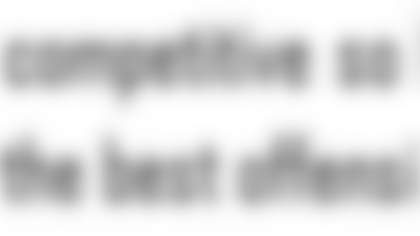 Williams is charged with protecting the blind side of the quarterback on every snap, keeping his quarterback clean from defenders and allowing the offense to operate.
After playing in 25 regular season games with Williams, Robert Griffin III has already seen the progress Williams has made toward reaching his goals.
"To see his development from when I got here to today, it's extraordinary," Griffin III said. "Coaches said they needed him to step up as a leader and I think he has done that," Griffin III said. "His play shows that, going to the Pro Bowl last year.
"He plays at a high level and I think he is respected as one of the best tackles in the game."
But anchoring the offensive line entails more than just keeping defenders away from his quarterback. He also embraces the opportunity to run block and get downfield on stretch plays and screens.
"He is one of the most athletic big guys I have ever seen; especially in this league, you see a lot of different things, a lot of freakish athletes out there," Griffin III said, shaking his head. "He's definitely a guy who could play tight end, he could play basketball, he could get downfield and he's asking us to throw him the ball.
Best utilized as a blocker, Williams' athleticism opens up big holes for playmakers like Alfred Morris and Pierre Garçon to operate.
"There's a clip from the game where Pierre is running a screen route. He catches the screen and Trent is leading him down the field, running in front of him," Griffin III recanted. "That speaks to the type of athlete he is."
Williams says pound-for-pound, he might be the best athlete on the field on any offensive drive.
"I definitely like to show people that I'm not just the average big guy, the guy who is 330 pounds and plays in a phone booth all day," he said. "That's part of the reason they brought me here.
"Coaches know what I can do, Kyle [Shanahan] knows what I can do and he puts me in positions so I can thrive."
Offensive coordinator Kyle Shanahan praised Williams earlier this season, noting the development his first first-round draft pick has made.
"He has a few highlight plays in every game that you don't see very much from a tackle in this league or anywhere," he said. "He has been impressive and played consistently, too."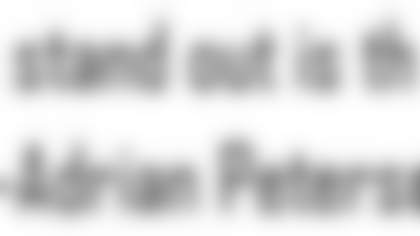 The rest of the league is taking notice as well.
Williams blocked for All-Pro running back Adrian Peterson in college, who raved about his ability and football acumen.
"He gets the job done. He's just so talented of a player, just period, and just the work he puts in helps him out a lot," Peterson reasoned. "He's one of those guys that could really go the offseason with really doing nothing and then still go out and be one of the best linemen out there.
"What makes him stand out is the work he puts in."
This past offseason, Williams said he rested up nagging injuries before getting back into the same routine that carried him to Honolulu and the Pro Bowl.
After suffering a minor wrist injury in training camp, Williams has had a clean bill of health so far this season, allowing him to operate at full capacity.
"Last year was an injury-plagued season and it made going out to play a mountain to climb every gameday," he said. "Being healthy this year, it's definitely one of those things that I'm blessed with. Injuries in this game are almost certain. I look at a guy like Fletch' (linebacker London Fletcher) that has been playing 16 years and never missed a game.
"I want my career to go in that type of direction. This is just the beginning; hopefully I can keep it up."
In some ways, head coach Mike Shanahan believes that the ankle and thigh injuries that Williams played through last season were a test of character that Trent passed with flying colors.
"Anytime you're the captain of the football team, you expect a guy to play through some injuries and he has done that," Shanahan said. "He's played when he's been hurt and he's shown our football team that he's going to be a leader.
"There's got to be a toughness there that separates you from the rest of the pack, and he possesses that toughness. He made some big steps last year as our leader and I expect him to do the same this year."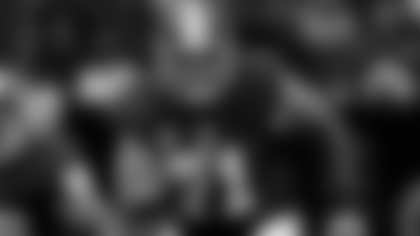 Mental toughness is an area that Williams admits he needed to refine in the pro ranks. After years of dominating lesser talent, he met his match at the NFL level and needed to up his game.
"This game is 90 percent mental and 10 percent physical. The way I approach it is trying to play one game at a time, one play at a time," he explained. "If you do have a bad play, you've got to forget it that moment. If you don't, it can snowball and turn a really good game to a horrible game.
"It can go that way fast because those guys across from you are opportunists. Every opportunity they get they're going to try and embarrass you."
He found that out the hard way in 2010, as he took the field for his first career game lining up against All-Pro pass rusher DeMarcus Ware of the Dallas Cowboys.
The Redskins won the game 13-7 but Williams allowed a sack.
"Coming in as a rookie and being thrown into arguably one of the most important positions on the offensive side of the ball is really tough," he said, years later. "You're going against the defense's best athlete every play, every snap.
"I was young; it took a little bit just to learn the game. I would say ever since my first year it has been pretty good for me."
As Williams casts his goals among the stars, he knows that his teammates look to him to be a leader and playmaker on every play, carrying his weight for a developing offense.
For Williams, working together is the definition of greatness.
"The offensive line is a five-man job and I'm only one-fifth of that unit that's working to protect Robert," he said. "The other guys do a great job and that's why, a lot of time, we are able to keep him clean. I don't want my guy to touch Robert, but it takes all of us to help protect him. It's everybody working together.
"Guys know that every Sunday that I'm going to bring my heart, intensity, passion that got me here."