Gameday Graphic for Game on 10/26/2008


The Redskins travel to Detroit to face the winless Lions on Sunday, Oct. 26 at Ford Field. Kickoff is 1 p.m. ET.
Ford Field is an indoors facility. The stadium has an artificial surface called FieldTurf and seats 65,000.
It is the first and only time this regular season the Redskins will play indoors. The Redskins are 6-2 in indoor facilities in the last five years, including a 2004 win over the Lions at Ford Field.
The Redskins are 4-2 in the NFC this season and 2-1 on the road, with wins at Dallas and Philadelphia and a season-opening loss to the New York Giants.
The game is a homecoming for Jon Jansen, Devin Thomas and Chris Wilson, each of whom hail from the Detroit region.
Clinton Portis has rushed for 100 yards in four consecutive games. He would tie a franchise record for most consecutive 100-yard rushing games if he surpasses the century mark against the Lions. The mark is shared by Rob Goode (1951), Portis (2005) and Ladell Betts (2006).
The game will be televised on FOX. Thom Brennaman handles the play-by-play and Brian Billick provides color commentary. Charissa Thompson serves as sideline reporter.
On radio, the game will be broadcast locally on ESPN 980. Larry Michael handles the play-by-play with color commentary by Hall of Famers Sonny Jurgensen and Sam Huff. Rick "Doc" Walker serves as sideline reporter.
---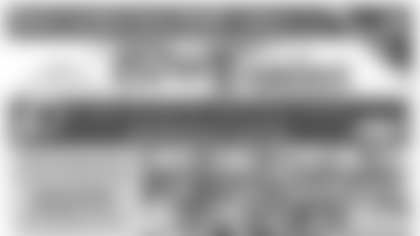 ---
PROJECTED STARTING LINEUPS
OFFENSE
Pos.
Redskins
Lions
WR
89 Santana Moss
84 Shaun McDonald
LT
60 Chris Samuels
76 Jeff Backus
LG
66 Pete Kendall
64 Edwin Mulitalo
C
61 Casey Rabach
51 Dominic Raiola
RG
77 Randy Thomas
66 Stephen Peterman
RT
76 Jon Jansen
72 George Foster
TE
47 Chris Cooley
86 Michael Gaines
WR
82 Antwaan Randle El
81 Calvin Johnson
QB
17 Jason Campbell
6 Dan Orlovsky
FB
45 Mike Sellers
45 Jerome Felton
RB
26 Clinton Portis
32 Rudi Johnson
DEFENSE
Pos.
Redskins
Lions
DE
99 Andre Carter
95 Jared DeVries
DT
96 Cornelius Griffin
91 Chuck Darby
DT
64 Kedric Golston
78 Cory Redding
DE
55 Jason Taylor
99 Dewayne White
LB
53 Marcus Washington
59 Alex Lewis
LB
59 London Fletcher
53 Paris Lenon
LB
52 Rocky McIntosh
50 Ernie Sims
LCB
24 Shawn Springs
21 Travis Fisher
RCB
22 Carlos Rogers
28 Leigh Bodden
SS
48 Chris Horton
27 Daniel Bullocks
FS
30 LaRon Landry
26 Dwight Smith
SPECIAL TEAMS
Pos.
Redskins
Lions
P
1 Ryan Plackemeier
2 Nick Harris
K
6 Shaun Suisham
4 Jason Hanson
H
1 Ryan Plackemeier
2 Nick Harris
LS
67 Ethan Albright
48 Don Muhlbach
KOR
31 Rock Cartwright
10 Brandon Middleton
PR
82 A. Randle El
87 Mike Furrey
---
The Redskins-Lions series dates all the way back to when the teams were known as the Boston Redskins and the Portsmouth Spartans in the early 1930s.
The two franchises have met a total of 39 times, including three times in the playoffs, with the Redskins holding the series lead with a record of 26-10 in the regular season and 3-0 in the postseason.
From 1968 until 1997, Washington won 16 consecutive regular season games and two postseason games.
In 1982, the Redskins handled the Lions 31-7 in the NFC divisional playoffs at RFK Stadium. It was the Redskins' first of four postseason wins en route to winning their first Super Bowl title.
The Redskins and Lions also played in the 1991 NFC Championship game at RFK Stadium, with the Redskins dominating 41-10 to advance to the Super Bowl.
In 1999, the Redskins and Lions played in the only playoff game ever played at FedExField. The Redskins won that game 27-13.
Washington and Detroit last played on Oct. 7, 2007, with the Redskins winning 34-3 at FedExField.
Jason Campbell earned NFC Offensive Player of the Week after he completed 23-of-29 passes for 248 yards and two touchdowns in the Redskins' win over Detroit last year. Antwaan Randle El caught seven passes for 100 yards to help in the effort.
Defensively, Andre Carter led the way with a team-high eight tackles and two sacks, including a safety on quarterback Jon Kitna. Overall, the Redskins' dominated the line of scrimmage, recording five sacks.
The last time the two teams met at Ford Field was in 2004, with the Redskins winning 17-10 at Ford Field.
In that game, Clinton Portis threw a touchdown pass to Laveranues Coles on a halfback option. Portis finished the game rushing for 147 yards on 34 carries while Cornelius Griffin led the defense with two sacks.
---
REDSKINS 2008 RANKINGS
Offense
Rank
Yards/Game
Total Offense
7
353.6
Rushing Offense
3
158.1
Passing Offense
19
195.4
Defense
Rank
Yards/Game
Total Defense
6
278.7
Rushing Defense
7
86.4
Passing Defense
12
192.3
 </tbody>

LIONS 2008 RANKINGS
Offense
Rank
Yards/Game
Total Offense
27
265.0
Rushing Offense
30
77.7
Passing Offense
22
187.3
Defense
Rank
Yards/Game
Total Defense
32
418.7
Rushing Defense
31
167.5
Passing Defense
30
251.2
---
FAMILIAR FACES ON THE LIONS
Assistant general manager Martin Mayhew played for the Redskins from 1989-92. He was a member of the Redskins' Super Bowl XXVI championship team.
Head athletic trainer Al Bellamy served as an assistant athletic trainer with the Redskins from 1988-2000.
Coordinator of physical development Jason Arapoff served as a conditioning director for the Redskins from 1988-2000.
Strength and conditioning coach Malcolm Blacken served as a strength and conditioning assistant for the Redskins from 1996-2000.
Coordinator of athletic medicine Dean Kleinschmidt served as head athletic trainer for the Redskins under Steve Spurrier from 2002-03.
Wide receiver John Standeford took part in the Redskins' 2004 training camp. He was released by the club after preseason.
Practice squad tight end Jake Nordin took part in the Redskins' 2007 training camp. He was released by the club after preseason.
---
REDSKINS-BROWNS NEWS & NOTES
-- Interception Record for Redskins
Dating back to last season, Redskins quarterbacks have thrown 332 consecutive pass attempts without an interception. This beats out the previous NFL mark of 281, set by the Oakland Raiders in 2001, according to the Elias Sports Bureau.
Of the Redskins' record 332 pass attempts without an interception, Campbell has thrown 224 of them. Todd Collins has 105 of them, Antwaan Randle El has two and Clinton Portis has one.
The tally includes Campbell's 23 pass attempts in Sunday's 14-11 win over the Cleveland Browns at FedExField.
Campbell completed 14 passes--for 164 yards--in the Redskins' win and threw no interceptions for the seventh game this season.
Overall, Campbell has now thrown 224 consecutive passes without an interception, a franchise record. He broke the previous record of 161 against Philadelphia on Oct. 5, when he surpassed Joe Theismann's mark set in 1983.
This season, Campbell has attempted 202 passes without an interception. It's a remarkable streak--every other quarterback with at least 65 attempts has thrown at least two interceptions.
-- Zorn's First Season As Head Coach
Jim Zorn is 5-2 in his first seven games as Redskins head coach. He is aiming to lead the Redskins to their third winning season in the last four years.
Zorn is looking to become the seventh Redskins head coach to record a winning record in his first year at the helm.
The list of first-year head coaches with winning records includes Ray Flaherty (7-5 in 1936), Dutch Bergman (6-3-1 in 1943), Dudley DeGroot (6-3-1 in 1944), Dick Todd (5-4 in 1951), Vince Lombardi (7-5-2 in 1969) and George Allen (9-4-1 in 1971).
Seven first-year head coaches finished their rookie campaign with a .500 mark, while 12 finished with a losing record.
-- Redskins Coaches In Detroit
Jim Zorn got his start as an NFL coach with the Detroit Lions in 1999-2000. He was hired by Bobby Ross, the former University of Maryland head coach who guided the Lions at the time.
Zorn served as quarterbacks coach of the Lions in 1999. One of his pupils was Gus Frerotte, the former Redskins quarterback. Zorn and Frerotte faced off against the Redskins in a 1999 Wild Card playoff game at FedExField. The Redskins won that contest 27-13.
Redskins special teams coordinator Danny Smith coached along-side Zorn in Detroit from 1999-2000. Smith served as tight ends coach with the Lions.
Also, Redskins offensive line coach Joe Bugel previously served with the Lions, working in the same capacity, from 1975-76.
-- Portis the Rushing Leader
Clinton Portis leads the NFL with 163 carries and 818 rushingyards, while his seven rushing touchdowns are second in the league and first in the NFC.
Portis has accounted for 43 first downs on the ground this season, which also leads the NFL, as do his 15 in the fourth quarter of games this season.
With 175-yard and 145-yard performances against the Browns and Eagles, Portis has two of the top 10 single-game rushing totals in the NFL this year.
With the addition of Shaun Alexander to the offense on Oct. 14, the Redskins now have two of the top eight active career rushing leaders on the team.
Alexander has 9,437 yards and Portis has 8,544 yards, as of Week 7 this season. They are two of 30 players in NFL history with at least 8,500 career rushing yards on their resume.
The only other team to have a pair of 8,500-yard rushers playing together was the 1992 Los Angeles Raiders, which featured Hall of Famers Marcus Allen and Eric Dickerson.
-- NFC East the Toughest Division?
The four teams of the NFC East have combined for a 17-9 record, the best among the NFL's eight divisions. The clubs have a 13-5 mark outside the division.
The NFC East is the only division without a team with a losing record.
The Redskins stand at 2-1 in NFC East play.
Four of the Redskins' five wins have come against NFC foes, a total which is tied for second-most in the conference behind Tampa Bay, who has five.
-- Redskins Still Possessive
The Redskins hold a 32:03-27:57 time of possession advantage over their opponents this season. This margin ranks fifth in the NFL.
During the Redskins' four-game winning streak, Washington held the ball for a combined 40:26 longer than its opponents.
The Redskins have elected six players as captains for the 2008 season. They wear a black "C" on their jersey during games.
On offense, Jason Campbell amd Chris Samuels are the captains.
On defense, Cornelius Griffin and London Fletcher are the captains.
On special teams, Rock Cartwright and Khary Campbell are the captains.
Washington returns to FedExField to host the Pittsburgh Steelers in their only Monday Night appearance of the 2008 season. Kickoff is 8:15 p.m. ET.
The Redskins are 0-1 in prime time games this year. They lost to the New York Giants in a Week 1 contest on Thursday Night.