Fifth-year Washington Redskins cheerleader and captain Rachel shares her experiences from her trip to the 2017 Pro Bowl.
It's Rachel here, and I am currently in Orlando, Fla., representing the Washington Redskins Cheerleaders at the 2017 Pro Bowl! Going to the Pro Bowl is truly a dream come true for me! I was so anxious on Monday morning as I was waiting to leave for Orlando. I felt like a rookie again, traveling to partake in an amazing experience for the first time. Once I landed in sunny Florida, everything finally hit me; I was going to be performing at Pro Bowl with the best of the best cheerleaders in the NFL and I was part of that group! When I started meeting some of the girls at the airport, I immediately felt that bond with everyone like the bond I have with my teammates. We were all nervous and excited for the week ahead!
Our first day was actually really laid back. Since the Pro Bowl is in Orlando this year, everyone was flying in at different times of the day from all over the country. I landed around 10:30 a.m., and met up with the girls from the Patriots, Saints, Bengals and Chiefs at the airport. We all traveled back to the hotel to meet the other ladies throughout the day, then once everyone was in town, we all went out to dinner and got to know each other more. All of the girls are incredibly nice, and humble and it's crazy how so many of us all already had connections through friends or previous teammates! That night, we also were randomly paired up with another girl to be our roommate for the week; I was lucky enough to be paired up with Alexandria from the Arizona Cardinals. It's crazy how similar minded we are and how much we have in common. We knew instantly that we were meant to be roomies! I couldn't have asked for a better lady to bond with during the week.
Our Pro Bowl adventure started the next day. We were welcomed by the wonderful staff of E2K, who produces the Pro Bowl halftime and events. They all share similar experiences with us and really know how to make our week as memorable as possible. Immediately after our orientation, we went straight to the pool for our Pro Bowl Cheerleader photo shoot. There was a gorgeous rock setting outside by the pool where we were all strategically placed around it. In perfect timing, just as we finished getting set, the sun was right where it needed to be for the best shot! I cannot wait to see the final photo. After that, we hopped straight into vans and drove to Camping World Stadium, where the NFL held their press conference to kick off Pro Bowl week. It was really surreal doing our first promotion as a group. It made me look forward to the events coming up later this week. The rest of the day was spent practicing all of our dances we learned prior to coming to Orlando. It was a long and tiring night, but I now have my group of ladies that I will be spending the week with doing appearances. My line consists of Kriste from the Saints, Jacqui from the Vikings, Alexa from the 49ers, Shannon from the Panthers, Christian from the Sea Hawks, and Chelsea from the Buccaneers! I love dancing with them and we all work so well together.
Well, I have a crazy week ahead of me, but I can't wait to share it with you all. Stay tuned to find out more about my adventures from the Pro Bowl!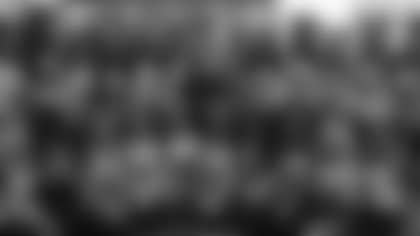 Well, we have definitely kicked things into full gear here at the Pro Bowl! We started off our third day with an early morning practice, so we could do a final review of all of our dances. After that, we left for our first performance as a team at the ESPN Wide World of Sports. We had our first major event to kick off Pro Bowl week, which was the NFL Skills Challenge. They had the best players from the NFC & AFC compete against each other in mini events. During this live taping, we cheered on the sidelines for all of the fans during the breaks. It felt like a whole game day experience back at FedExField!
After we were introduced to the fans, we kicked off the Skills Challenges by performing one of our dances. We then made a tunnel on the field for the players as they were introduced, and then went back to cheer some more on the sidelines.
I saw so many fans in the crowd, and was able to go up to them, take pictures and talk to them. The best part about this event was that my parents were able to make it and see me cheer again! They flew to Orlando, Fla., for the week to watch me cheer for my final time as a Washington Redskins Cheerleader. I'm so appreciative to have them experience this amazing week with me! 
The next day, we went to Camping World Stadium, where we did our first on-field practice for Sunday's game. It was so awesome dancing on a field again and doing another pregame with all of these amazing ladies! That practice made me even more excited for Sunday's game. The stadium is so big, and the cool thing is we found out that the game will be sold out, which will make Sunday even more memorable!
After practice, I had an appearance at the Give Kids the World Village, which is a resort for families with terminally ill kids that allows them to stay and experience the parks in Orlando, along with hosting events and activities for them. We got to meet all of these wonderful kids, who were completely filled with joy and happiness! It was so heart warming to be able to meet these families and hear their stories.
We were free that evening, so we went to Dave & Busters for dinner, which was a whole lot of fun! Since we were near Disney World, we wore designer t-shirts and Mickey ears, which were made specifically for each NFL team. We all wore them to dinner, and had a blast just hanging out and playing games. It was a great way to relax after a long few days! I can't believe my trip is halfway done! This week is already flying by, but I've made so many memories that'll last me for the rest of my life! Stay tuned for the final recap of my week at the Pro Bowl!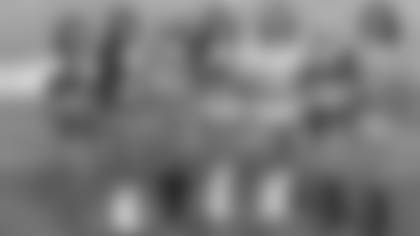 So my week at the Pro Bowl has sadly come to an end. It's crazy how fast everything came and went! These last three days here in Orlando, Fla., were definitely the highlight of an already amazing week!
On Friday, it was truly a magical day being a part of the parade at Disney World's Magic Kingdom! I was selected, along with eleven other ladies, to represent the Redskins and the Pro Bowl Cheerleaders in the parade. When I found out that I was going to be in this, I was so excited! I grew up going to Disneyland and absolutely love the parks. To actually be in a parade was just another dream come true for me.
When we walked down Main Street, and saw all of the fans that lined up to see us, it brought tears to my eyes. The best part of it all was seeing my parents in the crowd and running up to give them a big hug. They knew how much this meant to me, and it was wonderful to have them there with me!  
On Saturday, I had an early morning wake up at 4:30 a.m., to run in my first ever 5K! It was sponsored by the Pro Bowl, and we got to run the race all throughout Epcot. I was so nervous going into it because I'm not a runner, and my first time to run 3 miles was the week before I left. But once I got there and had all my Pro Bowl sisters by my side, it was so exhilarating! I had never been to Epcot before, so to run through the park, and see all of the attractions was so amazing. Also, all of the runners were dressed in their NFL gear, and I ran with so many Redskins fans that morning. I really had a blast, and want to come back next year to run it again! 
Sunday was our last day, but it definitely was the best, because it was Game Day! The day flew by so fast. I probably sound like a broken record, but I had such a great time cheering at the game. It was the first time that all of us were not stressed, didn't have to worry about the little details, and got to let loose and be ourselves. I loved meeting fans, taking pictures and signing autographs while on the sidelines. The crowd was just as excited to be there, and we could feel their energy on the field. I couldn't have imagined a better way to end my career as an NFL cheerleader than representing the Redskins in the 2017 Pro Bowl. 
Over this past week in Orlando, I've met some amazing women from across the country, who share the same passion as me and proudly represent their respective organizations. I am happy to say that I have a whole new family of cheer sisters now, and we cannot wait to go back to Orlando next year for our reunion! I want to thank everyone in the Washington Redskins organization who have supported me throughout this process. I love my Redskins family and WRC sisters! Also, thank you to my parents and husband who are my #1 fans! I am so grateful to have had this opportunity and will cherish it forever. 
Fifth-year Washington Redskins cheerleader and captain Rachel completed her trip to the 2017 Pro Bowl, and she'd like you to see how much fun she had.