Flavors Of The DMV Showcase | Washington Football Team - WashingtonFootball.com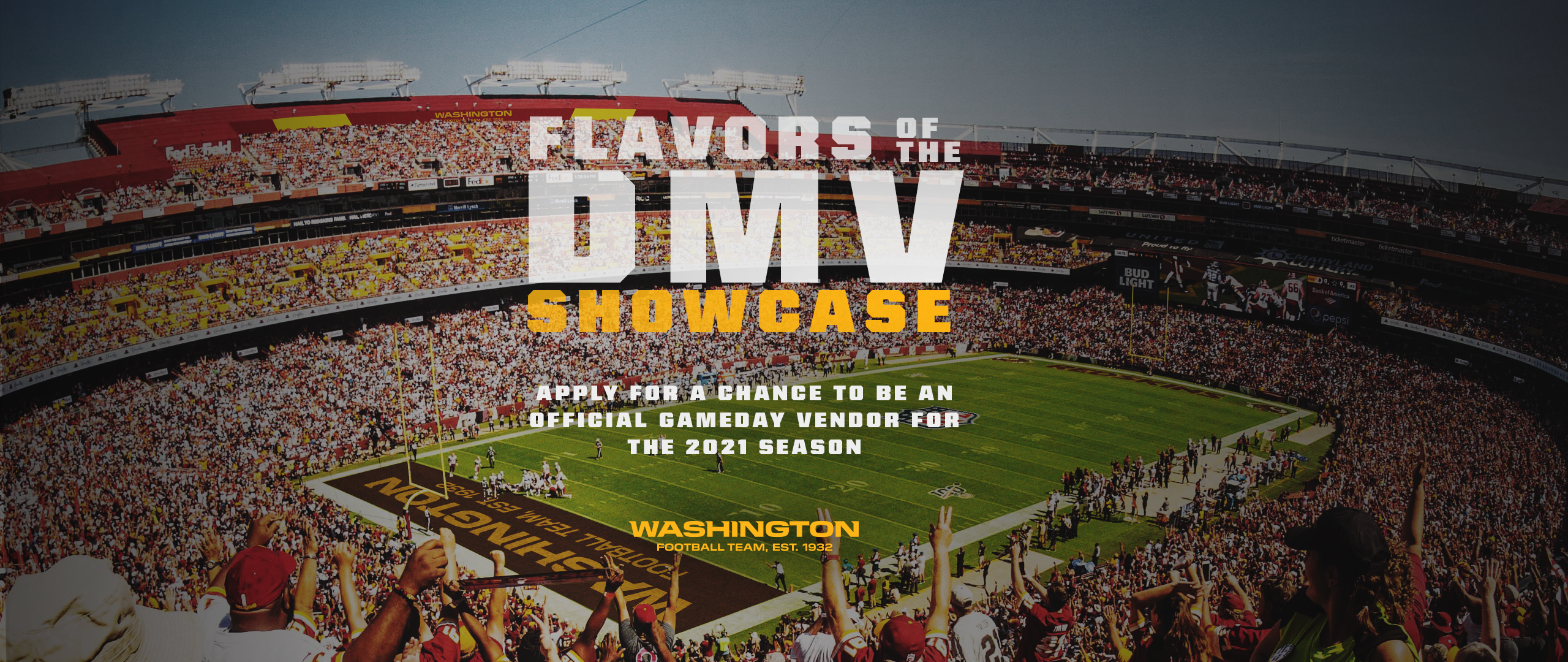 The Washington Football Team is adding local flavor to the menu offered at home games this fall with the Flavors of the DMV Showcase -- a culinary competition that will provide food vendors from Washington, D.C., Maryland and Virginia the opportunity to present their most popular specialties during a one-day event at FedExField on June 14th.
Restaurants, food trucks, food stands and others in the industry can apply for the Showcase from May 18th-June 2nd.
Showcase winners will become official gameday vendors for the 2021 season.
Flavors of the DMV Showcase Frequently Asked Questions (FAQ)
When are applications being accepted?
Showcase application opens on 5/18/21 at 9:00 a.m. ET and closes on 6/2/21 at 11:59 p.m. ET.
How can one enter?
To enter, complete the above Showcase application. The application form consists of questions about the submitter and product and encourages photo, video, and graphic designs to help bring the product or concept to life.
When and where is the Showcase event?
The Showcase event will take place at FedExField on June 14, 2021. Invitations for the food vendors selected to present at the live event will be distributed the week of June 7th.
Does my establishment or I have to be located in the DMV area to participate?
Yes, all applicants should reside with the DMV-area.
How will you use the information provided?
Any information submitted will be used in accordance with the Contest Rules and our Privacy Policy.
What is the maximum number of entries per person (or establishment)?
One per establishment or person, please.
What will happen at the Showcase event?
The finalists will present and sample their product or concept at the Showcase event. A tasting panel consisting of Washington Football Team leadership, Levy restaurant representatives, Washington Football Team Alumni, FAN ambassadors, area chefs and restaurateurs, local influencers, and others will help select one or more winning concepts.
What are the judging criteria?
Showcase participants will be evaluated based on food or product quality, including taste, appearance, and texture; ease of prep and service; overall presentation; uniqueness of the product, and connections to the DMV.
How will ties be broken?
In the case of a tie, the scores of Levy's head chef will be the tiebreaker.
How will the winner(s) be announced?
Chosen food/products to be new vendors at FedExField will be notified individually via email following the Showcase event on June 14th.
When will the food/product become available at FedExField?
Showcase winners will have the opportunity for their food/product to be available at FedExField during 2021 Washington Football Team home games.
What will winners receive?
The opportunity to be an official FedExField gameday vendor for the 2021 season.