Washington Commanders Charitable Foundation | Washington Commanders - Commanders.com
Coach of the Week
The High School Coach of the Week Program is an NFL initiative that aims to highlight local high school football coaches who consistently demonstrate a dedication to their programs, their players' health and safety, and making a difference in their community. The winning coaches are selected by a panel of Washington Legends and Commanders staff, and each coach will receive a $2,000 donation for their football program from the Washington Commanders Charitable Foundation. All Coaches recognized throughout the season will be invited to the Commanders home game against the Dallas Cowboys to network with other Coach of the Week award recipients for an end-of-season celebration. In addition, these Coaches are eligible to be named the Washington Commanders' nominee for the Don Shula NFL Coach of the Year award towards the end of the season.
Week 1: Coach Dameon Powell - Charles Herbert Flowers High School
Our week one Commanders coach of the week is Coach Dameon Powell from Charles Herbert Flowers High School in Prince George's County Maryland. Coach Powell took over as head coach at Charles Herbert Flowers in 2016 and in his time there, his team has been undefeated in the regular seasons and has made it to the playoffs each year including a state finals appearance in 2022. Coach Powell's influence extends beyond the football field, making him a formidable role model for aspiring athletes and a source of inspiration for the broader community. His profound commitment to instilling core values in conjunction with sporting prowess ensures that the players he coaches evolve into well-rounded individuals poised for success both within and outside the sports arena. Powell's dedication to nurturing a culture of respect, collaboration, and diligence underscores his passion for holistic development. Powell's receptive demeanor and empathetic nature have endeared him to countless families, always ready to lend a listening ear and provide unwavering support. Through his tireless efforts, he has not only molded proficient athletes but has also shaped responsible citizens and future leaders. With a profound commitment to not only honing athletic skills but also fostering values that extend far beyond the field, Powell has established a legacy of education, family, respect, teamwork, hard work, and leadership.
Week 2: Coach Brad Lutz – William Byrd High School
Our week two Commanders coach of the week is Coach Brad Lutz from William Byrd High School in Roanoke County, Virginia. In his five years as head coach, Lutz has instilled a profound sense of pride, loyalty, and perseverance in his athletes, constantly pushing them to achieve their very best. His motivational prowess is unmatched, making every individual feel welcome and included, fostering a spirit of unity and sportsmanship. Coach Lutz's belief in the potential of his players is the cornerstone of his coaching philosophy, and he extends his dedication not only to his players but also to their families, the school, and the broader community. In addition to his coaching role, Coach Lutz goes above and beyond by prioritizing the overall well-being of his athletes. He communicates with them weekly, imparting valuable insights on health and wellness. He plays an integral part in helping them formulate workout and nutrition plans, promoting healthy lifestyles that are essential for their training and preparation for weekly activities. Coach Lutz ensures that every athlete has equal access to resources and support, demonstrating his genuine care for their health and holistic development. His remarkable dedication to the betterment of his players' lives makes him an invaluable asset to both the athletic community and the community at large.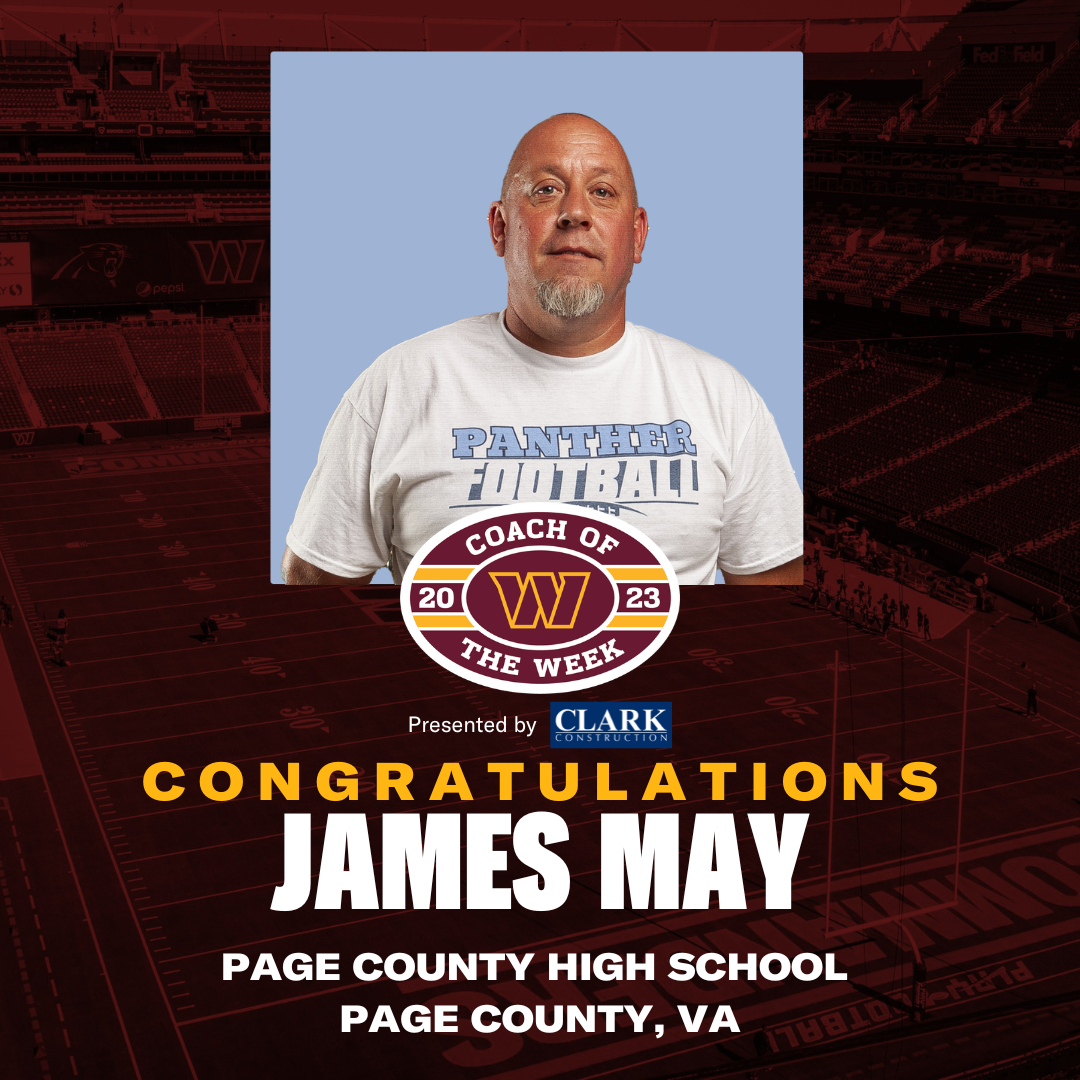 Week 3: Coach James May – Page County High School
Our week three Commanders coach of the week is Coach James May from Page County High School in Page County, Virginia. Coach May has been the head coach at Page County High School for the past two years, and the assistant football coach for 14 years. Coach May has been able to grow their football program from 30 participants to 68, transforming their football program to include all youth, regardless of ability, race, gender, and socioeconomic status. Both on and off the field, Coach May works diligently with the school's athletic trainer to create safer standards for all Page County High School athletes. Under Coach May's leadership, the team has reduced injuries and has developed an offseason plan to prepare athletes for lifelong health and fitness. In addition to his coaching role, Coach May is a local business owner who has donated to the public school system and the Youth Football League. Not only does he take on players as employees in his business, but he has also profoundly reshaped the community's perception of their football program, as well as their view of the players themselves. Coach May is a patient, kind, and dedicated leader who has transformed not only his school's football program, but also has transformed the lives of his players.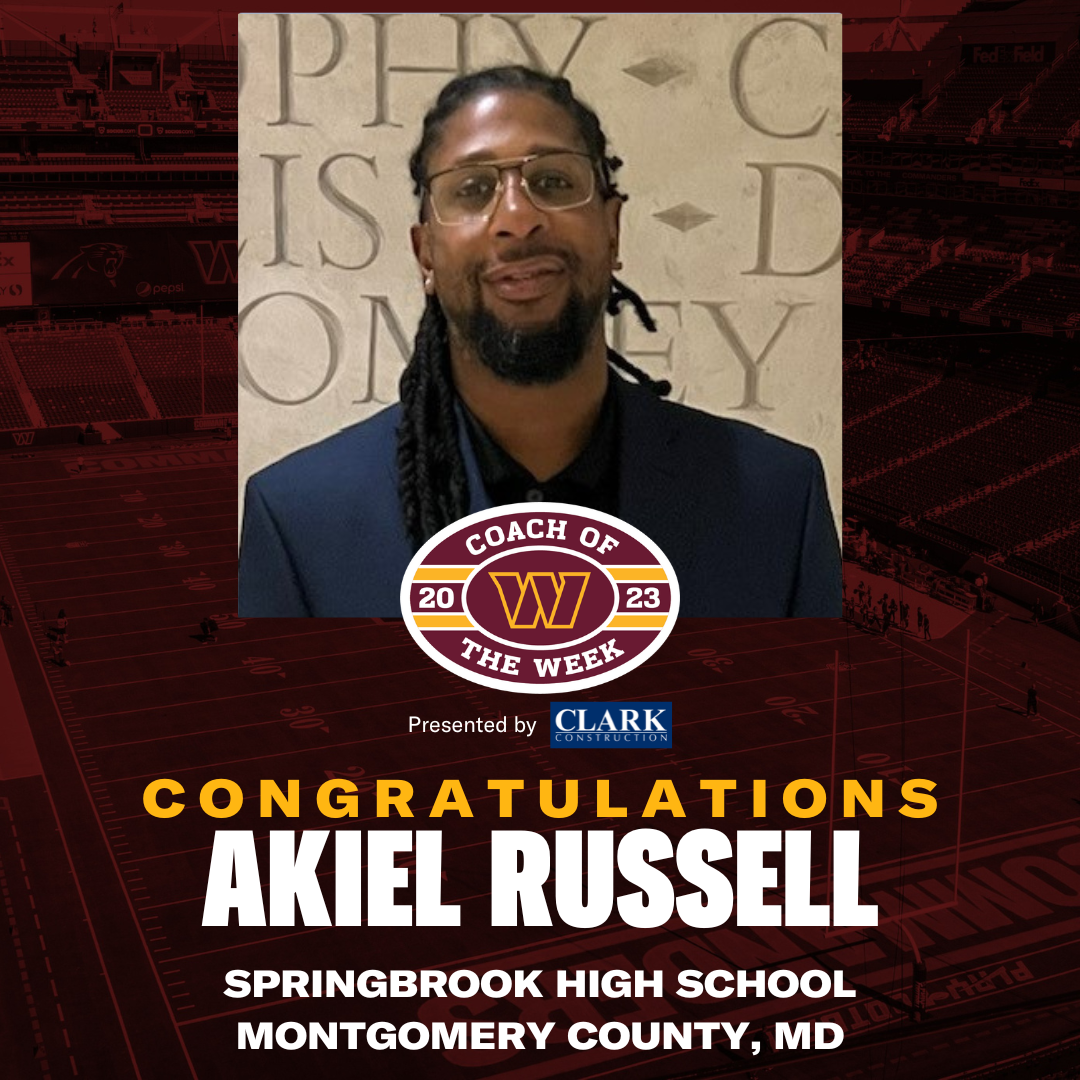 Week 4: Coach Akiel Russell – Springbrook High School
Our week four Commanders coach of the week is Coach Akiel Russell from Springbrook High School in Montgomery County, Maryland. A proud alumnus of Springbrook himself, Coach Russell stepped into the role of Head Coach during a challenging period for the school's football future and has never looked back. Coach Russell's relentless work ethic and commitment to the team are evident as he goes above and beyond the call of duty. His unique ability to connect with his athletes stems from his personal experiences on the very field they play on, having worn the same pads, helmets, and jersey with the same name and number. What sets Coach Russell apart is not just his athletic accolades but also his unwavering determination, genuine love for the sport, and a deep-seated care for his athletes' well-being. His coaching philosophy extends beyond the football field, emphasizing the importance of health and safety both on and off the gridiron. From ensuring players stay hydrated to teaching them how to manage off-days effectively, Coach Russell's attention to detail is impeccable. He conducts thorough equipment checks to guarantee that every player's helmet, pads, and gear are in prime condition, exemplifying his commitment to creating a safe and nurturing environment for his team to thrive. Coach Russell's dedication and holistic approach make him an invaluable asset to Springbrook High School's football program and a role model for athletes and coaches alike.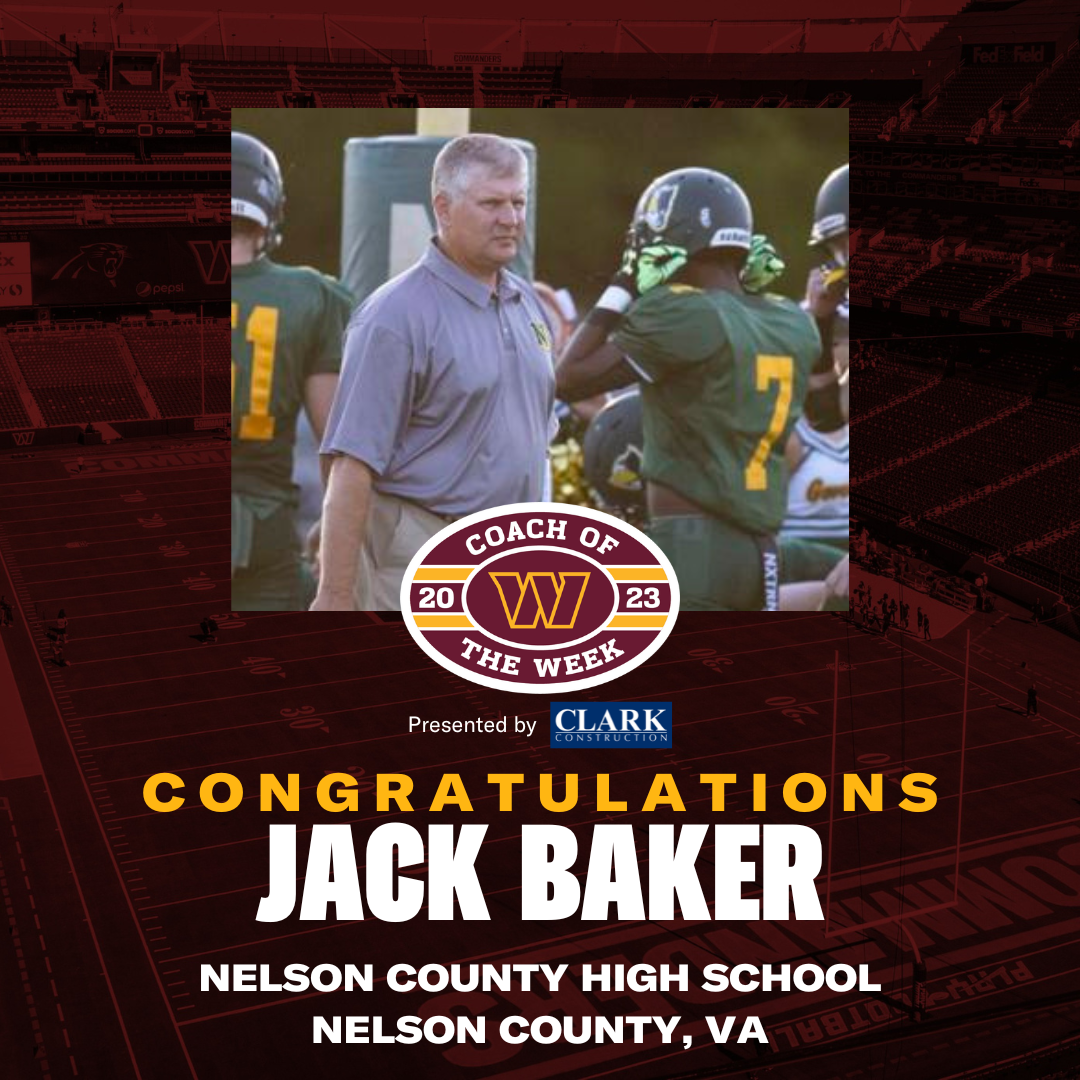 Week 5: Coach Jack Baker – Nelson County High School
Our week five Commanders Coach of the Week is Coach Jack Baker from Nelson County High School in Nelson County, Virginia. Coach Baker has led this football program to its best start since 1988 and has started to establish a culture built on mastering basic skills that will provide to be the foundation for the future success of student athletes at Nelson County High School. His approach to the offseason, especially in the weight room, has prepared the team's young men to be successful on the field this fall. Coach Baker's commitment to the students at Nelson County High School doesn't stop on the football field. Coach Baker takes the same fundamental-based approach to the weightlifting and history classes he teaches. In the weightlifting class he teaches both female and male students, many of whom are not athletes, yet Coach Baker displays the same commitment to their development in the weight room as he does his football players. Aside from football, Coach Baker teaches World History I, where he has proven to be an outstanding teacher. Coach Baker's commitment to honesty serves as a guiding principle in shaping the destinies of his students and athletes, both within and beyond sports. Now in his 21st year as a Head Coach, Coach Baker leaves a profound and lasting impact on every program he touches, elevating them to new heights. His commitment to his players extends well beyond high school as he has helped dozens of young athletes achieve their dream of playing college football and attaining a college education. Coach Baker teaches and stresses proper fundamentals in every aspect of the game while emphasizing the importance of proper rest and nutrition to his players on a regular basis.
Week 6: Coach Ray Norcross - Riverheads High School
Our Week 6 Coach of the Week, Ray Norcross is currently the Head Football Coach at Riverheads High School in Augusta County, Virginia. With a distinguished career spanning nearly five decades, Coach Norcross has left a lasting impression on the sport. He embarked on his coaching journey in 1978, diligently guiding and mentoring youth and high school players. Under his leadership, Riverheads High School has clinched an impressive 10 state championships, a testament to his exceptional coaching and unwavering commitment with winning games; his genuine care for the well-being and holistic development of his players distinguishes him as a remarkable mentor. Renowned for his positive attitude and unwavering decision, Coach Norcross prioritizes the safety of his players, recently purchasing new helmets to enhance their protection and closely monitoring potential concussions. His emphasis on proper tackling techniques and regular check-ins with the medical staff reflect his steadfast commitment to ensuring the well-being of his athletes both on and off the field. Coach Norcross has established himself as an integral part of the school's fabric. His transition from the role of assistant coach and defensive coordinator under the tutelage of Robert Casto to his current position as head coach speaks volumes about his exceptional leadership qualities and ability to thrive under pressure. Coach Norcross upholds a standard of excellence that extends beyond the football field, instilling in his players the values of integrity, perseverance, and discipline. His unwavering dedication to the growth and character development of the young men under his guidance has garnered widespread admiration from the community. A compassionate family man and a pillar of the school and football program, Coach Norcross embodies the essence of mentorship and sportsmanship, leaving an enduring legacy in the hearts of those he has touched.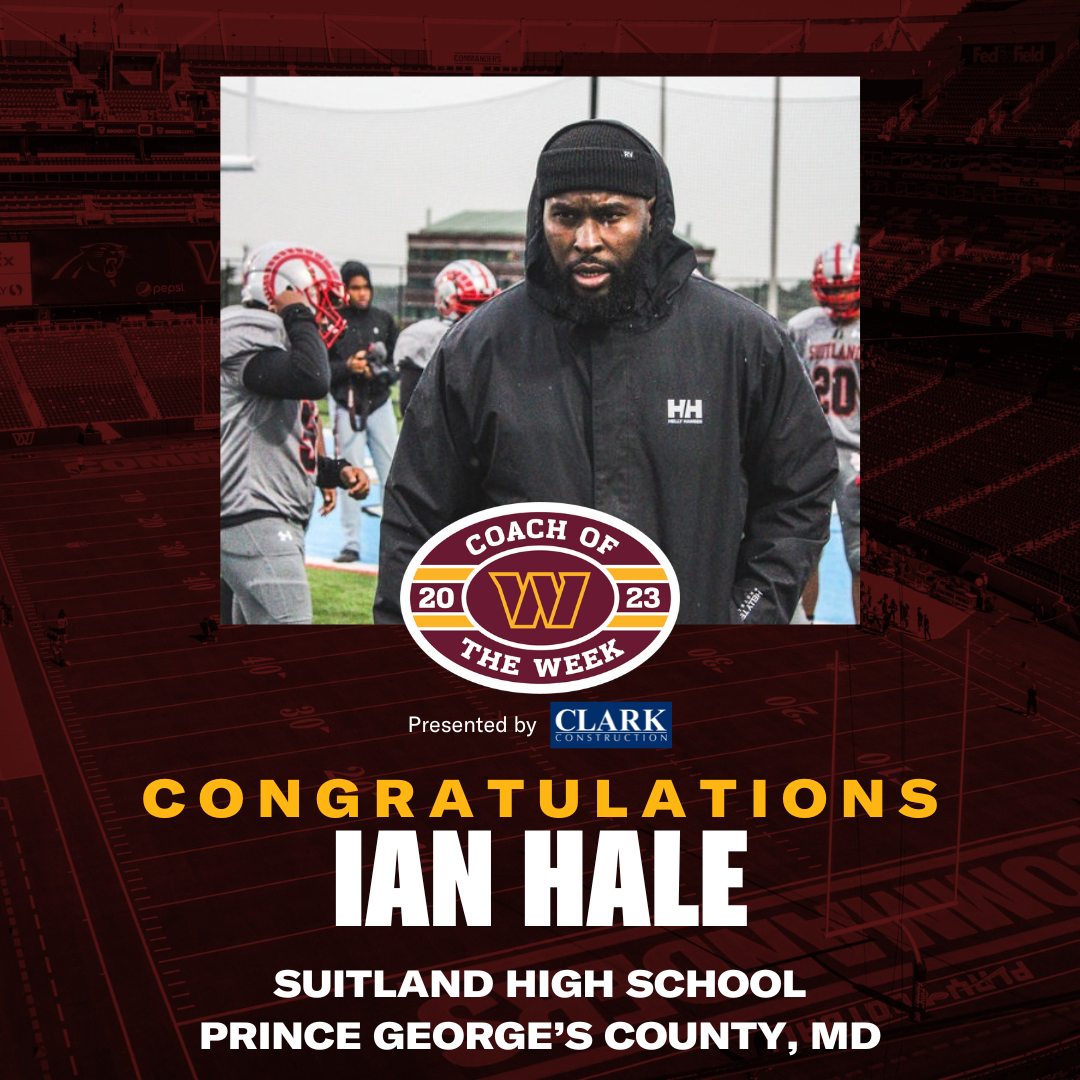 Week 7: Coach Ian Hale – Suitland High School
Our Week 7 Coach of the Week is Coach Ian from Suitland High School in Prince George's County, Maryland. Coach Hale's influence reaches well beyond the football field, permeating our community and school with a lasting impact. His players benefit not only from improved athletic skills but also from a sense of purpose and discipline that prepares them for future success. In addition to his on-field contributions, Coach Hale actively engages in charitable initiatives, including clothing and food drives, that directly assist those in need within our community. Furthermore, he fosters a strong sense of unity through community cookouts, creating a supportive network that extends well beyond the team. His dedication to the success of his players is evidenced by the alumni-turned-coaches on his staff, a testament to his transformative coaching and mentorship. When faced with significant challenges, Coach Hale's unwavering determination and hard work led to a remarkable reduction in ineligibility and an increase in academic achievement among his players. He advocates for a holistic approach to coaching, emphasizing the importance of participating in multiple sports and fostering well-rounded athletes. Moreover, his tireless efforts to connect senior players with college football opportunities have resulted in numerous success stories at the collegiate level.
Coach Hale's impact extends beyond the realm of sports, as he instills values that shape the character of his players for years to come. His emphasis on a supportive and inclusive environment, coupled with an open-door policy, fosters trust and camaraderie among players. He serves not only as a coach but also as a mentor and a father figure, nurturing responsible individuals who will undoubtedly contribute positively to society. Beyond the field, Coach Hale prioritizes the safety and well-being of his players, emphasizing cleanliness, equipment care, safe techniques, and prompt medical attention. His decision to include an EMT on the coaching staff contributes to his commitment to the comprehensive health and safety of his team, setting a high standard for player welfare in high school football. His influence goes far beyond the scoreboard, shaping future leaders and responsible individuals who will undoubtedly make a positive impact in the world.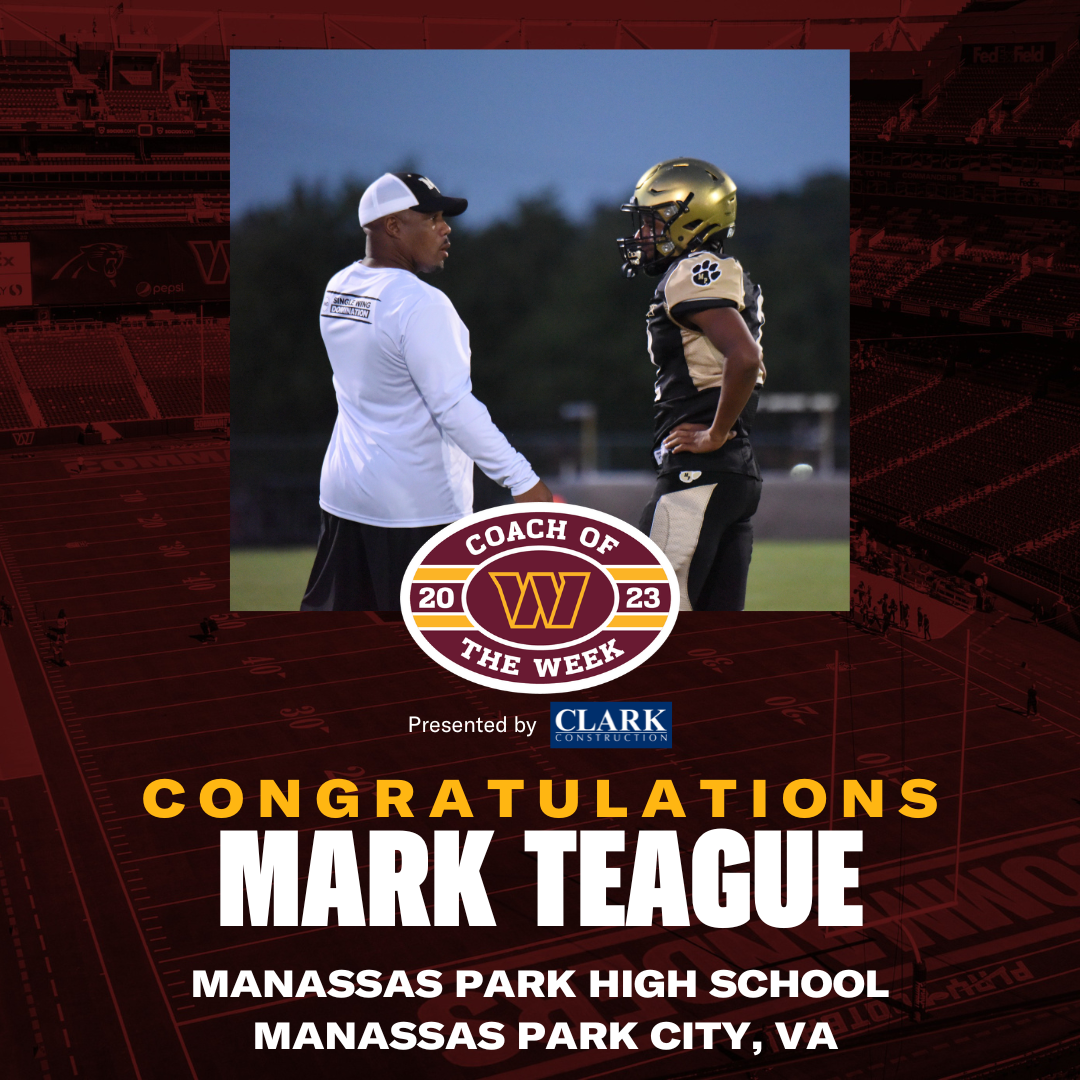 Week 8: Coach Mark Teague – Manassas Park High School
Our Week 8 Coach of the Week is Coach Mark Teague from Manassas Park High School from Manassas Park City, Virginia. Coach Teague has been at Manassas Park High School for a short amount of time, but he has already had a tremendous impact on the school and community. On October 20, Coach Teague helped his team end a 21-game losing streak; their first win as a varsity football team since March 21, 2021! Due to a lack of participation, Manassas Park High School did not field a team in 2022. In less than a year, Coach Teague has recruited 72 students from grades 7-12 to the football program. Coach Teague makes an effort to build relationships with students in the classroom, as well as on the football field. From the start, Coach Teague understood that students needed to be able to trust him and that being patient would be essential in rebuilding a team and developing players. Most Manassas Park players lacked experience playing organized football and needed a coach who was willing to begin with the fundamentals while holding each player accountable. Coach Teague has made every player feel important and part of the team, while demonstrating that he cares about them off the field. He found a way to celebrate the small victories along the way leading up to the first win of the season. Coach Teague has given a team, which was nonexistent a year ago, the ability to believe – to believe in themselves, in their teammates, and in their coaches.
Week 9: Coach Scott Turner – Turner Ashby High School
Our Week 9 Coach of the Week is Coach Scott Turner from Turner Ashby High School in Rockingham County, Virginia. Coach Turner is an alumnus of Turner Ashby High School and has returned to his alma mater as Head Football Coach. He has led this team to an unbelievable turnaround and finished as the Valley District Coach of the Year last season. He has proven to care much more about cultivating a positive school culture over wins and losses. Coach Turner volunteers in the community and encourages his players to do the same by leading by example. He goes above and beyond for his team by checking in on their grades to offering rides and meals to kids who need them. Coach Turner has proven to be a leader both on the field and off while earning the respect of his players along with the community.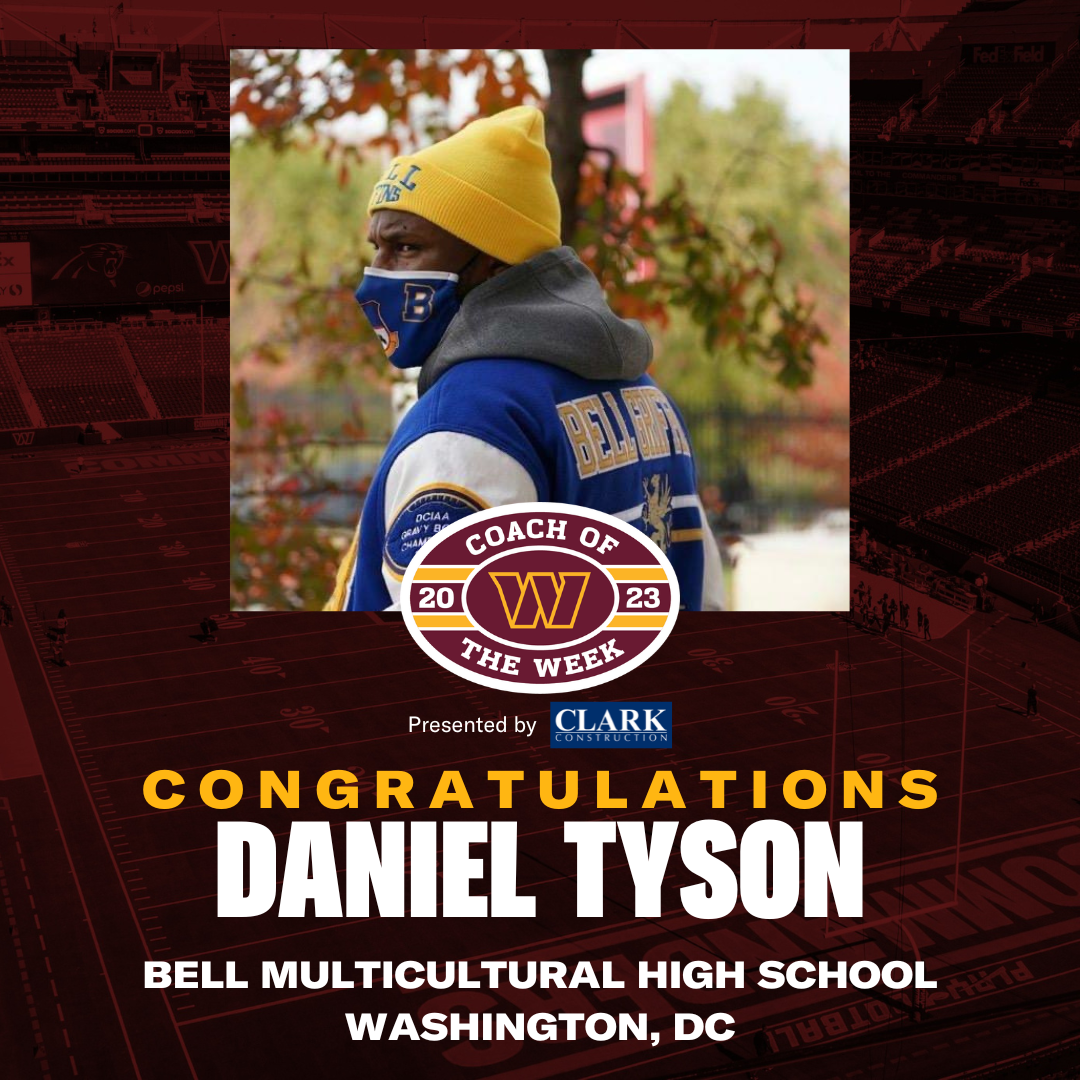 Week 10: Coach Daniel Tyson – Bell Multicultural High School
Our Week 10 Coach of the Week is Coach Daniel Tyson from Bell Multicultural High School, part of the Columbia Heights Education Campus in Washington, DC. Coach Tyson has been a pillar in the Columbia Heights area by being active in the community. His community involvement spreads across family and friends day, football camps, and community cookouts, helping bring the neighborhood together. Within his time as Head Football Coach at Bell Multicultural High School, he has brought home three championships. Not only has Coach Tyson proven to be an outstanding coach, he is always teaching his players football lessons that can be applied to their lives off the field, such as accountability, responsibility, humility, hard work, and respect. He is always reiterating safety protocols to his players and stresses the importance of a balanced meal and rest. To prepare for games, his players will lift weights and participate in mental health check-ins, both individually and as a team. Thanks to Coach Tyson, Bell is one of the most consistent football teams in the DC area. Outside of football, Coach Tyson owns a day-care center in Northeast DC. After 16 years of coaching, Coach Tyson thought he was ready to leave the team to focus on his business but couldn't at the thought of leaving his team behind. He is open about the challenges that come with balancing being a head football coach and a business owner and has inspired his players to be the best versions of themselves while work towards their passions.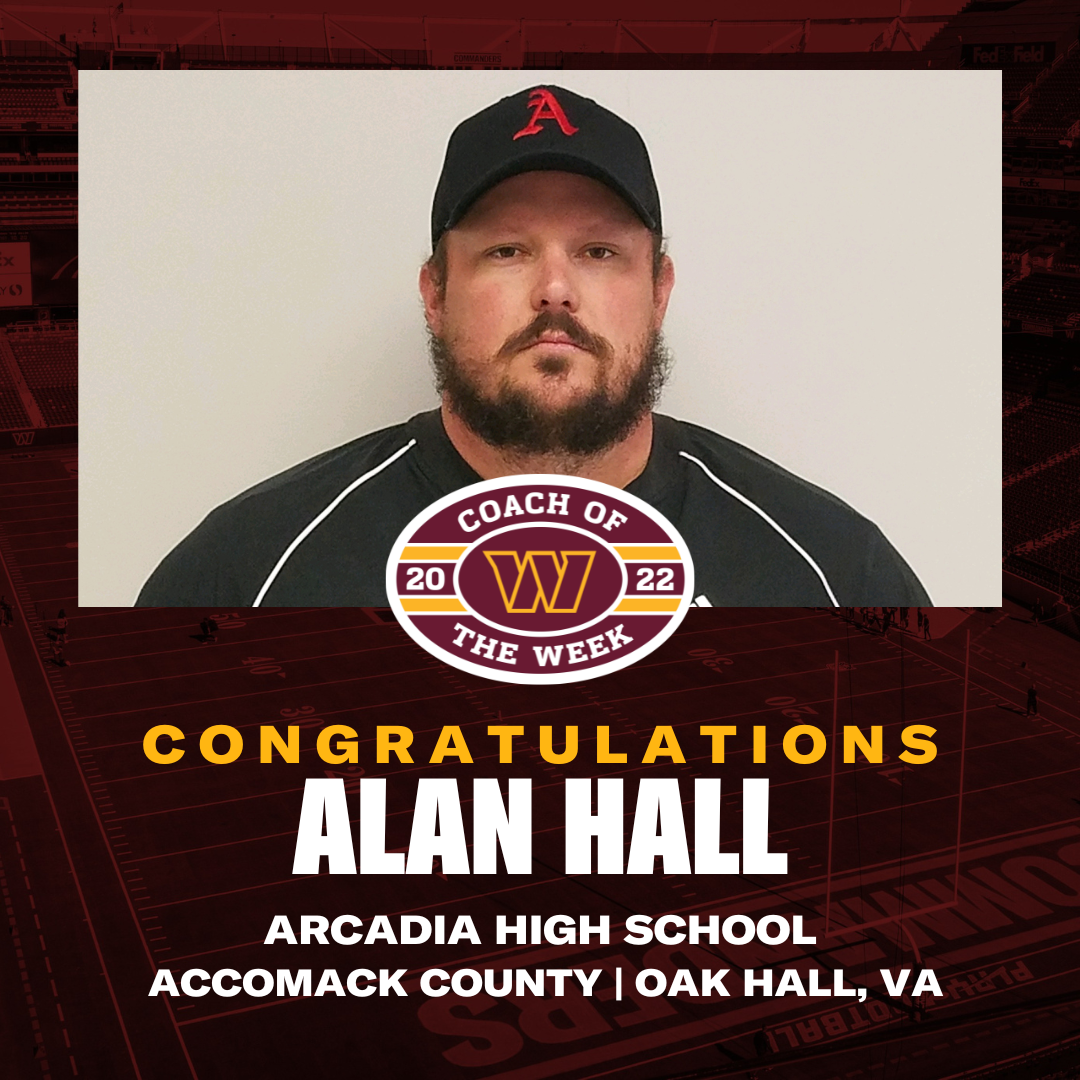 Week 1: Coach Alan Hall - Arcadia High School
For Week 1 Coach of the Week, Alan Hall from Arcadia High School, and his family joined the Washington Commanders for their home opener versus the Jacksonville Jaguars. Alan has served as the Varsity Football Coach for the past 5 years and was also named Athletic Director in January 2022. Coach Hall has built a program focused on discipline, relationships, and success both on and off the field. He shows a genuine care for all his players and other student-athletes' health and safety by prioritizing education on the latest information regarding player safety for 
himself and his staff. He works closely with the school nurse, local doctors, and physical therapists to connect and support his teams' families. The school has also partnered with local nonprofits to provide healthy drinks, snacks, and meals to the football program. In addition to nutrition, Coach Hall focuses on student-athlete mental health by working closely with the school's guidance department. Arcadia HS staff and their community have seen a positive 
change in their student-athletes on the field of competition, in the classroom, and in the community which they attest to the leadership of Coach Alan Hall! It was an honor for the Washington Commanders Charitable Foundation to host Coach Hall and his family!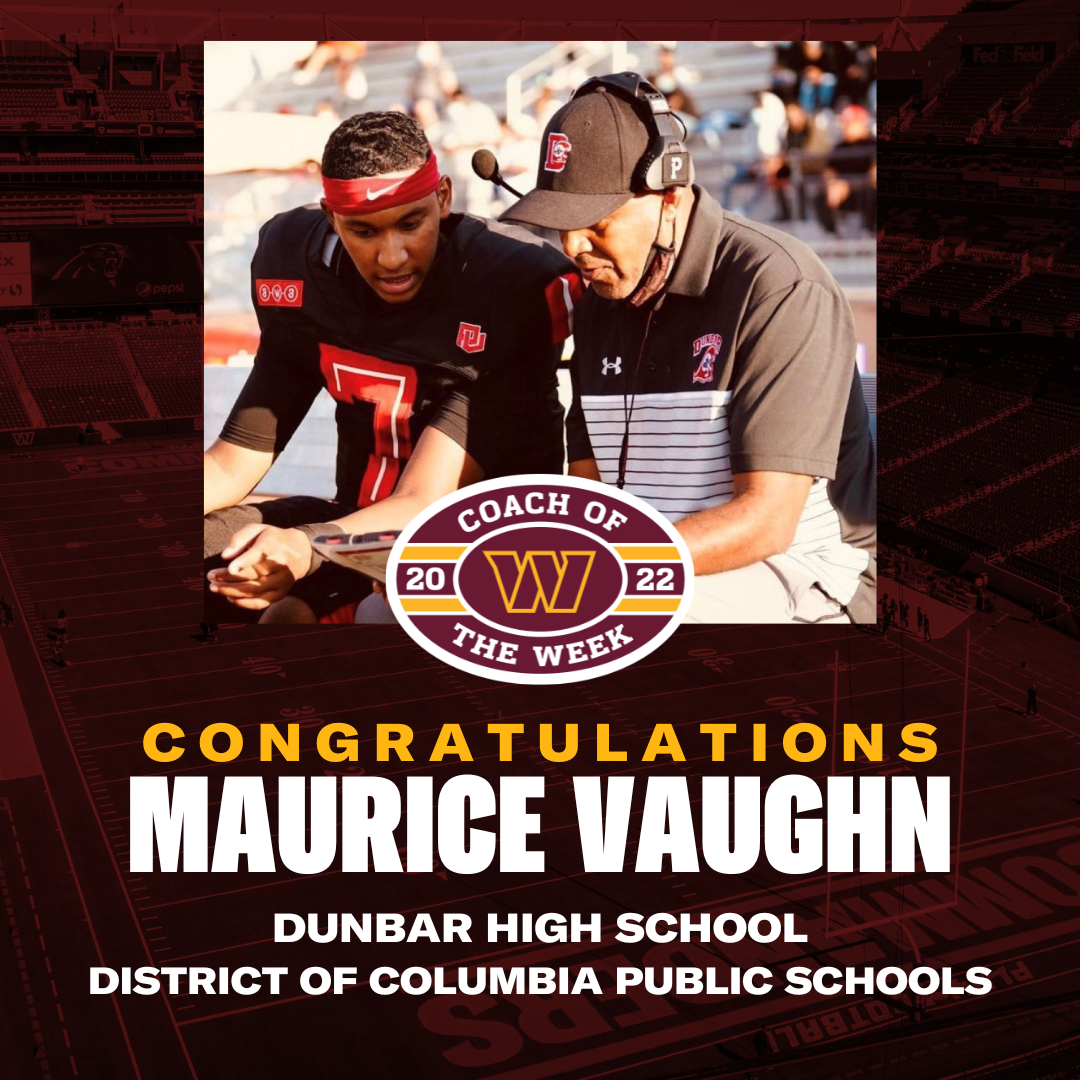 Week 2: Coach Maurice Vaughn - Dunbar High School
Our Week 2 Coach of the Week is Maurice Vaughn from Dunbar High School.  He has served as their Varsity Head Football Coach for 6 years.  Coach Vaughn is an Alumnus of Dunbar Class of '84 and a key figure in the Washington, DC community.  He prioritizes his student-athletes' success in the classroom, on the field, and in the community.  Under Coach Vaughn's leadership, the program has been ranked top three in the conference for highest overall GPA, won multiple championships, and gives back to the community through youth football, church programs, and other service opportunities.  He is committed to player health and safety through proper education and impactful change.  He educates himself and his staff with information and updated techniques.  He also values and provides daily feedback so that corrections can be implemented immediately to keep everyone safe.  Coach Vaughn makes it a priority to build one on one relationships with each of his athletes so that he can effectively coach them towards achieving their goals!
Week 3: Coach James Ford - Culpeper County High School
For his efforts as a Culpeper County High School role model, the Washington Commanders Charitable Foundation has named Coach James Ford its High School Coach of the Week. He is enthusiastic about instilling the importance of giving back in his team. He has taken a lead on organizing community clean ups, youth football camps and trips to the local food bank. As part of the Coach of the Week honor, the Commanders will host Ford at their Oct. 9 game at the Tennessee Titans and the Culpeper County High School football program will receive a $1,000 grant.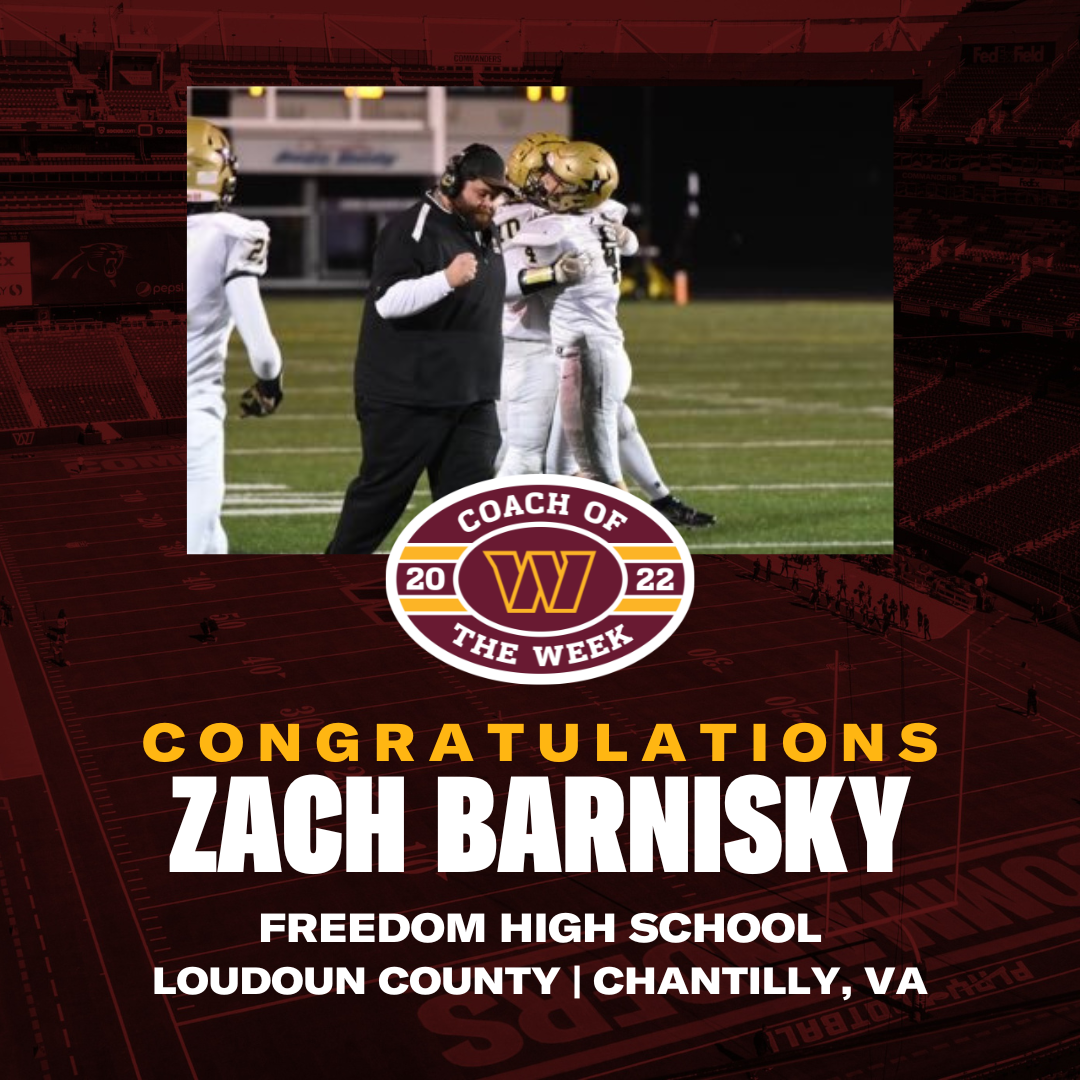 Week 4: Coach Zach Barnisky - Freedom High School
Our week 4 Coach of the Week is Zach Barnisky from Freedom High School in Loudoun County, Virginia. Coach Barnisky has served as head coach of varsity football for 4 years, being a devoted leader to his players on and off the field. Zach's motto is "build the nest" which means doing things the right way and holding his players to a high standard for their athletic, academic, and community-oriented efforts. In his first year as head coach, Barnisky established a community outreach program, taking the entire Freedom Football program to Dulles Airport to welcome veterans as a part of the Honor Flight Network. This organization honors American veterans for their sacrifices and achievements by flying them to Washington, D.C. to visit memorials at no-cost. Players thanked the veterans for their service and showed their appreciation by singing the national anthem and other patriotic songs. Zach has become a beloved member of the Freedom High School community by fostering relationships with other organizations including the school's band, dance team, and other athletic organizations. Last year, Zach tied the school's record for most wins in a single season and the team is on track to beat it. Coach Barnisky has been described by his players as having a calm and focused demeanor that leads to success on the field, and makes kids want to play for him.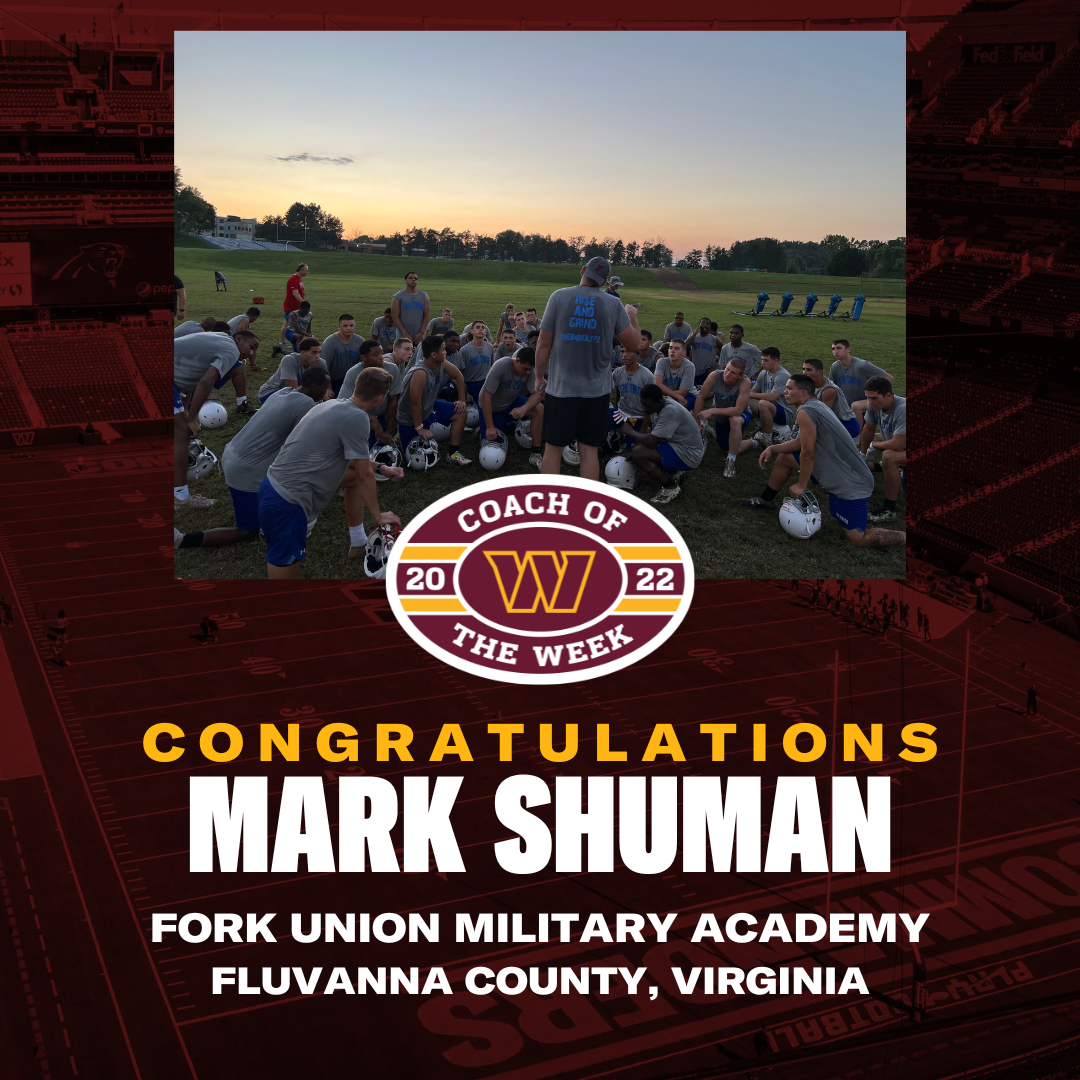 Week 5: Coach Mark Shuman - Fork Union Military Academy
Our week 5 Coach of the Week is Mark Shuman from Fork Union Military Academy in Fluvanna County, Virginia. Coach Shuman has been head coach for 4 years and his impact on the team, school, and community has been remarkable. Coaching at a military school comes with a unique set of challenges that other schools don't incur, but Coach Shuman's seemingly endless devotion to his players has led to success on and off the field. Mark takes great pride in his team's diversity, and he works closely with the admissions office to ensure that all student-athletes are given the same opportunities regardless of their background. Coach Shuman's efforts go beyond the game of football, encouraging his players to take care of their health and dedicate themselves to their education so that they may have a bright future in whatever path they take.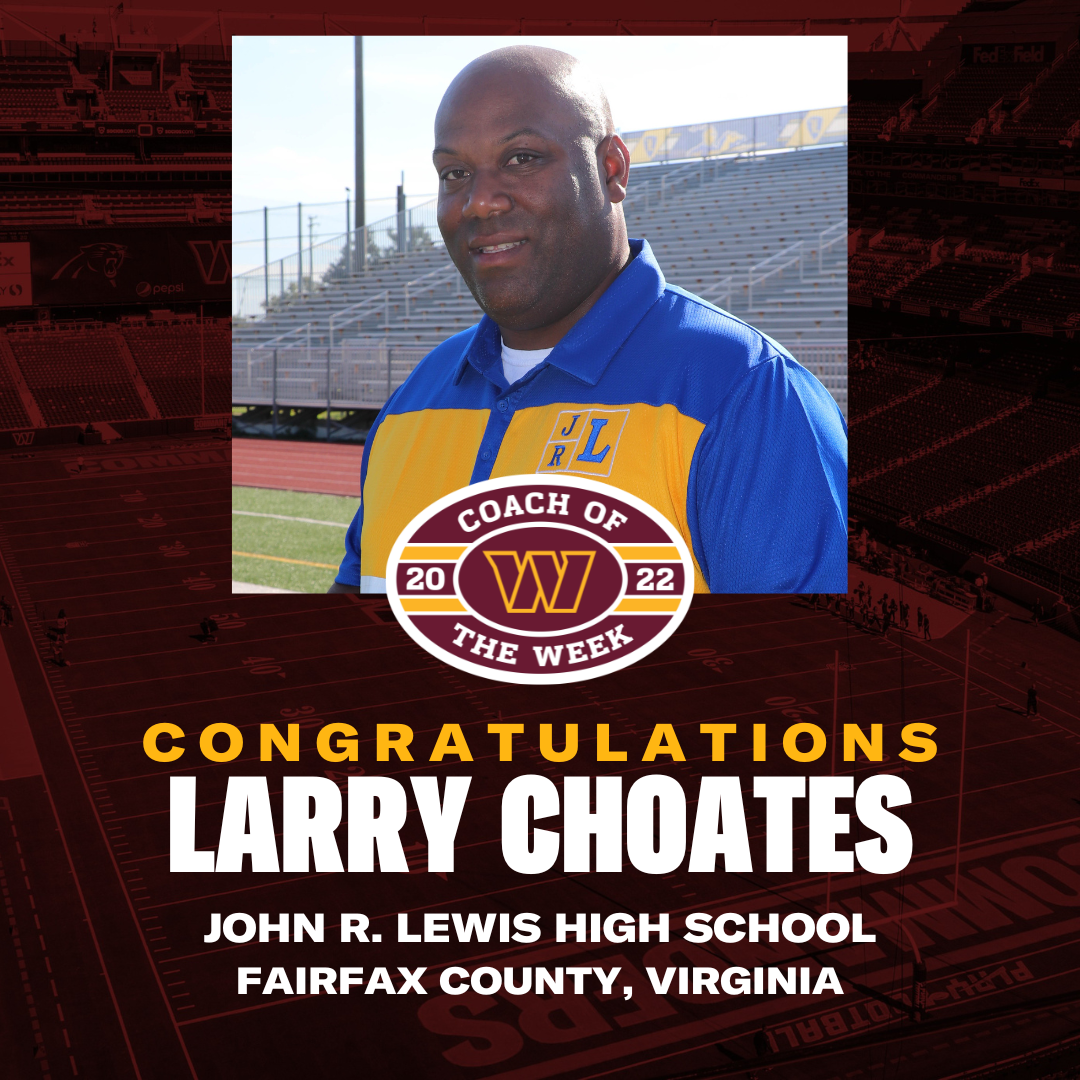 Week 6: Coach Larry Choates - John R Lewis High School
Our week 6 Coach of the Week is Larry Choates from John R. Lewis High School in Fairfax County, Virginia. Coach Choates has been the Varsity Head Coach for 2 years now, and already, he has made an immeasurable impact on his team, school, and community. Lewis High school may be the smallest high school in the county, but Coach Choates fundraises tirelessly to ensure that his players receive the resources, opportunities, and experience that they need to be successful in high school and beyond. Coach Choates has an empathetic and education-first mentality ensuring that his players feel supported in the classroom and in their personal lives. His goal is getting his athletes to graduate with honors, continue playing football in college, and leave high school with real world experience that will influence their lives for the better. He truly is motivated to change the lives of his players.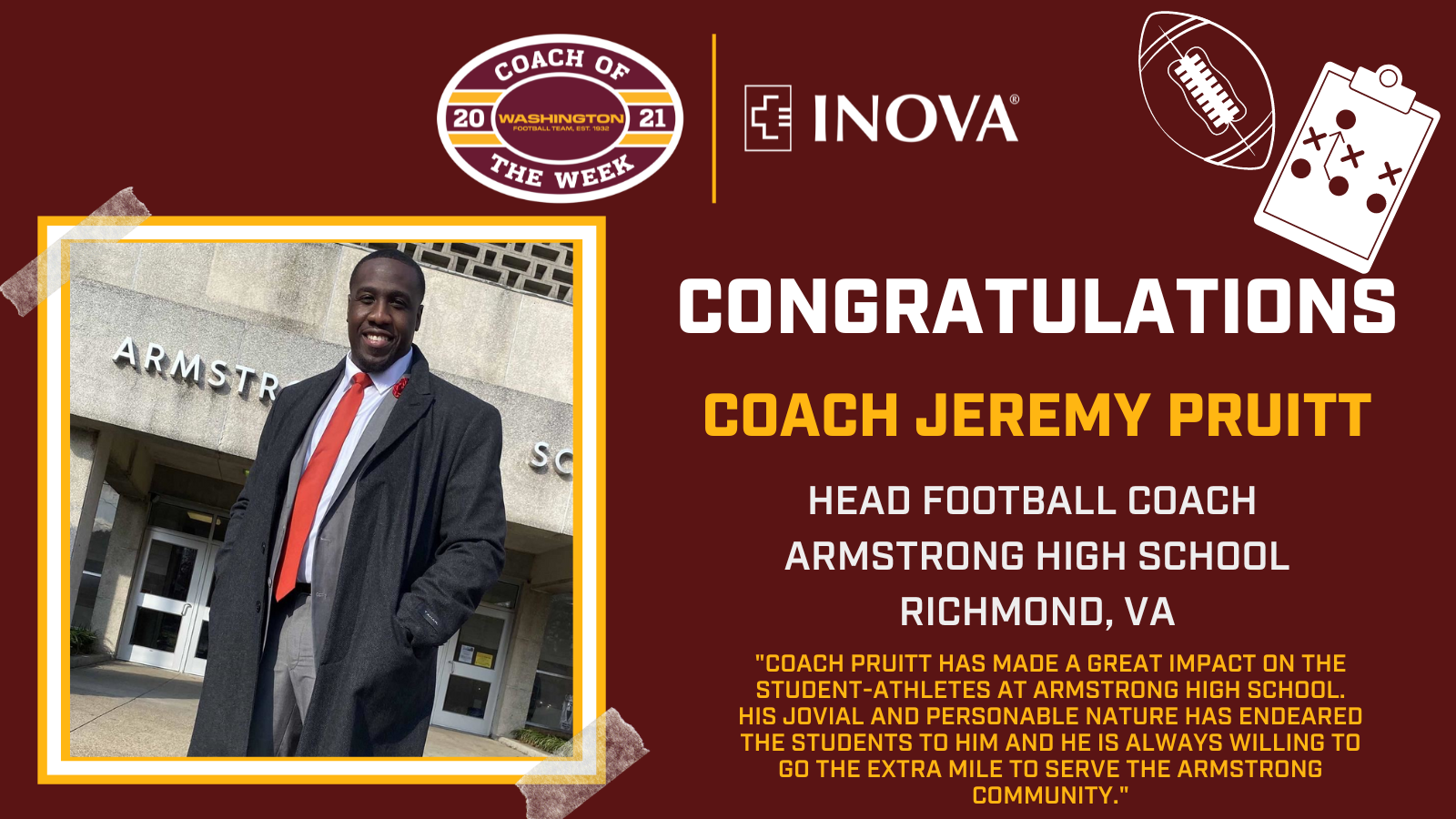 Coach Jeremy Pruitt - Arcadia High School
Coach Jeremy Pruitt has been coaching at Armstrong High School for 5 years now. Coach Pruitt has made a great impact on the student-athletes at Armstrong High School, serving as assistant football coach, assistant girls basketball coach, Head JV boys basketball coach, and currently Head Football Coach.  His jovial and personable nature has endeared the students to him.  After being named head coach and enduring not being able to have his team participate last year due to COVID, Coach Pruitt made it his mission to connect with his student-athletes virtually and motivate them to stay engaged academically.  He was a positive influence in Richmond Public School's RPS On The Rise program this past year and his passion has carried into this year.
Coach Rashad Cook, Western Branch High School, Chesapeake VA
Coach Rashad Cook has been coaching at Western Branch High School for 2 years now. Coach Cook is constantly talking to the kids about LIFE. Football comes and goes, but the lessons football teaches you about LIFE will carry you. He stresses going 1-0 on everything we do: the classroom, the community, each rep, practice, etc. Turning a program around is difficult, changing a culture is harder! He has done both in the span of 2 seasons while fighting pandemic restrictions Coach Cook, since taking over the program, has stressed the importance of our footprint on the community. We have since volunteered at food drives, churches, community cleanup projects and food pantry distributions.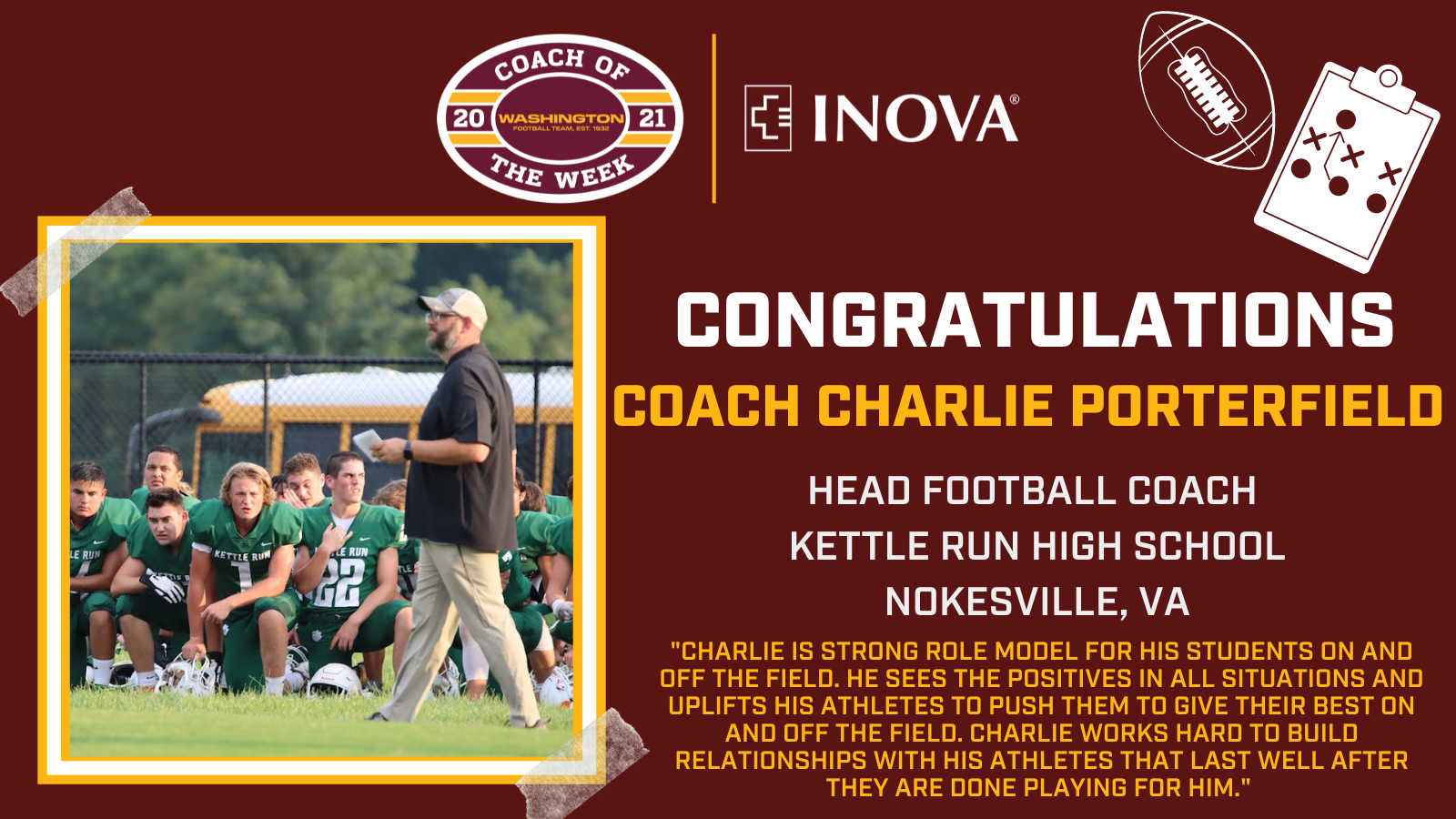 Coach Charlie Porterfield - Kettle Run High School
Coach Charlie Porterfield has been coaching at Kettle Run High School for 6 years now. Coach Charlie is a role model for his players on and off the field. He puts time with each of his players and makes it a priority to build strong relationships with them as he hopes to be someone that they can come to with any problem they may have. Coach Charlie has made the mental health of his players and has been involved in non-profit work with Morgan's Message.
Coach Alex Fruth - Goochland High School
Alex Fruth has been coaching at Goochland High School for 4 years now. Alex pours everything he has into our young people on a year-round basis.  He dumps every penny that he gets from coaching back into the program.  His success on the field speaks for itself, but it's his understanding of the big picture that makes him a great selection. The values that Coach Fruth instills in them will undoubtedly make them better husbands, fathers, employees, and citizens down the road.  And those roles are a lot more important than anything they will ever do on a football field.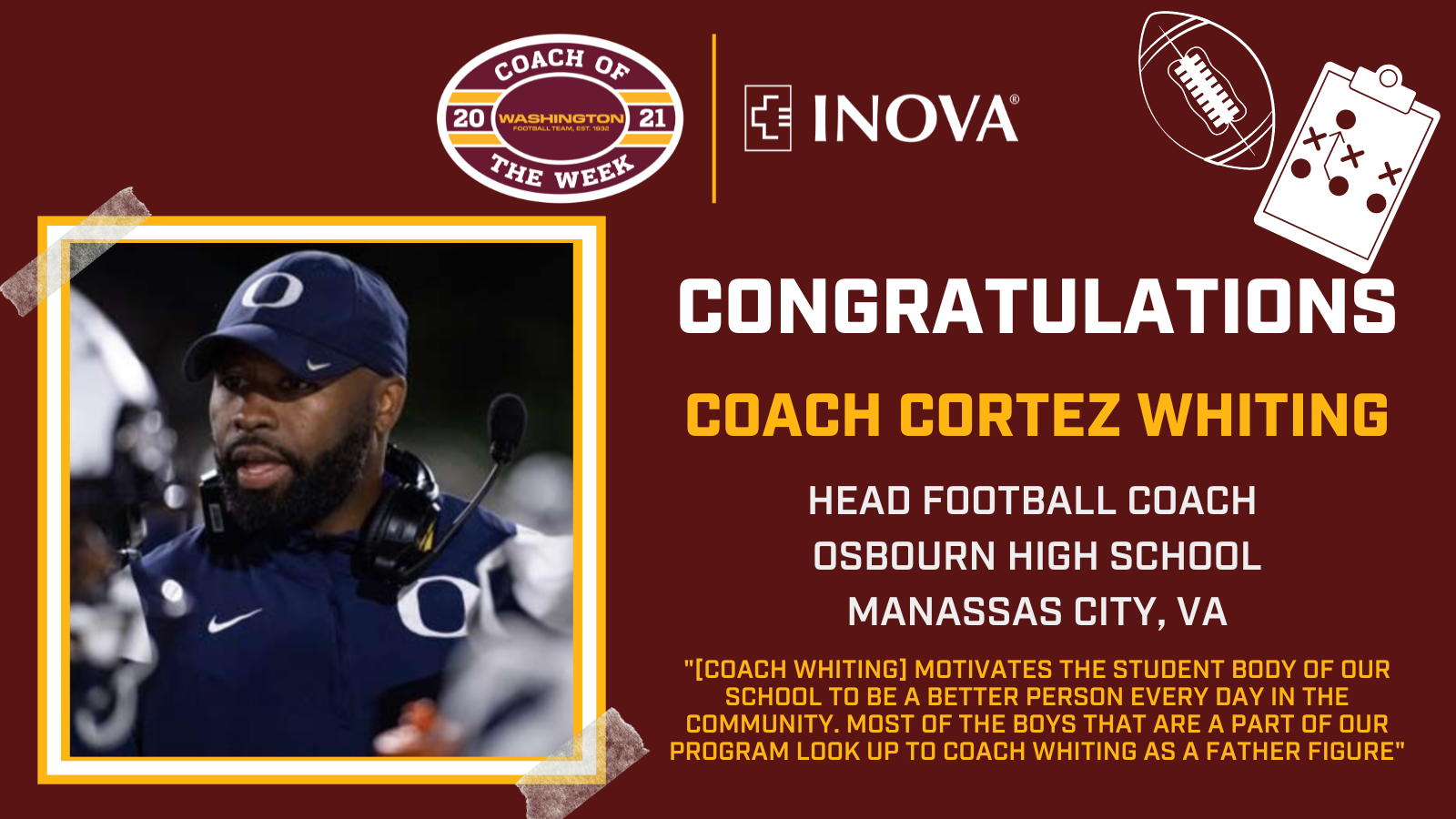 Coach Cortez Whiting - Osbourn High School
Coach Cortez Whiting has been coaching at Osbourn High School for 5 years now. Coach Cortez motivates his players every day to be the best versions of themselves. Coach Cortez is a positive role model for the team, the school, and the community and he emphasizes doing everything on and off the field "the right way".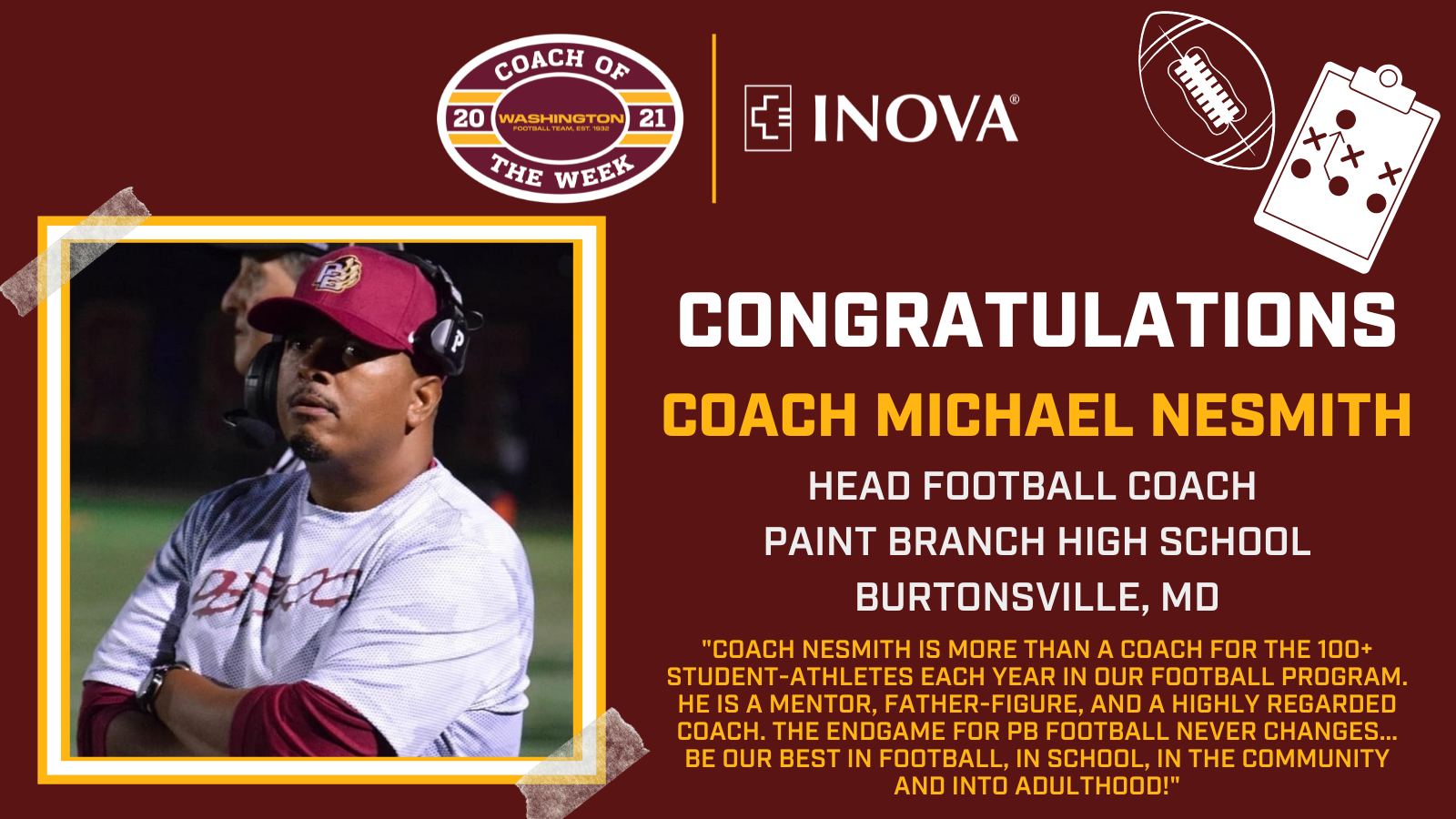 Coach Michael Nesmith - Paint Branch High School
Coach Michael Nesmith has been coaching at Point Branch High School for 15 years now. Coach Nesmith emphasizes the PB Way for all his players meaning to be your best in football, in school, in the community, and in adulthood. Coach Nesmith engages his players in community outreach projects including volunteering at foodbanks and packing up backpacks for the homeless. He ensures that his players are taking care of themselves off the field including education on mental health and equity and social justice topics. He refers to his players and coaches both past and present as "family".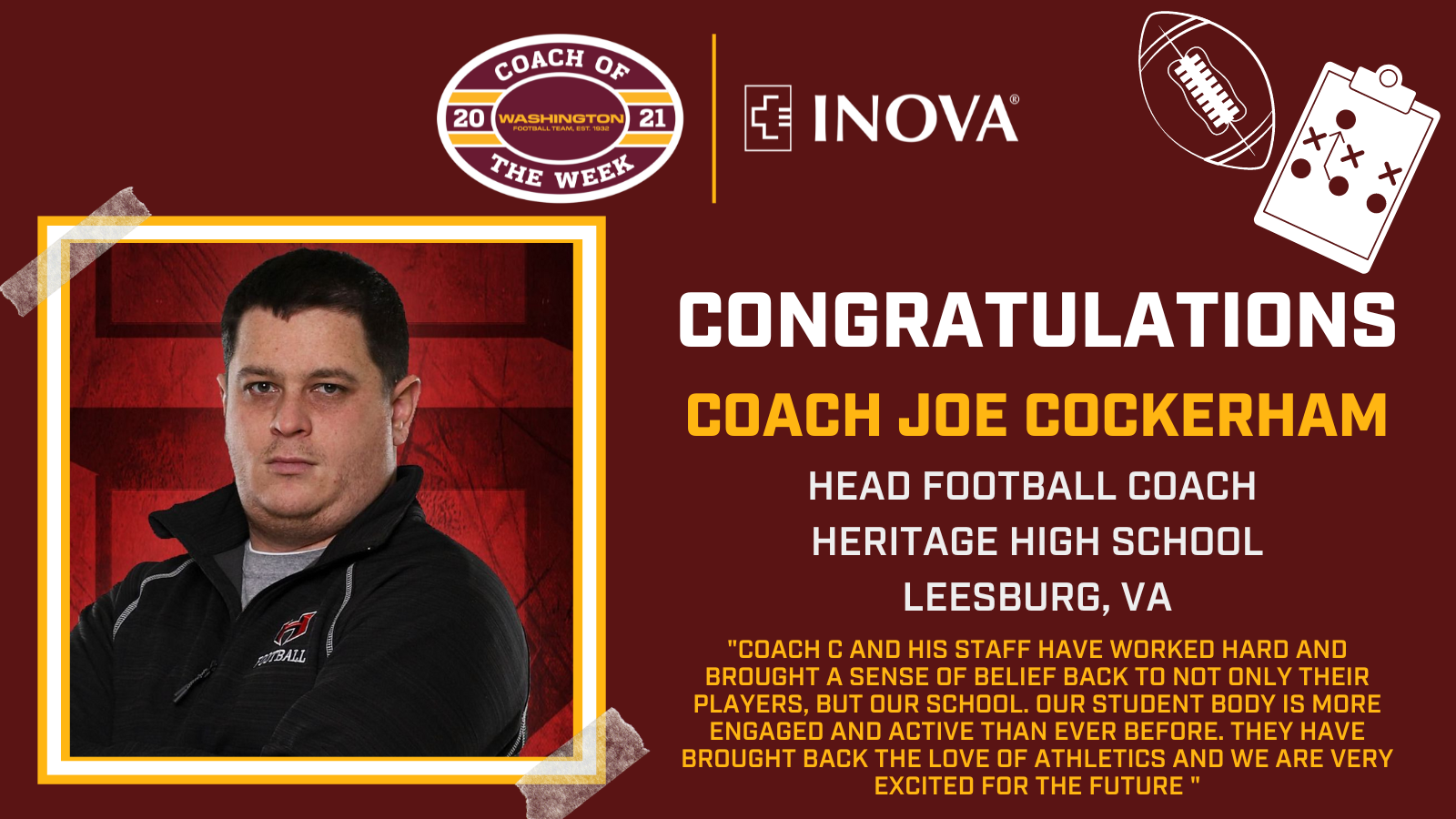 Coach Joe Cockerham - Heritage High School
Coach Cockerham has been coaching at Heritage High School for 3 years now. Coach Cockerham and his staff have worked hard and brought a sense of belief back to not only their players, but our school. Our student body is more engaged and active than ever before, and our players feel like they have a chance to beat anyone any day. That is something that has been missing over the past few years and we are so happy to be able to do it with hometown players that belong to our school, in an age where some may move to be a part of a stronger program. They have brought back the fight and the love of athletics, and we are very excited for the future.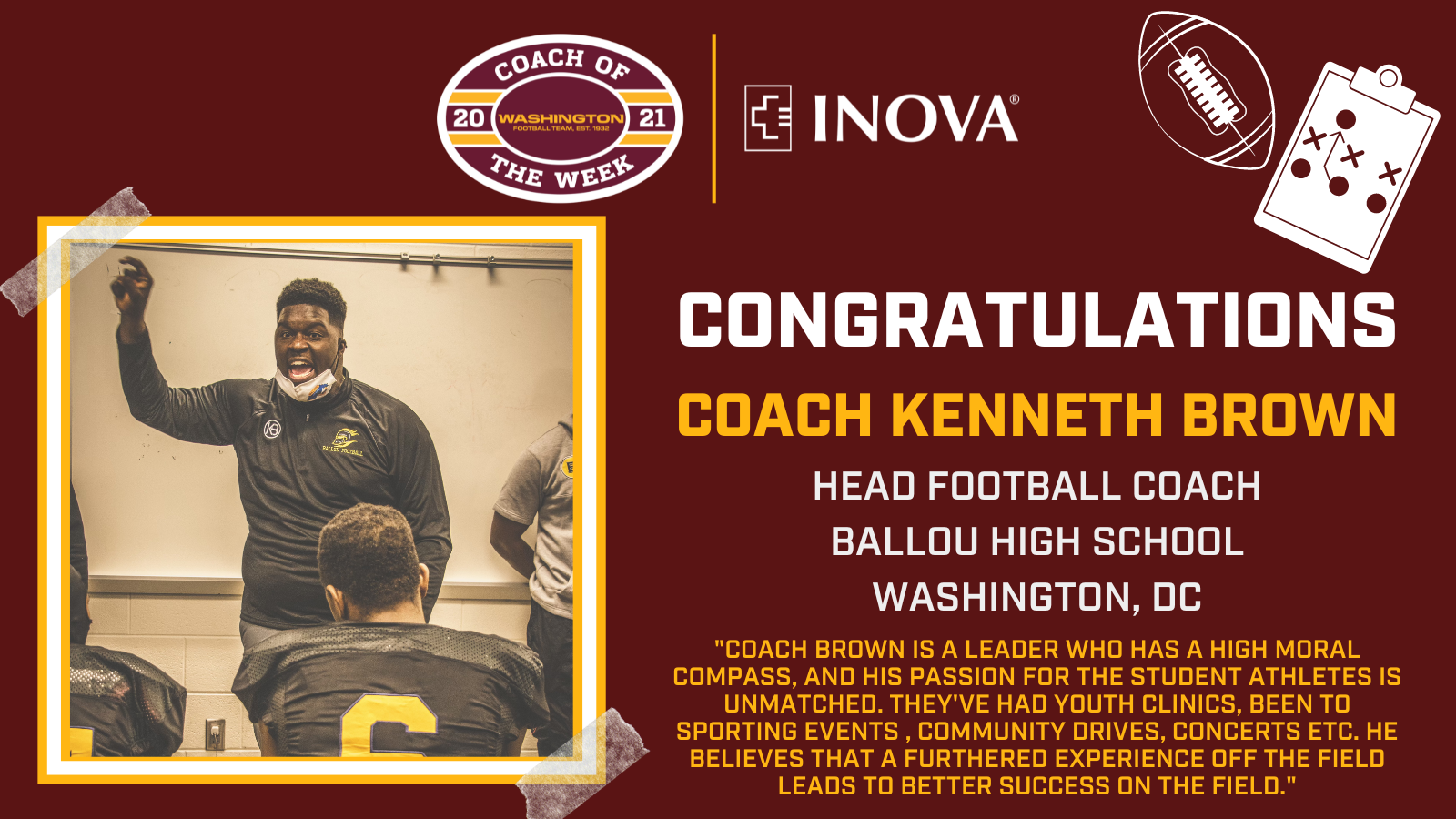 Coach Kenneth Brown - Ballou High School
Coach Kenneth Brown has been coaching at Ballou High School for 3 years. Coach Brown has made classroom engagement a priority for his players especially through the pandemic. He has set up study hall hours for his players and as the College and Career Coordinator for the school, Coach Brown has helped many of his players attend college and get scholarships. He has inspired his team by bringing in professional athletes and influencers to talk with them and by providing collegiate level media production. Coach Brown engages his team with the community through food distribution, uniform drives, and toy drives.
Coach Dustin Jeter - Springbrook High School
Coach Dustin Jeter has been coaching at Springbrook High School for 4 years now. Coach Jeter does a fantastic job providing structure, organization, routine, and value to his team as a whole and to individual student-athletes.  He leads the group by positive example and demonstrates incredible work ethic while taking time to develop relationships with each player.  He goes above and beyond to help players find opportunities to continue their playing careers in college if they choose, and he emphasizes the academic responsibilities so that students are set up for long term success.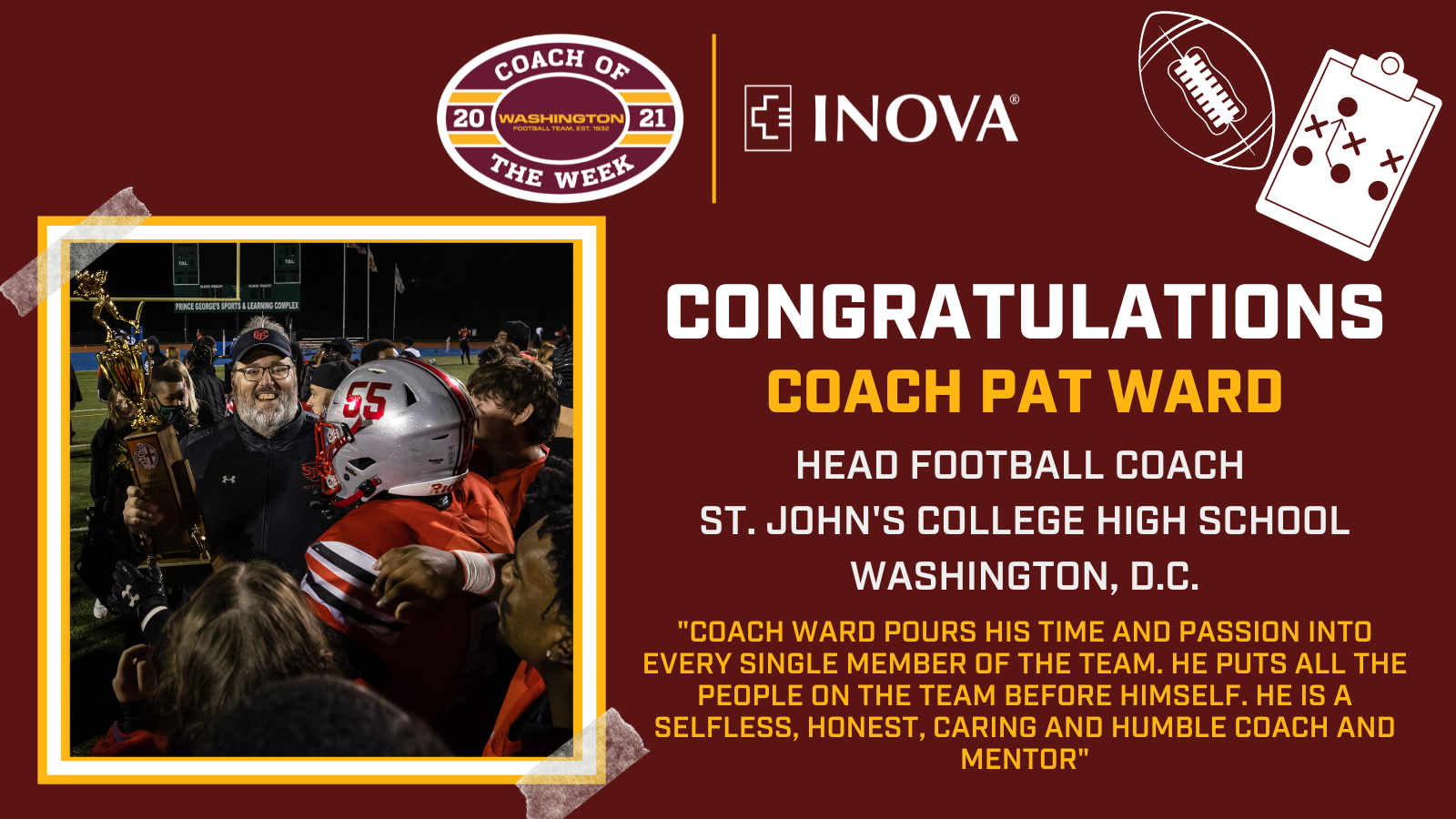 Coach Pat Ward - St. Johns College High School
Coach Ward is a St. Johns alumni himself and he has been coaching at the school since 1999 and has been head coach for the past 2 years. Coach Ward pours his time and his passion into every single member of the St. Johns College High School team. He puts all the players on the team before himself and he is described as selfless, honest, caring, and humble.