The Washington Commanders are reloading for the 2023 season, starting with free agency.
New talent from around the league will be brought in and some familiar faces will return. Here's the list of those who have reportedly agreed to terms.
Stay up to the minute with all the latest reports, and be sure to check back with Commanders.com and the Commanders app for continuing 2023 free agency coverage.
Also, be sure to follow us on Twitter and like us on Facebook.
And check out our 2023 free agency tracker HERE for more information.
Players retained in free agency
The Commanders have reportedly re-signed backup center Tyler Larsen.
Larsen, who has been in the NFL since 2016, has been with Washington since 2021 with 18 games and 11 starts under his belt. He has been one of Washington's more pivotal backups and has appeared in relief for veteran starter Chase Roullier on multiple occasions. Over the last two seasons, Larsen has been a calming force for an offensive line that has struggled with injuries at several spots.
Larsen said at the end of the season that he would like to return to Washington, and it appears that hope is now a reality.
The Commanders have secured their depth at defensive end by reportedly re-signing Efe Obada.
Obada, who signed with the team last March, played in 17 games with one start in 2022. He tied a career-high with 24 tackles (14 solo) with eight quarterback hits and four sacks. With Chase Young recovering from his knee injury, Obada helped stabilize the Commanders' defensive front and played at least 30% of the defensive snaps in 16 games.
Williams made an good impression in limited action with the Commanders, and that has earned him another opportunity with the Burgundy & Gold. Williams rejoined the Commanders in 2021 after spending time on the team's practice in 2020. He rushed for 152 yards on 37 carries in 2022, including a 48-yard showing against the Dallas Cowboys in Week 4.
Th Washington Commanders have extended a qualifying offer to restricted free agent Jeremy Reaves and released running back J.D. McKissic.
The move with Reaves means that the Commanders can match any offer extended to Reaves by another team. The move also gives Washington more time to work towards a potential long term deal.
Reaves' story is well known by now. He proved himself as one of the league's best special teams players this season after earning a spot on the Commanders' 53-man roster for the first time in his career. He finished the season with a career-high 33 tackles, 17 of which came as a special teams player. He finished second in the league in terms of special teams tackles behind only the San Francisco 49ers' George Odum.
Reaves ended the season with a Pro Bowl selection, First Team All-Pro honors and NFLPA First Team All-Pro Honors. The players association also included him on the list of top five special teams players in the NFL last season.
The Commanders began their efforts to retain their depth at linebacker back signing Mayo to a one-year extension. Mayo, who signed with the team in 2021, recorded 35 tackles to go with a sack and pass breakup in 13 games with three starts.
A few days after re-signing Mayo, the Commanders also made the decision to retain Eifler, who was one of the darlings of the 2022 training camp and impressed his coaches. Eifler, who signed with the Commanders in December of 2021, earned a roster spot last August and became a special teams contributor. He appeared in 10 games and recorded four tackles, one of which was for a loss against the Dallas Cowboys in Week 18.
The Commanders certainly need to address the cornerback position, but they do like some of their own players and want to keep them around. That started with keeping Wildgoose, who joined the Commanders after training camp after spending time with the Buffalo Bills and New York Jets. He appeared in 15 games with three starts and recorded 16 tackles to go with three pass breakups.
Hudson has had an interesting career with the Commanders since being drafted in the fifth round of the 2020 draft. He was cut after last season's training camp, but he ended up playing in 13 games and still ended up starting in the season finale against the Cowboys. Hudson, who played for the University of Michigan, was drafted by the Commanders in the fifth round of the 2020 draft, has appeared in 41 games with four starts. Primarily a special teams player, Hudson has 34 tackles (16 solo) with three quarterback hits.
Washington decided to bring back Gerry on a one-year deal, making him another linebacker that the Commanders kept before he could test the market. Gerry was primarily a special teams contributor and appeared in four games last season.
A favorite of Washington fans, the Commanders have reportedly elected to retain one of its most valuable depth pieces in the secondary. Johnson appeared in 11 games with four starts and is coming off a career year with 29 tackles, nine pass breakups and an interception in Week 9 against the Minnesota Vikings.
Players reportedly joining the Commanders
The Washington Commanders continue to add to their offensive line by signing former Pittsburgh Steelers tackle Trent Scott. Details of the deal were not disclosed.
Scott, an undrafted free agent out of Grambling State in 2018, has played in 61 games with 20 starts. Over the course of his career, Scott has spent time with the Los Angeles Chargers, Carolina Panthers and Steelers. He as experience playing right guard, left tackle and right tackle.
Scott was cut from the Chargers roster at the end of training camp in 2018 but re-joined the team on the practice squad. Scott ended up playing nine games that season, including his first career start against the Raiders. The following season, Scott was named the Chargers' starting left tackle and played in all 16 games.
Scott spent the next two seasons with the Panthers, where he played in 28 games with nine starts. In 2022, he played in eight games for the Steelers with one start against the Browns in Week 18. His Pro Football Focus scores in overall offense (70.9) and pass-blocking (68.5) for 2022 were both career high.
Scott played collegiately at Grambling State where he allowed just three sacks in his collegiate career. As a senior in 2017, he posted 39 pancake blocks and no sacks earning first-team All-Southwestern Athletic Conference recognition.
The Washington Commanders have added more depth to their defensive line by signing Abdullah Anderson.
Anderson, an undrafted free agent out of Bucknell, spent the 2022 season with the Atlanta Falcons and had a career season with 40 tackles, a sack and a quarterback hit. Prior to signing with the Falcons, Anderson played with the Chicago Bears, Minnesota Vikings, Green Bay Packers, Tennessee Titans and Pittsburgh Steelers.
Anderson was a four-year starter at Bucknell with 171 tackles, 33.5 tackles for loss, 15.5 sacks, 14 pass breakups and four blocked kicks. His list of accolades for the Bison includes All-American honors from The Associated Press and being named the NCAA FCS Collegiate player of the Year by the Brooks-Irvine Memorial Football Club.
The Washington Commanders reportedly have their backup quarterback. Per ESPN's Dianna Russini, veteran Jacoby Brissett is expected to sign with the Commanders.
The contract, according to ESPN's Jeremy Fowler, is reportedly a one-year deal.
Brissett, a third-round pick by the New England Patriots in 2016, has won 18 games as a starter with four teams. He has completed 61.1% of his passes for 10,350 yards with 48 touchdowns and 23 interceptions.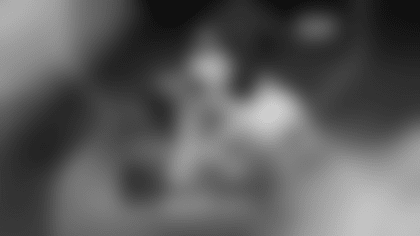 Payne is staying in Washington.
Payne, who tied a franchise record in sacks for a defensive tackle in 2022, has officially signed a multiyear contract extension with the Commanders, keeping the team's interior defensive line intact for years to come.
Payne was the Commanders' first-round pick back in 2018, and since then he has made steady progress while being one of the team's best defensive linemen. Payne has been reliable and consistent over the course of his career with 75 starts in 81 games. He has been inactive for only one game in five seasons.
Payne was one of the first players to get the franchise tag placed on them prior to the start of free agency, but one of the team's priorities this offseason was to retain him. Almost two weeks later, it was reported that the Commanders and Payne had agreed to terms on a new deal.
"We think his presence on the football field was outstanding this season, and he did a lot of good things for us," head coach Ron Rivera said during his and general manager Martin Mayhew's end of year press conference.
It might not be a traditional free agency move, but the Commanders have bolstered their secondary depth by picking up Dantzler off waivers from the Minnesota Vikings.
Dantzler, a third-round pick by the Vikings in 2020, has been a starter more often than not with 26 starts in 35 games. Dantzler did not play much in the second half of the 2022 season, but he has recorded at least 50 tackles in each of the last two seasons and has three interceptions in his career to go with 17 pass breakups. Dantzler has also forced three fumbles with two recoveries.
Dantzler has been a consistent cover corner with the Vikings with at least a 60 in the category from Pro Football Focus over the last three seasons. Acquiring him is a cheap move that could have plenty of upside for next season.
The Washington Commanders announced today that they have signed offensive lineman Andrew Wylie. Full terms of the deal were not disclosed.
Wylie (6-5, 304) is a five-year NFL veteran who entered the league as an undrafted free agent and signed with the Kansas City Chiefs in 2018. He has appeared in 71 career regular season games with 59 starts. He has helped lead Kansas City in the playoffs in each of his five years with the club including five AFC West division championships, three AFC Conference Championships and two Super Bowls (LIV, LVII).
Last season, Wylie played and started a career high 17 games and was part of an offensive line that didn't allow a sack against the Philadelphia Eagles defense, in route to a 38-35 in Super Bowl LVII.
The Washington Commanders announced today that they have signed guard Nick Gates. Full terms of the deal were not disclosed.
Gates (6-6, 318) is a four-year NFL veteran who entered the league as an undrafted free agent and signed with the New York Giants in 2018. He has appeared in 34 career regular season games with 21 starts, 17 at center, two at right tackle, one at left guard and one at right guard.
In 2022, Gates returned back to action in Week 8 after suffering a season-ending leg injury in Week 2 of the 2021 season. He played in 10 games and made eight starts last season.
Gates played all 1,013 offensive snaps for the Giants in 2020 and was the only Giants player to participate in 100 percent of the team's plays. He helped the Giants exceed 100 rushing yards in seven consecutive games. Gates first saw NFL action in 2019 and was a member of the offensive line that helped Giants quarterback Daniel Jones set a franchise rookie record with 24 touchdown passes and Giants running back Saquon Barkley rush for 1,000-plus yards for the second consecutive season.
The Commanders have reportedly added to their linebacker position by brining in Barton on a one-year deal.
Barton is coming off a standout season that saw him finish second on the Seahawks' defense with 136 tackles and 15th among all defensive players. Prior to the 2022 season, his career high was just 37 tackles in 2021.
Part of that was because Barton saw more action on the field with 11 starts. He grabbed two interceptions against the Tampa Bay Buccaneers and Las Vegas Raiders, and he paired that with six pass breakups. He also increased his presence as a pass-rusher with two sacks and two quarterback hits.
The Washington Commanders have signed tackle Drew Himmelman, adding depth to their offensive line.
Himmelman played college at Illinois State University and was a two-year starter at left tackle. He was an FCS All-American in 2019 and was a First Team all-conference player in the Missouri Valley Football Conference.
Illinois State's 2020 season was disrupted by COVID-19, but he earned First Team All-American honors from The Associated Press during the 2021 spring season. He was also one of 12 finalists for the 2020 Campbell Trophy, which is also known as the "Academic Heisman."
Himmelman signed with the Broncos as an undrafted free agent in May of the 2021 offseason. He was signed to a futures contract with the team in 2022. Himmelman also signed with the Commanders in May last offseason before being released later that week.
The Washington Commanders have signed former Kansas City Chiefs wide receiver Marcus Kemp.
Kemp, an undrafted free agent from Hawaii, has spent most of his NFL career with the Chiefs and appeared in one game for the Miami Dolphins in 2020. Kemp has mostly been a special teams player for his career and has four receptions for 42 yards.
Kemp was a four-year contributor at Hawaii and corralled 2,570 yards and 13 touchdowns for the Rainbow Warriors on 176 receptions. As a senior, he played in 14 games and caught a career high 73 passes for 1,100 yards and eight scores.
Kemp spent the next few seasons moving between the Chiefs' active roster and practice squad. He was signed to the Dolphins' practice squad in December of 2020 and was active for the team's Week 17 games against the Buffalo Bills.
Kemp returned to the Chiefs' practice squad in January of 2021 and was activated for the AFC Championship game against the Bills and the Super Bowl against the Tampa Bay Buccaneers.
Kemp was briefly signed by the New York Giants but was played on Injured Reserve and release a week later.
Kemp returned to the Chiefs for a third time and caught a pass in the AFC Championship against the Cincinnati Bengals. After the Chiefs' Super Bowl win, the team did not sign Kemp to a futures contract, which allowed the Commanders to sign him before the start of the new league year.
Players departing in free agency
After spending the better part of three seasons with Washington, Heinicke has now reportedly signed a new deal with the Atlanta Falcons that would send him back to where he grew up.
Heinicke, who was signed as the team's "quarantine quarterback" on Dec. 8, 2020, delivered several memorable moments for the Burgundy & Gold, including his pylon dive during the Wild Card round of the 2020 playoffs that pulled Washington within two points of the Tampa Bay Buccaneers. Fans loved his guts and determination to do whatever it took to win, and his teammates appreciated his leadership and unselfish attitude.
During his time in Washington, Heinicke was 12-11-1 and completed 64% of his passes for 5,415 yards with 33 touchdowns and 21 interceptions.
After spending the last four seasons with the Commanders, Cole Holcomb is reportedly leaving for the Pittsburgh Steelers on a three-year deal.
Holcomb, a fifth-round pick in 2019, had 48 starts in 50 games during his time with Washington. He recorded 388 tackles with 4.5 sack, 10 pass breakups, five forced fumbles and three interceptions during that time.
After spending the last five seasons with the Washington franchise, Cam Sims has reportedly signed a new deal with the Las Vegas Raiders.
Sims, who joined Washington as an undrafted free agent from Alabama, played in 55 games with 17 starts. He 57 of his 92 targets for 804 yards and three touchdowns. Sims was also a frequent member of the Commanders' special teams unit.