MINNEAPOLIS, Minn. -- Adrian Peterson made it clear Tuesday afternoon that he's excited to go back to Minnesota and play the Vikings. He spent a decade there, after all, and it was home to some of his most memorable moments.
But it was also apparent through the smiles and charisma that he wants to leave the state with a win against his former team.
"Of course I want to play against Minnesota," Peterson said. "Ninety-eight percent of the defense, I played with those guys. So, it's going to be exciting to go out there and compete against those guys for four quarters."
Peterson molded a Hall of Fame resume while he was with the Vikings. From the moment he began his career against the Atlanta Falcons, Peterson consistently left the league in awe with his spectacular plays and almost unbelievable work ethic.
And Peterson made sure his name was always at the forefront of the discussion for the league's best back. He rushed for at least 1,000 yards in seven of his 10 seasons with the Vikings, the most memorable of those coming in 2012 when he came back from an ACL tear to become just the seventh player to rush for 2,000 yards in a single season.
It's because of those memories that his Redskins teammates are sure Thursday's game will mean a lot to him.
"I believe it's going to be bigger for AP more than anybody," running back Chris Thompson said with a laugh. "Just trying to keep himself composed and keep his mind straight on the sideline. He had, and made, a lot of memories in Minnesota, so it'll probably be an emotional game for him."
Thompson remembers when the Redskins played Peterson and the Vikings during his rookie year in 2013. Thompson was inactive, but he was almost immediately impressed by Peterson and his ability.
"Just seeing him in person, I was just kind of wowed at how big he was and how he was able to do the things he's been able to do. It was amazing," he said.
This isn't the first time Peterson has played the Vikings since the team declined his contract option in 2017. He signed with the New Orleans Saints later that year and started the following season with a road game against Minnesota.
Peterson said there wasn't a moment in that game where the Vikings' fans were cheering specifically for him, but he knows there has "always been love" from them.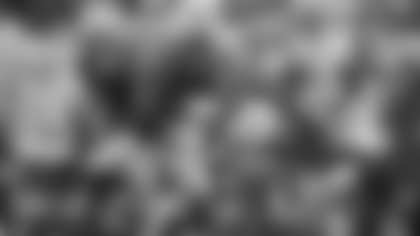 "I was there for a decade, and still to this day…I have fans that come to Redskins games that are die-hard Vikings fans," Peterson said. "They're Adrian Peterson fans. So the love is always going to be there."
Peterson rushed for 18 yards on six attempts during that game, so it's safe to assume that Peterson is aiming for higher numbers this time. And Vikings head coach Mike Zimmer knows he is still capable of achieving that.
"He looks good," Zimmer said. "[He] runs hard, runs physical like he always has. [He has] good speed to bounce to the perimeter, good footwork, good jump cut and he does a good job of making [more than] one guy tackle him."
Peterson might be older, but Zimmer knows he and the Vikings are going to see the same type of player he was three seasons ago -- one that has still has speed and the chance of running over defenders with ease.
"Typically, those guys, once they get older, they slow down," Zimmer said. "He's always had the speed and he's always had the physicality of the way he runs. He's going to lower his pads and try to run through tackles. Typically, those kind of guys get beat up once they get older, and I don't see that with him."
Peterson isn't the only player who will be playing against his former team Thursday night. He and quarterback Case Keenum have played for the Vikings at different points in their careers. Keenum hasn't made a big deal about going back to Minnesota, treating it as if it's just another game.
It seems to be a mixture of emotions for Peterson. It's another game on the Redskins' schedule, but it's almost impossible to avoid the implications that come with it. He's trying to make the focus more about the former.
"If it was any other team, I would be just as motivated," Peterson said before adding, "Maybe not as much so."