ORCHARD PARK, N.Y. -- The Washington Redskins fell to the Buffalo Bills on Sunday afternoon, dropping them to 1-8 on the season. Here's a statistical look into the Redskins' 24-9 defeat.
2,940
With his 18-carry, 108-yard showing Sunday, running back Adrian Peterson passed Pro Football Hall of Famer Tony Dorsett for 12th on the NFL's career-rushing attempts list. Peterson has now carried the ball 2,940 times over his 13-year career for 13,809 yards, which is sixth most all-time. He needs nine more carries to pass Franco Harris for 11th in career carries.
Peterson's rush attempts Sunday were basically split evenly between halves, but his production could not have been more different. He eclipsed the 100-yard mark on 10 carries in the opening two quarters -- the first time he's done that in a first half since 2012 -- but then managed seven yards on eight second-half carries.
268
Yardage-wise, the Redskins defense put forth their best performance of the season Sunday.
Despite scoring 24 points, the Bills totaled just 268 yards of offense (122 rushing and 146 passing) compared to 243 for the Redskins. Quarterback Josh Allen threw for 160 yards and a touchdown on 14 completions, while veteran rusher Frank Gore gained 15 yards on 11 carries.
Outside linebacker Ryan Kerrigan acknowledged the improved play of the defense, especially in the second half, but he did not view it as a step forward for the unit.
"I don't think we took a step back and I don't think we took a step forward," Kerrigan said. "We gave up 24 points; that's too many. We can't give up that many and expect to win. We hold them to 17 and I might feel differently, but they didn't punt in the first half I don't think, so I can't really sit here and say we took a step forward."
140
While the Redskins bottled up Gore and limited Allen, they struggled to contain rookie running back Devin Singletary. On 23 touches, Singletary set career-highs in rushing yards (95) and receiving yards (45) and put the finishing touches on the victory with a two-yard run late in the fourth quarter.
His biggest play came on Buffalo's second drive. Already leading, 7-0, Singletary caught a screen pass from Allen and weaved his way down the left side for a 49-yard gain. The drive ended with 42-yard field goal from Stephen Hauschka to put the Bills ahead by two scores.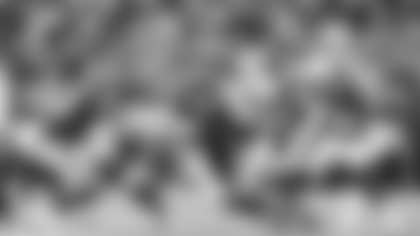 18%
Third-down efficiency has been a season-long issue for the Redskins. Entering Week 9, they ranked second-to-last in the NFL with a conversion rate of just 25%.
That number will dip even lower after Sunday's game. Washington was successful on just 18% of their third downs (2-for-11) in a loss to the Bills, with their only two conversions coming on back-to-back 3rd-and-6s early in the fourth quarter. And even then, the Redskins could not turn those chain-moving plays into points. On 3rd-and-10 later in the drive, an incompletion from Dwayne Haskins forced Tress Way to punt from the Buffalo 46-yard line.
13
With their three-field goal performance in Buffalo, the Redskins have now gone 13 quarters without a scoring a touchdown. Their last score came in the third quarter of Week 6 against Miami, when Case Keenum connected with Terry McLaurin for a 33-yard catch and run. Since then, they've been shut out in a home loss to San Francisco and managed nine points in Minnesota and against the Bills.
The Redskins were inside the red zone twice Sunday and got as close as the Bills' 10-yard line. But on each occasion the drive stalled, prompting kicker Dustin Hopkins to come onto the field to attempt a short field goal.