It was November of 2016 when Chase Young, who had just finished his senior season at DeMatha Catholic in Maryland, walked through the doors of Gibson Performance Training.
Young was there to see Martin Gibson, a personal trainer who at the time doubled as the Stags' running backs coach. Young told Gibson the year before that he would come work out with him, but that never happened, leaving Gibson cautiously optimistic when Young made the same claim that offseason.
This time, though, Young followed through with his declaration. And his expectations were high.
"I want to be the best player you've ever trained," Gibson remembers Young saying.
Gibson has been Young's personal trainer ever since. He turned Young into a college-ready prospect, worked with him whenever possible during his illustrious career at Ohio State and prepared him for the 2020 NFL Draft, when Washington selected him with the No. 2 overall pick.
Gibson's focus then shifted towards pushing Young to be the best possible professional entering his rookie campaign in the nation's capital. Young's goals are high, but having worked with Young for the past three-and-a-half years, Gibson believes he can achieve them.
"I think Chase can be one of the best guys to ever play the game at that position," Gibson said. "I think he can be one of the best ones to ever play the game."
Young was already one of the country's top recruits before he began working with Gibson. The dynamic edge rusher racked up 19 sacks, 118 tackles, five forced fumbles and two defensive touchdowns that fall, leading the undefeated Stags to the Washington Catholic Athletic Conference (WCAC) championship and making USA Today's All-USA team. He was the No. 1 recruit in the state of Maryland, according to 247Sports, and eventually committed to Ohio State over other powerhouses such as Alabama, Clemson and LSU the summer before his senior year.
Still, Young needed to bulk up if he hoped to immediately contribute for the Buckeyes. He was 6-foot-5 yet weighed 223 pounds -- too skinny for a major conference defensive end.
Gibson was there to help.
"I said, 'Hey, by the time you leave, I'm going to get you to 255 [pounds]," Gibson recalled telling Young. "He kind of just tapped me on the back, nodded his head and was like, 'All right, Coach Mo.' But it was kind of like an, 'OK, I get what you're saying, but it's not going to happen.'"
Young gained nearly 35 pounds over the next three months while enhancing his speed and maintaining his flexibility. He was stronger and more explosive thanks to slowly working towards the desired weight.
By the time he enrolled at Ohio State in June of 2017, the faster, sturdier and nimbler Young weighed about 260 pounds. He was no longer going to redshirt as the Buckeyes initially planned. He was ready to make an impact right away.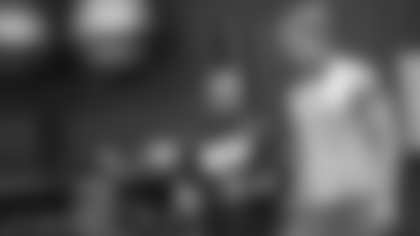 Gibson has worked out with a host of athletes since becoming a personal trainer, so becoming the best is a tall task for anyone. Gibson has trained multiple professional boxers, including former world champion Jarrett Hurd, as well as several NFL players. He also trained New York Giants running back Saquon Barkley, the No. 2 overall pick in 2018 and subsequent NFL Offensive Rookie of the Year.
Young put himself in the conversation with what he accomplished at Ohio State. After showing flashes of excellence as a freshman, Young thrived in his first season as a full-time starter and then reached unprecedented heights in 2019.
Despite missing two games, he set a school record with 16.5 sacks and led the nation with six forced fumbles. His efforts earned him nearly every individual defensive award and a trip to New York for the Heisman Trophy Ceremony. He was just the ninth defensive player to be named a finalist since 1982.
"Arguably the most talented guy to go to the NFL in quite a while," former Buckeyes head coach Urban Meyer said of Young. "I'm not saying he's the best player yet, because he has to earn that...but just as far as God-given height, size, strength, speed...you got it all."
By the time Young declared for the 2020 NFL Draft, he was widely regarded as one of the top prospects in the class. Gibson knew then that Young was going to be one of the first picks, so his objective was to mentally and physically prepare his client to succeed against professional competition. To do so, Gibson largely stuck to the routine that had gotten Young to that point.
"I'm a believer in the saying that if it's not broke, don't fix it," Gibson said. "To me, I think we've done pretty well in the years that we stayed with our process. We did some of the same things that we've been doing; we've just added things, like it might have been more weight at this point, more reps. I have a lot more time to prepare him now than I've had in the past except for that first year getting ready for [Ohio State]. We've pretty much done some of the same things."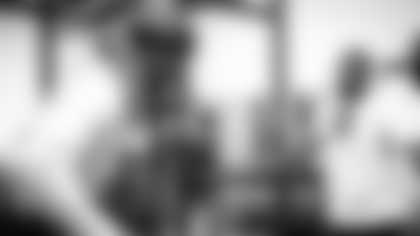 Young's regimen consists of fast-paced circuit training and dynamic workouts aimed to condition him to play against up-tempo offenses. As an edge-rusher, he cannot afford to get tired. Fatigue could mean the difference between a takedown and a touchdown.
His offseason program began at the Los Angeles Lakers' training center, where he worked with Gibson three times per day during the last two weeks of January. With Young having just completed the football season, Gibson wanted to make sure Young was doing everything he could to get back into top shape. Young lifted early in the mornings, ran on the track in the afternoons and then did either field work or physical therapy after that.
Young then completed two workouts per day -- lifting in the morning and either field work or running in the afternoon -- for the following three weeks leading up to the NFL Scouting Combine in late February. Young also boxed twice a week during that span in order to "shock the body" with unfamiliar workouts.
"I train boxers as well, so you're talking about guys just trying to keep that same energy for 12 rounds for three minutes, that can be pretty tough," Gibson said. "So for me, if I can prepare your body, prepare your mind to deal with that, day in and day out, by the time you touch that field, I just field like you'll be on a different level."
Following the combine, Young's plan was to return to Los Angeles to continue training, show off during Ohio State's Pro Day in mid-March and finally fly to Las Vegas to hear his name called at the beginning of the NFL Draft.
However, the novel coronavirus obliterated those plans; all of the sudden, Young went from working out at a state-of-the-art facility to training in the basement of Gibson's cousin's house in Clinton, Maryland. And with all NFL offseason programs being fully virtual, Young had to prepare for training camp on his own.
Young's post-combine routine mostly stayed the same. Some days, he only did upper-body workouts. Other days, he did lower-body workouts and some kind of cardio, such as running or football-specific drills. Young also traveled to Ohio on multiple occasions to work with Buckeyes defensive line coach Larry Johnson for two weeks apiece.
Like many NFL players, Young documented this unprecedented offseason on social media, which resulted in a series of viral posts. In one, he demonstrated his strength by benching an undetermined amount of weight. In others, he displayed his quickness and agility during on-field workouts. More recently, Young showcased his explosiveness by clearing several hurdles with ease.
Gibson has seen that athletic ability and ambition on an everyday basis, so he gets creative to push Young even harder.
There are times when Gibson designs a workout he does not expect Young to finish. That way, when Young fails, Gibson can respond with phrases such as, "Oh, you're not as great as you thought you were," or, "You're not as good as everyone is saying you are."
Gibson also uses Young's lofty goals against him. If he does not think Young is giving maximum effort, he'll remind Young of what he expects for himself.
"I know if you're not doing what you're supposed to do, that's something I can always hold you accountable for," Gibson said. "I can always remind you, 'Hey, this is what you want. This wasn't my dream, and this didn't come out of my mouth. But this is what you want. And if this is what you want, then you need to do those things to make it happen.'"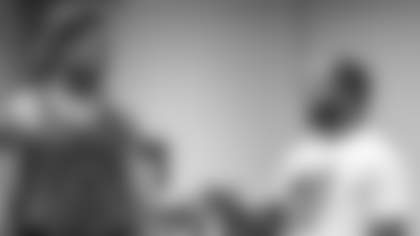 With training camp having kicked off July 28 and a full season coming after that, most NFL personnel used the first few weeks in July to relax. Young was not one of those people.
"Yeah, probably just sticking at home with the workouts," Gibson said in June. "Chase is a dude that is self-motivated. He's no fool. He knows the expectations, he knows they're high, he knows he has this target on his back, people want to see him fail -- he knows that. He knows people question whether he's as good as people make him out to be. That's all you need."
Instead, Young trained with Gibson to maintain what he built during the offseason. He also made one final week-long trip to Ohio State to work with Johnson. A few weeks later, he reported to the Inova Sports Performance Center for training camp.
Young has dreamed of playing in the NFL since he was about 6 years old, and that aspiration has driven him to the doorstep of the league. Now it's time to show he belongs, all while still trying validate his claim that he's the best Gibson has ever trained.
"Chase is definitely making a case for himself," Gibson said. "He's making a case for him, but we still got years ahead, and there are still some things he needs to do at the NFL level."