Head Coach Ron Rivera was surprised at his Ashburn office ahead of the Week 3 Washington Commanders game against the Eagles by visitors bearing gifts. Rivera opened a box and uncovered a pair of custom-painted shoes. Each turn of the present he lifted from the wrapping revealed new details and with them, new emotions.
"When I first saw the shoes, it was amazement, surprise, excitement and then pride," Rivera said.
The mastermind behind the gift was El Snap. As the official U.S. Latino social account for the NFL, El Snap works to amplify and unite Latino creatives, announcers, players and more in the league. "The snap is the start of the game, and that mirrors how I look at our account," El Snap's Elisa Hernandez said. "We're at the front door of the house. We welcome fans in, and then say, 'Hey, come out hang out with us. Take a look. Walk around.'"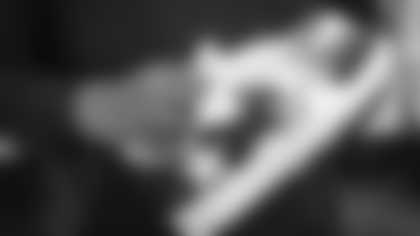 The custom shoes, which were created in collaboration with Cuban-American designer Marcus Rivero known as Soles by Sir, is one of those initiatives El Snap hopes will encourage folks to come and walk around -- literally -- in the living room of the U.S. Latino NFL experience. In celebration of Latino and Hispanic Heritage Month, five pairs of custom kicks (four pairs of cleats, one pair of shoes) were designed for four players and one coach with Latino heritage and/or strong ties to the Latino community.
That one coach, of course, is Rivera, the only active Latino head coach in the NFL. For his shoes, El Snap and Rivero looked to bring to life special aspects of Rivera's Latino background, his role in the Latino community as well as provide a small Spanish lesson.
To find out what elements to highlight, El Snap connected with Rivera's daughter Courtney, and that family involvement ended up carrying through into the creation phase of the project. In what was one of Rivera's self-described favorite features, his parents' names, dad Eugenio and mom Dolores, were placed on the back of the shoes.
"She [Courtney] had mentioned that his parents mean everything to him so we wanted to put their names where they would shine bright," Hernandez said. "To me, it symbolizes that his parents always had his back."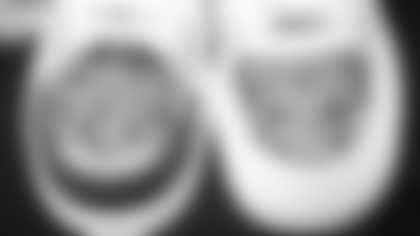 Moving from the back to the sides, the shoes highlight another personal element in addition to an educational one. On the outside of the right shoe is the Puerto Rican and Mexican flags, representing Rivera's heritage on his dad and mom's side respectively. Then, on the outside of the left shoe reads "Entrenador en Jefe", which translates to "head coach" in Spanish. All of the Hispanic Heritage Month-focused footwear created by El Snap and Soles by Sir share this language piece.
"That's the real focal point of this initiative is to highlight position names in Spanish to not only spark a conversation but teach the avid fan or the casual fan something new about their player," Hernandez said.
On the inside of Rivera's left shoe is the Commanders "W." Beyond just being the logo of the team Rivera coaches, the new Washington logo is, as Hernandez said, "a representation of inclusivity." The "W" is about welcoming more communities into football, a Commanders mission that also aligns closely with El Snap's.
Finally, on the top of both shoes, is a quote from one of Rivera's big inspirations, Puerto Rican baseball player Roberto Clemente. The quote, which was chosen by Rivero reads, "I think all human beings are equal, but one has to unceasingly fight hard to maintain that equality."
"I think [Coach Rivera] represents that quote so well because he understands that he worked hard to get to where he is, but he also understands he is not done," Hernandez said. "He has to keep working to not only stay in this position, but to help others be in a position like his in the future."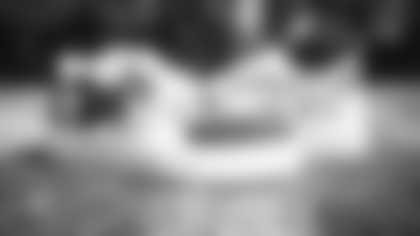 For Rivera, hiring more Latinos, as well as members from other communities who have been historically underrepresented in the NFL, has been a priority that is about so much more than checking a diversity box.
"When you open up your pool of candidates, you're going to find the best candidate," Rivera said.
Rivera was able to rock his custom shoes during warm-ups before kickoff on Sunday, Sept. 25. Week 3 was also the Commanders' Hispanic Heritage Month game. Just as Hernandez hoped the shoes would spark a dialogue, Rivera was looking forward to the conversation the shoes might encourage among the Commanders players who noticed them on the field.
"I'll tell them I'm celebrating my heritage, and I think it's important," Rivera said. "They understand that you need to be proud of where you come from, you need to be proud of your history."
All of this work -- from the El Snap initiatives to the programming clubs are creating in honor of Hispanic Heritage -- comprise the league's season-long campaign that celebrates the impact of the Latino community, "Por La Cultura" (For the culture). The message is clear: Latino coaches, players and fans have long been difference-makers in this league and their presence keeps on expanding.
"I'm excited to see the continued growth, to see how the NFL and clubs continue to show this fanbase love," Hernandez said. "And I'm excited for players and others to run to El Snap, and be like 'I want shoes next year!'"