Ahead of the Commanders' Thursday Night Football game, Legends Plaza offered a space for fans to receive cancer awareness education and pay tribute to loved ones who have battled the disease.  
"Cancer has had a big part in our lives, so it's just special being able to stand over there and talk to somebody and know that we're not alone," said Charleston, West Virginia, native Chris Patterson. "We have may have lost our parents to cancer, but we're going to see here tonight that we've got family, friends and support around us in the burgundy and gold, so it's gonna be awesome." 
That sense of community support around the impacts of cancer was what Week 5's Crucial Catch game was all about. The league-wide initiative, which unfolded in a first-of-its-kind way at FedExField on Thursday, focuses on promoting early detection, celebrating survivors and highlighting the fight of those currently undergoing treatment.  
Specific for the Commanders this year is increased attention on the intersection of cancer and health equity. That aspect of Crucial Catch was top of mind for Nefertari Carver of Robert F. Smith, who was posted up in Legends Plaza. 
"It's really important for us to be here because prostate cancer disproportionately impacts Black men and we figured there's no better place to connect with the communities we want to reach then coming to a Commanders game," Carver said.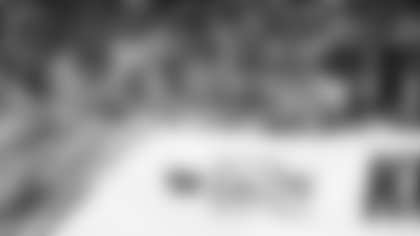 One in 6 Black men will be diagnosed with prostate cancer as compared to 1 in 8 white men. Black men also die at twice the rate as white men from the disease. With these harrowing statistics in mind, the presence of Robert F. Smith, the Prostate Cancer Foundation and the Conference of National Black Churches at an event with a large number of Black male fans in a predominantly Black Prince Georges County could really be seen as having potential life-saving impact.
The attention around prostate cancer that evening represents a larger shift in the Commanders' cancer awareness initiatives. This October, efforts have expanded to include several types of cancers and different communities affected.
Those impacted by pediatric cancer, as another example, were recognized with a handful of touching moments on Thursday, including the ringing of an end-of-treatment bell by Nicholas, a 16-year-old boy who recently finished his treatments for osteosarcoma.
"The end of treatment bell symbolizes being ready to get back to normal life," said Chris Bryant, the co-founder/director of the Hogfarmers Charitable Foundation, which hosted Nicholas. "To watch him do it in front of 60,000-plus fans cheering him on was absolutely priceless."
Nicholas was wearing a yellow/gold shirt when he rang the bell, which was about more than just repping Washington. The NFL's Crucial Catch logo includes yellow/gold (pediatric cancer), navy (colon cancer), lavender (all cancers), pink (breast cancer), teal (cervical cancer), white (lung cancer), purple (pancreatic cancer) and blue (prostate cancer).
All of these colors came together in one of the most powerful displays on the night during halftime. Wearing their respective Crucial Catch colors, survivors, caretakers and those currently undergoing treatment were recognized on the field. The soundtrack to their celebration was "Fight Song" by Rachel Platten, which was sung by ovarian cancer survivor and America's Got Talent semifinalist Caly Bevier.
From delivering surprises and delights to promoting critical education, Week 5's Crucial Catch game created memories that made those affected by cancer feel seen, heard and loved.
"These are experiences I've never had, and I'm so very happy," said breast cancer survivor Janice Johnson. "I'm just overwhelmed with joy today."