Members of the Washington Commanders' athletic training staff kicked off the week by taking a pause from their typical postgame Monday duties for an important equipment handoff with athletic trainer Breyah Jones and principal Kun Ye Booth from Friendship Public Charter High School.
"I think it's great that we can partner with local athletic trainers, that we can reach out," said the Commanders' assistant head athletic trainer Mark McCracken. "The goal with PFATS, Henry Schein, Defibtech and the Washington Commanders is to keep progressing forward and in doing so, we want to make sure we're extending a helping hand back into the community."
The equipment being exchanged on Monday weighs less than three pounds, but the impact it has is significant. Automated external defibrillators (AEDs) are proven to save lives. In partnership with the NFL, AED maker Defibtech, the Professional Football Athletic Training Society and health care supply distributer Henry Schein, the 32 teams around the league are donating AEDs to local high schools within each NFL club's city.
The connection between Friendship Public Charter and the Washington Commanders bloomed from the seeds of D.C., Maryland and Virginia pride. McCracken and Friendship Public Charter athletic trainer Breyah Jones both went to George Mason University in Fairfax, Virginia. After the Commanders donated some athletic training supplies in the past, both parties were excited about the chance to continue nourishing the relationship via the AED exchange program. 
"When the opportunity came, we wanted to reach out and make sure that she [Breyah Jones] could take advantage of this," McCracken said.  
As someone who is always trying to be the best trainer she can be for her student-athletes, Jones noted that having an AED in her possession makes her feel that much more capable of providing top-level care.  
"Getting the AED means a lot, especially because one of my goals is providing a good continuity of care for my student-athletes," Jones said. "Now I'm able to protect them in all kinds of situations including now emergency situations, especially with the Safer Sidelines campaign that PFATS, Henry Schein and Defibtech are really pushing for due to sudden cardiac arrest incidents and things like that so it's very helpful for me."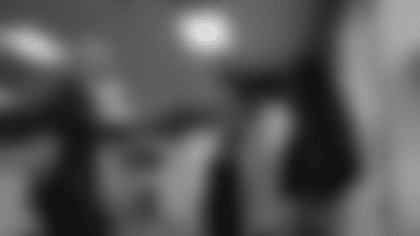 According to the National Center for Catastrophic Sports Injury Research Data, more than 60% of all catastrophic injuries in sports are caused by sudden cardiac arrest. One in 70 schools annually will have a cardiac event, sports-related or otherwise. These incidents have an 85% survival rate when an AED is applied within three minutes of collapse. Defibrillators are being placed in public spaces like schools and airports more often, and countless lives are being saved as a result.
"I think it's great that we're finally being more about this, because it's very important," Jones said. "With sudden cardiac incidents, every second matters, and so having the AED on standby, as opposed to having one minutes away, is crucial. You gotta be quick."
Ten months ago, the NFL witnessed just how important having an AED on standby was when Bills safety Damar Hamlin suffered cardiac arrest during Monday Night Football. Quick use of an AED by Buffalo's athletic trainers saved his life and now he has also been a part of initiatives to get AED in schools around the country. 
No trainer ever wants to be put in a situation like the one seen last Jan. 3, but if that nightmare scenario does happen, the hope is that they will be ready and equipped. After yesterday's exchange, Breyah Jones and the rest of the Friendship Public Charter training staff can feel more empowered stepping in.
"I just wanna say thank you to PFATs, Henry Schein and to Defibtech for allowing me to have this opportunity and granting me this AED for my school," she said.