On the "piggest" stage during the Washington Commanders' Week 9 game against the Minnesota Vikings, "Hogfarmer Chris" Bryant was surprised in an on-field moment as the first-ever Commanders Fan of the Year.   
"My heart was pounding and didn't stop until after halftime," Chris said. "I was just thinking, 'Gosh, this is crazy.' I couldn't believe it."  
Chris accepted his inscribed football and "Fan of the Year" custom jersey while sporting his iconic Hogfarmers outfit highlighted by a pig hardhat and bib. He is hard to miss on gameday, but the look is not the only standout feature of his fandom. Chris' love for his team has given him what he describes as a second family and allowed him to form a charity that helps hundreds.  
Though it might be surprising considering where it stands now, Chris' Washington fandom started off rather typically. Chris' mom passed down her passion for the Burgundy & Gold.  
"It was just me and my brother, and we would get up in the mornings, and she would scream, 'Gameday!'" Chris recalled. "We weren't a wealthy family, so we couldn't afford to go to games, but my mom always made it a point for all of us to sit down together and watch the game on TV."
For years, his fandom revolved around mostly supporting his team on a couch or at bars. It was in 2011 that a shift happened.
"When he first went to a game, I saw a change in him," Chris' wife Carmela said.
Chris, then in the Marines, was stationed in D.C. and had an opportunity to go to the season opener at FedExField. He dished out a bunch of money for him and his mom to sit section one, row one.
"After I was like, 'I can't watch this on TV anymore.' There's so much that comes with gamedays in person -- the camaraderie, the atmosphere and sounds, the rituals," Chris said. "And just watching the guys live, they're like 50 times bigger in real life than they look on TV. That was really the turning point, and it just kind of grew from there."
Going to Washington games has since become an integral part of Chris' life. Each gameday morning since Chris became a season ticket member in 2016, he has gotten up at 4 a.m., dressed in the outfit he has laid out the night before and made the three-hour drive from Staunton, Virginia, to Landover, Maryland. From tailgates in the parking lots to inside the stadium, his gamedays are filled with hanging out with old friends, making new friends, cheering for his team and smiling -- a lot of smiling.
His positive, infectious personality and love of relationship-building around Washington football was in part what sprung one of the most special parts of Chris' fandom. In 2016, Bryant's daughter Amayah was born with neurofibrosis, a condition that causes benign tumors to grow throughout the body.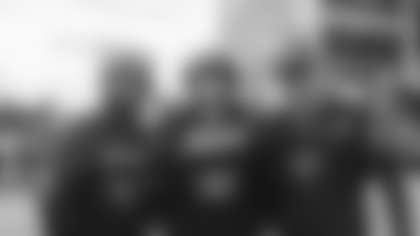 Through her grueling treatment process, Chris was connected with fellow Washington fans in similar situations and learned so much about the toll that pediatric cancer can take on families. From there, Chris and a few of his Washington fan friends embarked on starting an initiative of their own to help those in need. Soon, the Hogfarmers Charitable Foundation was born. From sending uplifting videos and care packages to gifting grants and organizing special experiences, the non-profit aims to elevate the mental, social and emotional wellbeing of children and their families affected by pediatric cancer.
"He's found a way to connect his passion of football to his passion of making a difference in other people's lives," said Hogfarmer Keith, who works alongside Chris within the Hogfarmers Charitable Foundation. "Chris is a great person and has helped a lot of people…He's an exceptional leader within the Hogfarmers, and we are proud to call him our brother."
The Hogfarmer outfit Chris wears every gameday is meaningful on two levels. For one, it pays homage to the franchise. The Hogettes, whose name was inspired by the team's legendary "Hogs" offensive line, were a group of Washington fans who were famous for their charity work. Additionally, the outfit is about entertaining kids.
"It catches your eye, and the kids like it. Every time we go up to kids, they're like 'Piggy!' and grab the nose and stuff like that," Chris said. "So, if we can make a kid laugh or smile, I mean, that's what it's all about."
Chris' tunnel-vision focus on providing joy to Hogfarmer families was a big reason he was thrown off the scent of the Fan of the Year surprise that was being planned for him for the Nov. 6 game. He was so busy working to get a dozen families to the game that he did not read much into why the Commanders would want him on the field specifically for an in-game moment.
The Week 9 game could not have been a more perfect scenario for the announcement. All of Chris' Hogfarmer colleagues and best friends were there. It was the first time all three of his daughters, his mom and his wife were at a game together. Additionally, approximately 120 people supported through the Hogfarmers Charitable Foundation stood in the stands.
"It was like divine intervention how everything came together," Chris said.
As part of his Fan of the Year nomination, Chris and one special guest of his choosing will receive a roundtrip ticket to Super Bowl LVII, as well as two passes to NFL Honors, the Super Bowl Experience, Super Bowl LVII and more.
And while he is grateful for the prizes, spotlight and experiences that come with his selection, Chris will be the first to tell you those factors have never motivated him to be the fan he is. As long as he can cheer on his team and give back to others, he will always feel like he did in that moment on the field in the first quarter of last Sunday. No nomination -- or name change -- can influence his core love for the Burgundy & Gold.
"The things I do in life and in the stadium, I don't do them for an award like this, but to be recognized is just a complete honor," Chris said. "And to be the first Commanders Fan of the Year is really, really cool. My fandom for the team is so deep that the name change transition wasn't so hard because, to me, it's still the same team I've always loved."