Dozens of Commanders employees kicked off NFL Draft week by gathering alongside partner Recycle Track Systems (RTS) to help the Anacostia Watershed Society pick up trash in Fort Dupont Park.
"A day like today is in line with our organizational values of impact and honor. For us, honor is being good stewards of our community and seeing ourselves as more than a football franchise," Commanders team president Jason Wright said to open the day of service. "[We] want to contribute to our community in a way that's net positive -- not just to the economic impact around the area, not to just to the psyche of the area when we win but to the social impact and quality of the area."
A collaborative effort between RTS and the Commanders, Monday's clean up event was rooted in the organizations' shared vision of being agents of environmental change in the D.C., Maryland and Virginia area. That goal is propelled by the mission of RTS, who is pioneering a better way to manage waste and recycling using AI powered sensors and a range of sustainability services that reduce environmental impact.
"We combine cutting-edge technology with good old-fashioned hard work to collect waste and recycling, and more importantly, to make sure it goes to the right place." RTS's Executive Vice President of Operations, Yirico Alexander explained.
For members of the region's NFL franchise, putting in old-fashioned hard work to clean up and beautify the Anacostia Watershed area also comes with a degree of historical significance. The team's previous, famous home, RFK Stadium, sat less than a mile from the Anacostia River.
"The Washington Commanders have been such an important part of our community and been integral to the life of the community in the watershed," Anacostia Watershed Society President Christopher Williams said. "[The Commanders] have been citizens of it for decades, and it's just great to have this group clean up the watershed and help conserve and restore it."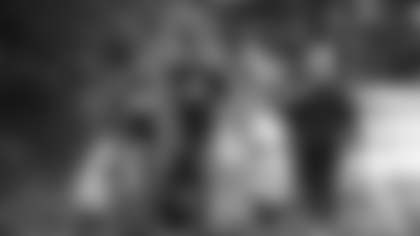 Monday's work began with a stress-free shuttle ride from FedExField, which was made possible by DTS Transportation. Once Commanders employees arrived at Fort Dupont Park, they were equipped with gloves and tools and were divided into five groups. With two bags in tow for bottles and other trash respectively, the units dispersed in many different directions to hunt out litter and separate their findings.
"From the outside the park looked pretty clean and all tidied up but once we got back into the woods there was a lot to uncover," said Leigh Wallace, Washington's Director of Membership Services. "We got a lot of trash out of the woods and out of the stream which obviously would be flowing elsewhere."
After nearly two hours scouring the surrounding areas, the groups returned with their hauls, which were collected by Anacostia Watershed Society's team and disposed of by RTS. For many, the several bags accumulated by day's end was impressive and a testament to what can be done when individuals join forces for a greater cause.
"My big takeaway from today was just how much we can accomplish as a team," said Terry Roy, Vice President of Premium Hospitality. "I think about the small bits of trash that we individually picked up throughout and how much that ended up being in total at the end."
The day was capped off with a pizza lunch in the park thanks to a kind gesture from Paisano's Pizza. Everyone that assembled for the cleanup left the space better than they found it and cultivated an interconnectedness among the many thousands who enjoy this land.
"Cleaning up in the community is important for our health. It's important for our safety and our wellbeing," Alexander said. "But it's not just about picking up litter and cleaning up the streets, it's about building a sense of community."