OrthoVirginia Training Center at Commanders Park welcomed football players who were a lot shorter than those it typically hosts. Approximately 300 athletes, ages 5-14 from Loudon County's NFL FLAG league, showed up at the facility on May 20 to the Washington Commanders' first-ever flag football clinic.
"Parents, thank you. I know it's Saturday, and I know it's hard," Commanders' offensive coordinator and assistant head coach Eric Bieniemy said to the crowd at the event's opening. "But trust me, I know they're going to greatly appreciate it for years to come, because this will be one of those days where they have an opportunity to remember for the rest of their lives."
The memorable aspects of the clinic were aplenty as participants got to run drills in the bubble where the pros practice and interact with current players, Washington Legends and Major Tuddy. Layered beneath under all the fun, though, was education. The involvement of OrthoVirginia physicians and staff made Saturday's event deeply enriching from a health and safety perspective.
A shared vision around these health and safety pillars in football sits at the core of the relationship between OrthoVirginia and the Commanders. The flag clinic captured and furthered so much of what is most important to both of these organizations.
"This is part of what we envisioned in our partnership with OrthoVirginia when they stepped up to entitle this place and become a marquee partner for us," Commanders President Jason Wright said in his opening remarks on Saturday. "It has always been about shaping the future of health and safety in football. That was part of our strategy that…together, we could make the game safer, more viable and longer lasting."
These values could immediately be seen on display once the clinic got underway as OrthoVirginia staff led the kids in a proper warm up. As the athletes moved from station to station, these staff members led athletes through injury prevention exercises, including a foam rolling session.
Meanwhile, a "Doc Talks" area was set up at one end of the bubble where OrthoVirginia physicians provided information on topics ranging from proper nutrition to concussions. Finally, OrthoVirginia goodies bag was distributed at the conclusion of the event. All these elements served to offer health and safety education in an easily digestible way so that these active kids can ensure they one day become active adults.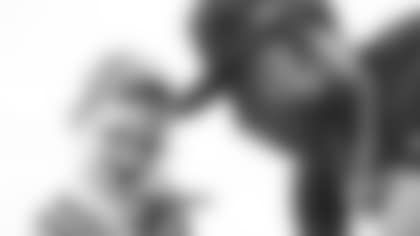 "I think the more you can teach at a young age how to do things safely, it'll pay dividends for generations," said Dr. Johnathan Bernard, an orthopedic surgeon with OrthoVirginia who was stationed at Doc Talks.
The presence of OrthoVirginia was one of the many features of Saturday that stood out to Doug Wallace from RCX Sports. A leader in the youth sports space, RCX Sports has partnered with lots of NFL teams for flag football clinics. The added color and "spice", to use the term RCX Sports regional manager Doug Wallace used, was much appreciated.
"What the Commanders are doing out here today, with the players involved and OrthoVirginia, it's kind of on that next level," Wallace said. "The kids seem to be loving it, and it's just lots of good energy."
And it was not just the kids who were having a blast with the players in attendance. The feeling was very much mutual.
"At the pro level, sometimes you can forget where the love started and it's just a great reminder for us too of why we play the game," said Commanders defensive end KJ Henry.
Other Commanders, most of whom were rookies, joined Henry in leading the several groups of kids at each drill station. Drills focused on many football-specific skills including backpedaling, throwing accuracy, footwork and more.
In addition to Commanders players, varsity players from John R. Lewis High School supported the groups at each station. Coach Larry Choates, who was the Commanders' Coach of the Year honoree last season, loved watching his players give back to a younger generation and get their own taste of coaching.
"That reinforces the process that we're working on as a team," Choates explained. "They see what we go through as coaches so that they can replicate that and be a coach on the field."
From fostering connections in the community to sharing knowledge that can protect and improve the body, the Commanders flag football clinic left an important impact for all those in Ashburn on Saturday.
Just like Bieniemy hoped, it seemed the young athletes departed with experiences they will remember for years to come. Some of those might not hit until they are in their 30s and ache moves them to foam roll. Others? Well, those left an immediate impression.
"I like how we actually got to practice and perform at the facility," said 9-year-old Owen from Fairfax, Virginia. "I can't believe I got to play where Terry McLaurin plays."