For the last 35 years, the legacy of Doug Williams and his impact on the Washington franchise continues to be widely celebrated, as have the racial barriers he broke in major league sports. He was recognized by American Universities Public Relations Student Society of America (PRSSA), Kennedy Political Union (K.P.U.), and Phi Sigma Pi Honor Society in receiving the "Icon of D.C." award. 
The "Icon of D.C." award is presented annually to recognize someone who has profoundly impacted the area and embodies important lessons for college students. And this year, Williams was chosen not just for his ability to play football, but for his undying efforts of giving Black athletes voices and the continuing work he maintains to bring more diversity to the NFL's front office. 
It was 1988 when Williams stepped off the field with his helmet held high after making history by being the first Black quarterback to start and win a super bowl -- moment he recounts as one of the best in his career. 
"That moment of walking off with my helmet held high…there were so many things going through my mind," Williams said. "And I was thinking about how I got there, the road traveled to get there. And I said to myself, 'No matter what happened yesterday, no matter what happens tomorrow: it was all about that moment.'"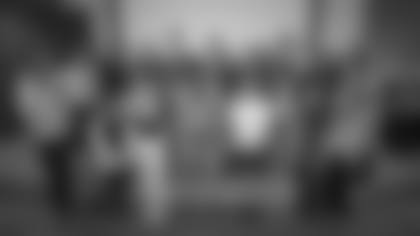 That moment continues to be celebrated even today. While most American University students either aren't from D.C. or weren't alive for Williams' Super Bowl win, his impact is understood, which drew in guests that evening.
Among the crowd were college students and faculty that have laid their roots in D.C. and were there during Williams's time with the football team.
N. Jeremi Duru, Professor of Law and Director of the Sport and Society Initiative at American University's Washington College of Law, cited the significant change in Washington, D.C., a predominantly Black city after Williams joined the team.
"Before, Washington was no one's team," Duru said. "But then we had Doug."
Throughout Williams's interview with ESPN Fellow Julia Mouketo, he was asked about the progress, status and future of where sports are headed in terms of opportunity for Black athletes and professionals.
"Overcoming racism has to be bigger than on the field, the court, or the diamond," Williams said. "I think the younger generation has got to make it happen. If we want Americans to bend, we also have to find a way to keep it that way."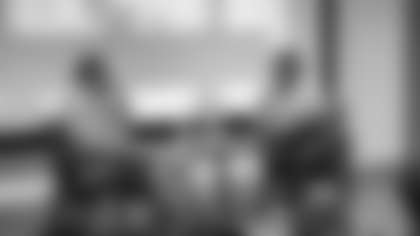 Greeted by his primarily young audience, Williams was asked questions from the audience about how opportunity for Black men has changed since his time in the league and how it looks going into the future. He has hope that the audience before him can enact some of the change that he, too, sets his sights on.
Gemma Puglisi, the advisor to the organization that named Williams as this year's recipient, was honored to have him join and create an opportunity for students to hear from him.
"Doug is an icon, and we picked him because of that fact," Puglisi said. "And he proved that again today at this event in sharing his story and about what being in D.C. means to him."
However, being an icon was never something Williams imagined would come, and for many years, he fought for the opportunity just to be recognized for who he is.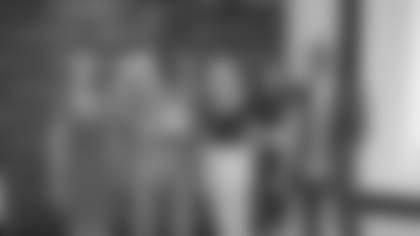 The meaning of quarterback has changed for Williams since 1990. Williams' book titled "Quarterblack" is an autobiography taking readers through his journey from Louisiana into a starting quarterback position. In the book, Williams wrote that, "My one desire was to be known as a quarterback like the Terry Bradshaws, Joe Montanas, Dan Fouts, and many others in the N.F.L."
And in 2023, Williams has more to say on what he once experienced versus what athletes face today.
"In 1990, if it was like it was today, I wouldn't have had any reason to write that book", Williams said. "That's why the book is called 'Quarterblack'; because no matter what I did when I was in Tampa, they never referred to me as Doug Willams. It was either 'Tampas Black quarterback' or 'the Black quarterback of Tampa Bay'".
Williams led Washington to a Super Bowl win, debunked myths about a Black athlete's ability to lead a team, and pioneered meaningful change for athletes to come. In the future, William hopes similar work will continue to bring more Black sports executives into the room.
Williams' talk at American University allowed students to connect with someone who has enacted real change through sports and will always be an "Icon of D.C." for that.