In the lead up to the 2022 Entertainment Team open auditions,Commanders.compresents a three-part series going behind the scenes of the team's season-topping moments from 2021.
There were only two things that could make JoJo stop crying when he was a toddler: a bottle and a video of Michael Jackson's first moonwalk at Motown 25 that his mom had purchased.
"Ever since then, I've just been hooked," the now 25-year-old said. "I've been dancing since I could walk really."
That journey in dance, which spanned over two decades, led JoJo to an exciting and historic destination last year. In 2021, JoJo was one of 37 members to join the first-ever Washington Entertainment Team. Becoming part of the group and incorporating his unique dance style has been one of the most satisfying accomplishments of his career. The opportunity has been more than a milestone, though; it has allowed JoJo to relish and fortify a special family bond.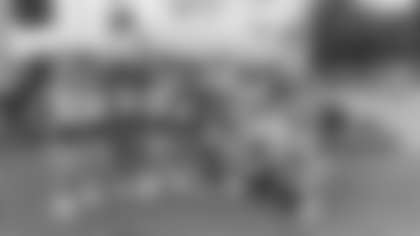 Growing up in JoJo's house in Oxon Hill, Maryland, came with a thorough education in Washington football. His mom has been a die-hard fan for as long as he can remember, and her love for the team led to her to pursue a role on Washington's Gameday Staff that she's held for years at FedExField.
"She's a big part of the reason why I decided to dance for the team," JoJo said.
In addition to the chance to be close to his mom and make her proud, JoJo was drawn to audition for the Washington Entertainment Team because the group was open and eager to explore his unique dance style. JoJo specializes in a style known as "Beat Ya Feet," a go-go music-inspired dance characterized by rapid footwork born in southeast Washington, D.C., in the late 1990s.
"I feel like it's one of the best ways to represent and describe our city. It's edgy and authentic," JoJo said of the dance.
In fact, JoJo first heard about Entertainment Team auditions via a social media post from John "Crazy Legz" Pearson, considered "The King of Beat Ya Feet." Propelled by the encouragement of his mom and faith in his talents, JoJo took the field for auditions last spring.
"I honestly didn't know what to expect," he said. "I just thought I was going there to do that certain dance style, but my background shows I can do choreography as well. Then, things just gradually fell into place."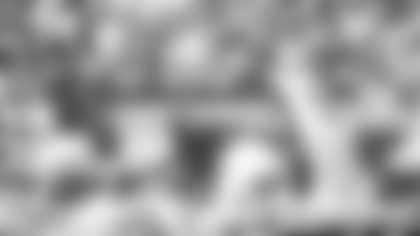 JoJo had an unforgettable rookie season filled with highs that included being named a team captain and being chosen by guest choreographer D-Trix, a member of renowned hip-hop dance crew Quest Crew, to lead a pregame with a solo. But, perhaps his favorite experience of that 2021 season was the way the team -- one of the league's most diverse groups that includes dancers, gymnasts, breakers, b-boys and b-girls and Beat Ya Feet dancers -- came together to perform.
"We had so many elements out there on the field, and we were able to put everything together with different performances each week," JoJo said. "I feel like we really became a family."
Looking ahead to Entertainment Team auditions at the end of the month, JoJo is excited to welcome new faces into that family for the upcoming 2022 season.
"I can't wait to show them the ropes and just to see the excitement on their faces that first game," he said. "I know it's gonna be priceless."