Kennedy Keene could not stop smiling during her visit to OrthoVirginia Training Center at Commanders Park on Thursday. The joy emanating from the little girl was an emotional scene considering the two-year cancer battle she has endured.  
"It's amazing having her here for this," her aunt Susan said. "She definitely deserves it after the two years she's been through. So, I'm just happy that she's having fun, having a great time. I'm thankful for that." 
Just last week, Kennedy, 9, finished up her active treatment for Leukemia and had her port removed. The Commanders Charitable Foundation and the Hogfarmers Charitable Foundation coordinated a visit to practice for her family to celebrate the milestone. Thursday also marked the beginning of a new chapter for Kennedy that is filled with many more exciting experiences out in the world. 
The Keene family's nightmare began in May 2021. A sense of something wrong began to brew a few months earlier when Kennedy had experienced pain during gymnastics practice. After her pediatrician ran bloodwork following an unexplained fever, they determined Kennedy's hemoglobin levels were dangerously low. Then came the Leukemia diagnosis. 
"The day after diagnosis, you're just going. Phase 1. Boom. You're getting wheeled down for surgery to get that first port and spinal tap," Kennedy's father Donnie said. "Nobody should ever have to go through that."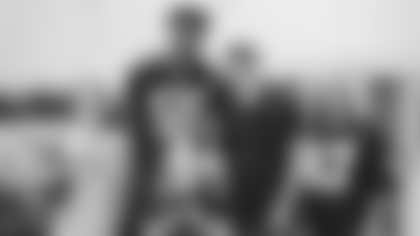 And though nothing can fully remove the pain and stress of watching a child battle cancer, support of all kinds has helped Kennedy and the Keene family on their journey. One of those crucial sources of support has been the Hogfarmers Charitable Foundation, a pediatric cancer non-profit organization that supports families in Virginia, Washington D.C. and Southern Maryland.
The Hogfarmers got connected to the Keene family, who are Commanders fans, through another family of Commanders fans they had helped. Since earlier in the year, the Hogfarmers have sent her gift cards to her favorite food places, gas cards for her parents, a custom shirt to assist with port access, toys and more.
Though her treatment plan limited her ability to enjoy Hogfarmers' outings, there was hope that one day she would be able to come out with the pig-nose-wearing squad to have some fun. Seeing that day arrive on Thursday brought so much happiness to everyone who had been involved in the visit to Commanders' practice.
"She's come a long way. She's had a pretty extensive treatment plan, and for her to be able to come out her and enjoy something like this and be active, it's what you want. It's what you want the ending to be," said Hogfarmer Chris Bryant. "Sometimes it doesn't go that way, but when it is, it's very nice."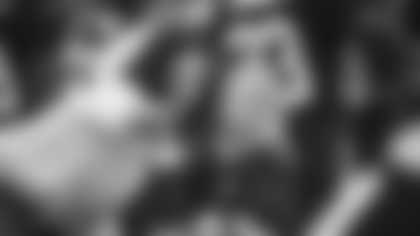 Kennedy looked "back to her old self" according to dad Donnie as she dished out instructions, played on the sideline and helped close out the session with Coach Rivera. Following practice, she got to spend time with one of her favorite players, KJ Henry. Kennedy, whose mom went to Clemson, is a huge Tigers fan, and she was so excited to watch Henry get drafted by the Commanders in April.
The two played catch, talked about the purple streaks in her hair (Henry's favorite color) and chatted about how they needed to stick together as the only two Tigers fans in the building on the day. He gave her his practice-worn gloves, signed items she had received in her goodie bag and took pictures with her.
"It was real heartwarming," Henry said of Kennedy's visit. "I haven't stepped on the field in this league yet, so it's cool to still see that people appreciate me for me and me for my game. I'm just glad I could put a smile on her face."
Kennedy's visit wrapped up with the news that she and her family would be put up in a suite for the game of their choice this season. Another day full of making memories with the Commanders is already on the books. This one will always hold a special place in the hearts and minds of the Keenes, though.
"To be able to do something like this, it's amazing," Donny Keene said through tears. "There's no words for it. She got to meet some players you'd never thought she'd meet…the experience of a lifetime. Something that we'll remember forever."