"By seeing London, I have seen as much of life as the world can show." – Samuel Johnson, English writer *
The logistics were complicated, the schedule demanding and the time spent short, but the Redskins' trip to London during the last weekend of October was filled with memories and experiences that many players will never trade. The team's first ever regular season game played across the pond ended in a 27-27 tie to the Bengals, an outcome that produced perplexed feelings – disappointed without a victory, relieved to leave without a loss.
By all accounts, the game was an emotional rollercoaster, capping off a whirlwind of a weekend that included jet lag, groggy, foggy mornings, practices and sightseeing. That it was all condensed into just three days, and that teammates experienced a foreign city with each other, helped unify a group before it dispersed for the team's bye week.
These unique road experiences, ones that occur at least eight times each season, are nothing new but are rarely documented. When does a team get to its predetermined location? How do players approach each part of their journeys? What are they thinking on the bus ride to the stadium?
Wide receiver Rob Kelley is a well-traveled veteran at this point in his career. Here, he takes you through his itinerary and mindset during the Redskins' rare trip to England.
Team buses depart Inova Sports Performance Center at Redskins Park
After a full day of practice, players speak with the media, receive treatment and a meal and then pack up their suitcases for the bus, double checking they have their passports with them.
"It was a lot of excitement. Heading to London, it was my first time ever, so especially going with my teammates and friends it was a lot of excitement – just seeing the plane, the flight crew. It was fun just being happy to be around this rare opportunity that we've seen on the schedule for a long time .'Alright, cool, this is finally happening.' It was excitement."
Garçon, like a good handful of his teammates, sits in first class, where seats extend into small beds for the six-hour journey ahead.
"Got some sleep. You can never really get enough sleep on a plane or get good sleep on a plane, but we got a good amount. It was a quiet trip. They gave us everything – food, breakfast, I did as much as I could for the six hours that I could."
Plane lands at Heathrow Airport, team boards buses to hotel
Players walk through Heathrow's many hallways to clear customs and then follow a long line of Virgin Air flight attendants, helping to guide the way to the buses through the airport.
"It was still a lot of excitement because we were in London. But we were tired, a lot of guys were tired."
Board bus to Twyford Park in west London for practice
After arriving at the team's hotel, Redskins coaches and players check into their rooms and then start meetings before boarding buses a few hours later for practice. They walk through the hotel lobby in pads and gear, surprising some midday guests, and take an hour-long trip through traffic where a full practice awaits them.
"We fought through practice, fought through meetings. But after meetings and practice we went to sleep and caught up on everything. The kids were at the practice, the media was there, it was 'Hey, we are really in London.' It was still fun."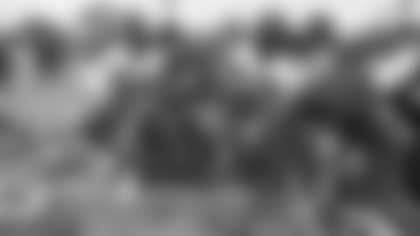 Team arrives back at hotel
Some players remained exhausted after practice while others used it as a chance to wake up. That was particularly the case for Garçon, who spent the rest of the evening taking in the city.
"Friday night I went out to eat. I actually went to Benihana's out there. It was good. Walked around Picadilly Circus in that area, walked up and down Hyde Park, sightseeing on foot, nothing crazy. After practice we were back normal. I think we caught up on our sleep. Practice woke us up and I was like, 'Alright, it's daytime now, we're good to go.'"
Board buses to Wembley Stadium for walkthrough
With some time to sleep in, the entire team and coaching staff heads to Wembley Stadium to get their first taste of the field, locker room and atmosphere to come. The team goes through their typical walkthrough formations and many pose for photos.
"It was real cool. Driving up to Wembley, walking up to Wembley, seeing the stadium from afar. It was awesome because I always play Fifa Soccer and I see Wembley Stadium all the time on the game and I see where the kids as well as the soccer team comes out. 'Oh man, this is where they stand and this is where the referees come out with the soccer balls.' It was cool to see. I see it on TV all the time and to finally see it in person, it was awesome. It was an amazing feeling, took a lot of photos and videos to remember that moment. Making a lot of jokes on the field, being happy to be out there and see the Redskins flag, the Britain flag."
Leave stadium and return to London for free time
Some freedom, finally. Most of the team returns back to the hotel, while Garçon and several of his teammates make a pit stop at London's Victoria House for a short NFL UK fan forum. Once that concludes, Garçon has the rest of the afternoon to explore more of the city with his teammates.
"[London] kind of reminds me of New York City, Washington, D.C., a lot of old buildings, a lot of traffic, a lot of people, a lot of action going on, a lot of shops and restaurants. I didn't go shopping, I did a lot of window shopping. But I did go to the restaurants. A lot of traffic, a lot of nice cars, a lot of nice things to see and a lot of sculptures. It was cool. I like London. I can see myself going back to visit there. The people were very nice and I love the accents. I'm glad I went.
"The night before the game we had meetings, went to dinner, by then I was on London time. Went to bed around 11:30 p.m. But we were on London time, we were adapted already."
Board buses to Wembley Stadium for game
The team says its final goodbyes to the hotel staff and mentally prepares for its game against the Bengals.
"Another gameday, going through my keys, getting myself ready for the game, preparation, make sure I have everything. I'm thinking about routes, defenses, what they're doing, what we're doing, what we need to do, going over fundamental basics – catching the ball, stretching, warming up properly, being prepared for anything and everything that can come up in a game."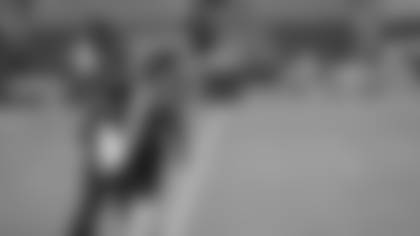 Kickoff between the Redskins and Bengals
A sold-out crowd sets the stage for an unprecedented regular season game environment. The stadium turns into reds, whites and blues during both national anthems and the energy remains high throughout the course of the first overtime game in International Series history.
"It was awesome. We knew we weren't at home but we had a lot of home support. The fans were loud just because of having football in their stadium, which always gives us energy when the fans are excited. They love what they're seeing, if it's a good play by us or them. They're involved in the game and they're into the game. That stadium echoed a lot so it was a really great environment and something I was happy to be a part of."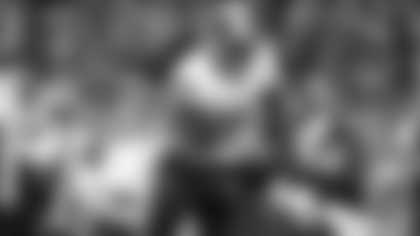 Board buses to Heathrow Airport
Fatigued and battle-tested, the Redskins conduct interviews, shower, change and sit down for a brief meal before leaving the stadium. Once the team arrives at Heathrow, it must go through security – tighter than their usual security for a road stadium – and board the plane home to Dulles, Va.
"After the game, everything else was OK. Going through security was fine because they made it all easy on us. It wasn't a hassle, they got us through security real quick. The flight attendants were amazing, the people at the airport were amazing and they were happy that they were going through. It was all easy. On the plane we barely got any sleep because after a football game, it's hard to go to sleep unless you're dead tired."
The plane ride home offers a chance to reflect on the game, catch some sleep and start thinking about the upcoming bye week.
"I wasn't as sore as some of the guys but we were walking around the plane, we didn't stay seated, because your body is still active once you just left the game but the plane ride home wasn't rough at all. I got some sleep, didn't watch a movie, just talked to the guys about the game and enjoyed the experience of coming back from London."
An airport vehicle transports the team to customs, buses drive back to the Inova Sports Performance Center at Redskins Park and players climb into their parked vehicles to drive home.
Another road trip crossed off the list.