When Tanya Snyder founded the Think Pink! campaign in the second month of the 1999 season, it started as a movement within the Redskins and influenced four other teams the next season.
Now, 20 years later, that movement, celebrated each October, has spread to every NFL team.
The Redskins honored the 20th anniversary of the initiative at the Bon Secours Washington Redskins Training Center on Monday, celebrating the efforts of Snyder and the Zeta Tau Alpha Foundation to promote breast cancer awareness within professional football.
"Over the years, it has helped us all as a league," Snyder said. "We compete, 32 teams. But in the world of breast cancer, in the world of cancer, this unites us and it really makes a difference. Together, being entirely together, it's really taught me a lot from the very beginning. I have compassion now for Dallas fans and Eagles fans. I know that sounds silly, but across the board we've watched it happen. I've traveled all over the world in October. People put pink ribbons [on] and say to me, 'this is for the NFL.' It's powerful. It's certainly made a difference. I am so proud. We're not finished, but we certainly have taken it to a wonderful level, so I'm super proud of everybody."
ZTA chose to make breast cancer awareness its main point of emphasis in 1992 and reached out to Redskins owner Dan Snyder and Tanya. The Redskins quickly supported the sorority and started handing out 8,000 hand-cut ribbons that were personally formed and pinned onto educational cards. This informed fans at FedExField in 1999 about early detection of breast cancer in order to save lives.
Each Breast Cabncer Awareness game in October, Tanya stands side by side with members of the ZTA sorority to raise more awareness, and together they've handed out 8.5 million pink ribbons.
"The Redskins gave us the starting point, the blocks to start from and Tanya has done an excellent job of talking with the owners and coaches across different teams and has helped us to be able to grow," former President of the Zeta Tau Alpha Foundation Becky Kirwan said. "We've had great support from lots of the teams: the Giants, the Saints. And today, it was so exciting because the Jets, they were all coming in. It didn't make any difference. They wanted a pink ribbon and they wore one of the NFL logos. It's made a big difference."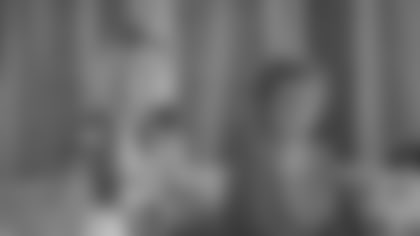 Since the NFL made the campaign a league-wide initiative, games in October feature players, coaches and referees wearing pink game apparel, with additional on-field and in-stadium branding in the homes of league teams. Fans are also involved, with the Redskins giving away pairs of pink gloves at the gates along with handing out information about how to receive mammograms in search for breast cancer signs.
Monday, at practice, the Redskins wore pink-accented jerseys, too.
Snyder's motivation to keep the movement going was recognized in May 2013 when the American Cancer Society honored her as their Mother of the Year award recipient, with the awards luncheon raising more than $405,000 for the society.
"Without her, we wouldn't have the escalation of the acceptance of it," founder of the IIIBs Foundation Carolyn Rodenburg said. "She stands out there in October, and I have personally seen her standing on top of the stairs handing out the ribbons with all the Zetas, and to see her, the owner of a franchise as good as the Redskins and being out there a part of it, everyone wants to be a part of it. So I am so happy I'm a part of it."
Even though Snyder and ZTA have already made an impactful change in Breast Cancer Awareness across the NFL, they'll continue to strengthen their efforts. With Snyder having gone through breast cancer herself in 2008, she also stressed the importance of getting checked early because that's what helped her fight the disease. It's a small step to taking on a universal issue.
"We want a cure. Until there's a cure, we still have work to do," Snyder said. "Our fans are wonderful and we will continue to fight to make a difference with all cancers, quite frankly...This message is making a difference, we know that, and hopefully the scientists and the people out there still fighting, let's find a cure."