Billy Kilmer was at a crossroads.  The one-time Heisman Trophy finalist played his first six seasons for the 49ers, first at tailback then at quarterback.  But he'd spent the last half of that stretch as a reserve following a car accident that shattered his right leg and nearly ended his NFL career.
Fully rehabilitated and certain that he should be starting under center, Kilmer was getting restless in San Francisco. 
Just then, the newly formed New Orleans Saints came knocking, selecting him in the 1967 expansion draft.  It was a godsend.
Kilmer resuscitated his career in New Orleans, where he played the next four seasons mostly as a starting quarterback. 
He threw for nearly 7,500 yards wearing the black and gold, once tossing six touchdown passes – one short of the NFL record – in a 51-42 win over the St. Louis Cardinals in 1969.  Ironically, Cardinals quarterback Charley Johnson also threw six scoring passes in that game.
While in New Orleans, Kilmer had a hand in one of the more memorable sequences in NFL history.  In a game against the Lions in 1970, he completed a 17-yard strike to receiver Al Dodd with seconds remaining. 
That play set up Tom Dempsey's NFL record-setting 63-yard field goal that gave the Saints a 19-17 victory.
"It was one of the best passes I ever threw in my career," Kilmer said.  "I hit it right on the money."
The Saints were mostly a doormat during his stay in the Bayou, never winning more than five games.  Even so, Kilmer, who was known for throwing wobbly passes but possessed a competitive fire and an infectious will to win, developed a reputation as a solid quarterback. 
One opposing coach he caught the eye of was the Los Angeles Rams' George Allen.
"I never beat him," Kilmer said of Allen, "but I moved the ball against him and for some reason he liked something about me."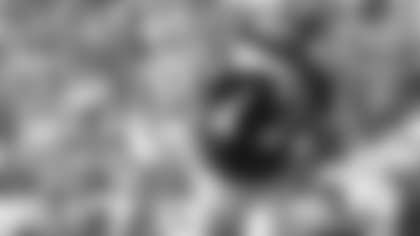 Allen had a keen eye for talent and pulled off masterful trades due to his long hours in the film room and deft ability to break down players' strengths and weaknesses. 
He liked Kilmer so much that he dealt a reserve linebacker and two mid-round draft choices for No. 17 in his first trade after becoming Redskins coach in January 1971.
Kilmer wanted out of New Orleans, which was staking its future on highly touted rookie quarterback Archie Manning, today the father of Peyton and Eli Manning.  But he was upset upon hearing that he'd be backing up Redskins superstar Sonny Jurgensen.
"I told George right away that I wanted to be traded, that I didn't want to play behind Sonny Jurgensen," Kilmer said.  "That was like water over the duck's back.  He didn't even listen to me.  He said, `You're going to be part of a winning organization.   We're going to win here right away.'"
Allen was prophetic.  When Jurgensen suffered a serious shoulder injury in an exhibition game in 1971, Kilmer took over and quarterbacked most of the season, leading the 9-4-1 Redskins to their first playoff appearance in a quarter-century.
He followed with his best season ever in 1972.  With Jurgensen again beset by injuries, Kilmer started most of the year, completing 120 of 225 passes for 1,648 yards and 19 touchdowns.  He earned Pro Bowl and All-NFC honors. 
In the crowning moment of his 17-year career, he completed 14 of 18 passes for 194 yards and two scores in a 26-3 victory over the Cowboys in the 1972 NFC championship game, a win that sent the Redskins to Super Bowl VII.
Kilmer's passing and leadership skills were critical to the Redskins' standing as one of the NFL's most successful teams in the 1970s.  They made the playoffs five times in his first seven seasons in D.C. 
By the time he retired after the 1978 season, he owned some of the best passing numbers in team history: 953 completions, 12,352 yards and 103 touchdowns.  Overall, he amassed nearly 21,000 passing yards and 148 touchdowns in his career.
In 2002, Kilmer was named one of the 70 Greatest Redskins of all time.  He's now part of the 80 Greatest team announced this season in honor of the franchise's 80th anniversary.
---
Mike Richman is the author of The Redskins Encyclopedia and the Washington Redskins Football Vault.  He was on the blue-ribbon panel that played a key role in selecting the 10 new names who are part of the Redskins' 80 Greatest team unveiled this season.  His web site is Redskinshistorian.com and his email is mikerichman@redskinshistorian.com.