The wives, fiancees and girlfriends of Washington Commanders players are an incredibly talented bunch. Many of them have multiple degrees, working in fields ranging from philanthropy to tech to psychology. They are driven self-starters, continuously harnessing new skills as they pursue their interests in the modeling, fashion and auto industries. And, more than a few of them are pretty darn athletic, having excelled at their sport at the Division I level (Did you know Brianna Way won a natty? No big deal).
In honor of Women's History Month, here is a deeper look at some of the career paths of these women and what they enjoy most about their field of work.
Jen Leno has loved giving back to the community for as long as she can remember. It was while working full-time in the community relations department with the Chicago Bulls that Leno formulated a bucket list idea to one day run her own nonprofit.
Fast forward a few years, and Leno's dream began to become a reality. In the summer of 2020, Leno and her husband Charles started Beyond the Entertainer, a nonprofit that gives back to the community and works to show young people the many opportunities that exist in the sports and entertainment world. As executive director, Leno helps to manage everything from social media to planning events. One of Beyond the Entertainer's most impactful initiatives has been Leno Claus, in which the nonprofit partners with local organizations to deliver holiday gifts, make donations and more.
At the end of 2022, Leno started her own venture, Beyond the Consultant, which seeks to help those looking to build out their own nonprofit platforms. In the future, she would love to see a player on every NFL team have their own version of Leno Claus.
"Being able to put a smile on people's faces is my favorite part about what I do, whether it's children or adults. The people we've connected with have made such an impact on our lives," she said.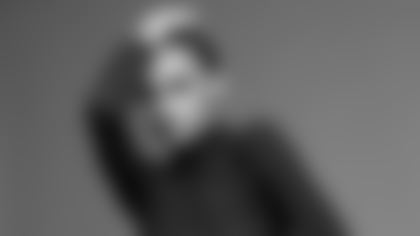 Sports have always been a huge part of Julia St-Juste's life. She is the daughter of a former Michigan football player and track athlete and grew up with three sisters who are all involved in sports. Considering her immersion in the athlete's world, it was perhaps unsurprising to see St-Juste's interest in sports marketing develop while she was a student athlete at Michigan.
St-Juste found herself working in market research not long after graduating, but the work didn't exactly have her leaping with excitement every day. Shortly after her and Benjamin's wedding last summer, St-Juste turned to an idea that had always been in the back of her head: modeling (she's 5-foot-10…tall girls understand the comments growing up). It was her husband who was perhaps her biggest support and encouragement as she looked to pivot paths.
2023 has gotten off to a hot start for St-Juste. She signed with a modeling agency, has had photo shoots in various cities and even walked in a fashion show. Right now, her goal is to take every opportunity as it comes. In the future, she hopes to one day walk in New York Fashion Week.
"Modeling makes me feel confident and happy, and I love that I'm learning new things every time I do something," she said.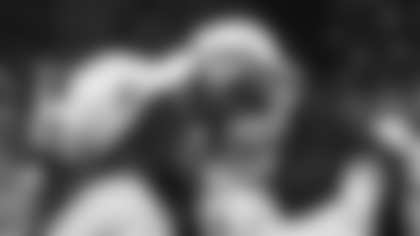 Back when Way was playing softball at the University of Oklahoma, there was a season in which the team welcomed a little girl who was a cancer survivor to be their bat girl. Way described her as a "little light around [them]" who had such an impact on the group. For Way in particular, that impact went further than she could have anticipated.
After a jam-packed time in undergrad in which she was a two-sport athlete, Way went back to school for nursing and had stints as both a pediatric oncology nurse (her dream job) and a labor and delivery nurse (her second dream job). Her experience during those years was life-changing; she was with patients during some of the most emotional times of their life. Way developed relationships with patients and their families that last to this day. It has been remarkable for her to see some of the children she worked with live happy, healthy lives after being by their bedsides.
Way has taken a step back from nursing to raise her three young kids. As for whether she will get back into the field, well, she is okay letting God lead that decision. For now, she loves listening to and being of support to her younger sister living in Oklahoma who is also a pediatric oncology nurse.
"What I loved most was the relationships I got to build with families, being able to build trust with patients and being advocate for them. A cancer diagnosis rocks a whole families world, and you're just trying to offer support in any way you can. Being able to bring a little joy during that time of their lives is really special and emotional," she said.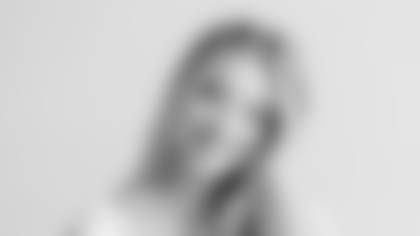 Blair Westerlund (fiancée of Sam Cosmi)
Identifying the right coping skills and processing hard emotions is a passion rooted in a personal place for Westerlund. She dealt with anxiety growing up and didn't have the best experience in therapy. She dipped into bouts of depression in college after injuries ended her volleyball career. Westerlund began blogging about her experiences while navigating her mental health journey.
That interest in helping others better understand their emotions, develop coping skills and feel empowered going out into the world has only continued to grow. At Texas, she majored in youth and community studies with a concentration in special populations, and she minored in psychology. She then went on to get her masters in applied behavior analysis.
Now, Westerlund works at Proud Moments ABA where she helps provide children with ASD with behavioral tools. In the future, she hopes to realize a dream of opening inclusive playgrounds for children with gross motor issues.
"They're obviously a different scale of issues, but I think people can look at disabilities or mental health diagnoses as weaknesses," she said. "But, the kids I work with have so many strengths, and there's nothing wrong with doing things differently to face on the world. I hope I can just keep spreading awareness that no matter how you are able to get through the day, that that's okay.