Gameday Graphic for Game on 10/19/2008


The Redskins host the Cleveland Browns on Sunday, Oct. 19 at FedExField. Kickoff is 4:15 p.m. ET.
The game is presented by the Loudoun Convention and Visitors Association.
FedExField is a natural grass surface. The stadium seats 91,704.
It's the first of four AFC North games that the Redskins will play this season. Last year, the Redskins were 2-2 against the AFC East.
The Redskins are 2-1 at FedExField this season, having defeated the New Orleans Saints and the Arizona Cardinals at home in Weeks 2 and 3 and lost to the St. Louis Rams in Week 6.
Washington enters Week 7 following a 19-17 loss to the previously winless Rams.
Cleveland defeated the New York Giants 35-14 on Monday Night Football.
The game will be televised on CBS. Ian Eagle handles the play-by-play, with Solomon Wilcots adding color analysis.
On radio, the game will be broadcast locally on ESPN 980. Larry Michael handles the play-by-play with color commentary by Hall of Famers Sonny Jurgensen and Sam Huff. Rick "Doc" Walker serves as sideline reporter.
](http://www.visitloudoun.org)


---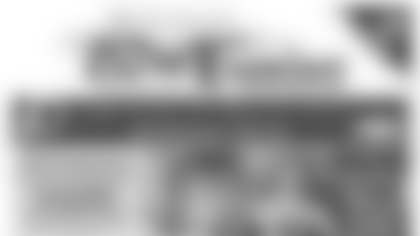 ---
PROJECTED STARTING LINEUPS
OFFENSE
Pos.
Redskins
Browns
WR
89 Santana Moss
18 Donte Stallworth
LT
60 Chris Samuels
73 Joe Thomas
LG
66 Pete Kendall
65 Eric Steinbach
C
61 Casey Rabach
66 Hank Fraley
RG
77 Randy Thomas
70 Rex Hadnot
RT
76 Jon Jansen
77 Kevin Shaffer
TE
47 Chris Cooley
80 Kellen Winslow, Jr.
WR
82 Antwaan Randle El
17 Braylon Edwards
QB
17 Jason Campbell
3 Derek Anderson
FB
45 Mike Sellers
47 Lawrence Vickers
RB
26 Clinton Portis
31 Jamal Lewis
DEFENSE
Pos.
Redskins
Browns
DE
99 Andre Carter
99 Corey Williams
DT
96 Cornelius Griffin
92 Shaun Rogers
DT
64 Kedric Golston
91 Shaun Smith
DE/LB
92 Demetric Evans
55 Willie McGinest
LB
53 Marcus Washington
54 Andre Davis
LB
59 London Fletcher
52 D'Qwell Jackson
LB
52 Rocky McIntosh
95 Kamerion Wimbley
LCB
24 Shawn Springs
24 Eric Wright
RCB
22 Carlos Rogers
22 Brandon McDonald
SS
48 Chris Horton
20 Mike Adams
FS
30 LaRon Landry
21 Brodney Pool
SPECIAL TEAMS
Pos.
Redskins
Browns
P
1 Ryan Plackemeier
15 Dave Zastudil
K
6 Shaun Suisham
4 Phil Dawson
H
1 Ryan Plackemeier
5 Donnie Jones
LS
67 Ethan Albright
15 Dave Zastudil
KOR
31 Rock Cartwright
16 Josh Cribbs
PR
82 A. Randle El
16 Josh Cribbs
---
Sunday's game marks the 44th regular-season meeting between the Redskins and Browns. Cleveland holds the series lead of 33-9-1, including a 16-3-1 mark at Washington.
This will be the first regular season meeting between the clubs at FedExField. The Browns and Steelers are the only teams to have not visited the venue in the regular season.
Sunday's game is only the second overall matchup between the Redskins and Browns since 1991.
The only other matchup in that 16-year span was a 17-13 victory by Cleveland on Oct. 3, 2004.
Turnovers cost the Redskins in that game. Clinton Portis's third-quarter fumble led to the Browns' first touchdown. Late in the fourth quarter, with the offense trying to mount a comeback, Laveranues Coles fumbled after a catch, ending the Redskins' final drive--and last chance at victory.
The Redskins and Browns have only met seven times since 1970, making them each other's least common opponent (excluding Houston, Jacksonville and Carolina) since the merger.
---
REDSKINS 2008 RANKINGS
Offense
Rank
Yards/Game
Total Offense
7
354.0
Rushing Offense
3
152.3
Passing Offense
17
201.7

Defense
Rank
Yards/Game
Total Defense
8
285.8
Rushing Defense
7
83.8
Passing Defense
13
202.0
BROWNS 2008 RANKINGS
Offense
Rank
Yards/Game
Total Offense
28
259.4
Rushing Offense
23
98.4
Passing Offense
26
161.0

Defense
Rank
Yards/Game
Total Defense
17
325.0
Rushing Defense
25
137.0
Passing Defense
11
188.0
---
FAMILIAR FACES ON THE BROWNS
Linebackers coach Mike Haluchak served in the same capacity with the Redskins from 1994-96.
Offensive lineman Lennie Friedman played for the Redskins from 2003-05. Friedman is currently on the Browns' injured reserve list.
---
REDSKINS-BROWNS NEWS & NOTES
-- Zorn's First Season As Head Coach
Jim Zorn is 4-2 in his first six games as head coach. He is aiming to lead the Redskins to their third winning season in the last four years.
Zorn is looking to become the seventh Redskins head coach to record a winning record in his first year at the helm.
The list of first-year head coaches with winning records includes Ray Flaherty (7-5 in 1936), Dutch Bergman (6-3-1 in 1943), Dudley DeGroot (6-3-1 in 1944), Dick Todd (5-4 in 1951), Vince Lombardi (7-5-2 in 1969) and George Allen (9-4-1 in 1971).
Seven first-year head coaches finished their rookie campaign with a .500 mark, while 12 finished with a losing record.
Clinton Portis leads the NFL with 136 carries and 643 rushingyards, while his six rushing touchdowns are second in the league.
Portis has accounted for 35 first downs on the ground this season, which also leads the NFL, as do his 14 in the fourth quarter of games this season.
With 145-yard and 129-yard performances against the Eagles and Rams the last two weks, Portis has two of the top 11 single-game rushing totals in the NFL this year.
Center Hank Fraley grew up in Gaithersburg, Md., and attended Gaithersburg High School. He helped Gaithersburg High School reached the Maryland state championship game in 1995.
Wide receiver Josh Cribbs grew up in Washington, D.C., and attended Dunbar High School. Playing quarterback, Cribbs led Dunbar to the DCIAA West Division title and the city championship with a 9-3 record.
The Redskins have elected six players as captains for the 2008 season. They wear a black "C" on their jersey during games.
On offense, Jason Campbell amd Chris Samuels are the captains.
On defense, Cornelius Griffin and London Fletcher are the captains.
On special teams, Rock Cartwright and Khary Campbell are the captains.
FedExField is the largest stadium in the NFL with 91,704 seats. It is more than 11,000 seats ahead of the second biggest stadium, Giants Stadium.
The Redskins set a single-game attendance record--90,910--in the Dec. 30, 2007 game against the Dallas Cowboys.
The Redskins travel to Detroit to take on the Lions at Ford Field. Kickoff is 1 p.m. ET.
It's the Redskins first visit to Detroit since the 2004 season, when they defeated the Lions 17-10.