Gameday Graphic for Game on 11/3/2008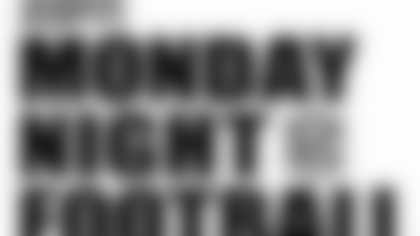 The Redskins open the second half of the season at FedExField against the Pittsburgh Steelers on Monday Night Football. Kickoff is 8:30 p.m. ET.
FedExField is a natural grass surface. The stadium seats 91,704.
The matchup features teams with the third-best (Washington) and fifth-best (Pittsburgh) records in the NFL.
Washington enters Week 9 on a two-game winning streak and winners of six of their last seven games. They are coming off a 25-17 win over the Detroit Lions at Ford Field.
Pittsburgh dropped to 5-2 after falling to the New York Giants 21-14 at Heinz Field last Sunday.
Both of the Steelers' losses this season are to NFC East teams. They lost to the Philadelphia Eagles 15-6 in Week 3.
The Redskins are 3-1 at FedExField so far this season and 1-0 against the AFC.
The game will be televised nationally on ESPN and locally on WDCA 20.
Mike Tirico handles the play-by-play with Ron Jaworski and Tony Kornheiser providing color commentary. Michele Tafoya and Suzy Kolber serve as sideline reporter for the broadcast.
On radio, the game will be broadcast locally on ESPN 980. Larry Michael handles the play-by-play with color commentary by Hall of Famers Sonny Jurgensen and Sam Huff. Rick "Doc" Walker serves as sideline reporter.
The game will also be broadcast on Westwood One Radio, with Wayne Larivee doing the play-by-play and Boomer Esiaison adding commentary.
---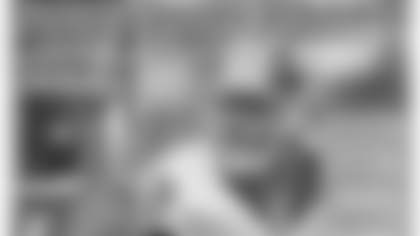 ---
PROJECTED STARTING LINEUPS
OFFENSE
Pos.
Redskins
Steelers
WR
89 Santana Moss
86 Hines Ward
LT
60 Chris Samuels
77 Marvel Smith
LG
66 Pete Kendall
68 Chris Kemoeatu
C
61 Casey Rabach
62 Justin Hartwig
RG
77 Randy Thomas
72 Darnell Stapleton
RT
76 Jon Jansen
74 Willie Colon
TE
47 Chris Cooley
83 Heath Miller
WR
82 Antwaan Randle El
10 Santonio Holmes
QB
17 Jason Campbell
7 B. Roethlisberger
FB
45 Mike Sellers
34 Carey Davis
RB
26 Clinton Portis
39 Willie Parker
DEFENSE
Pos.
Redskins
Steelers
DE
99 Andre Carter
91 Aaron Smith
DT
96 Cornelius Griffin
98 Casey Hampton
DT
64 Kedric Golston
99 Brett Keisel
DE/LB
92 Demetric Evans
56 LaMarr Woodley
LB
53 Marcus Washington
51 James Farrior
LB
59 London Fletcher
50 Larry Foote
LB
52 Rocky McIntosh
92 James Harrison
LCB
22 Carlos Rogers
24 Ike Taylor
RCB
27 Fred Smoot
26 DeShea Townsend
SS
48 Chris Horton
43 Troy Polamalu
FS
30 LaRon Landry
25 Ryan Clark
SPECIAL TEAMS
Pos.
Redskins
Steelers
P
1 Ryan Plackemeier
17 Mitch Berger
K
6 Shaun Suisham
3 Jeff Reed
H
1 Ryan Plackemeier
17 Mitch Berger
LS
67 Ethan Albright
60 Greg Warren
KOR
31 Rock Cartwright
21 Mewelde Moore
PR
82 A. Randle El
21 Mewelde Moore
---
The Redskins and Steelers have met a total of 75 times in the regular season, with Washington holding a 42-30-3 edge in the series.
The last time the two clubs met in the regular season was in November 2004, when the Steelers defeated the Redskins 16-7 at Heinz Field in Pittsburgh.
The Steelers used three field goals by Jeff Reed, nifty running by Antwaan Randle El on punt returns and a 100-yard effort by Jerome Bettis to secure the win.
In preseason, the two clubs have met 18 times, with the Redskins holding a 12-5-1 lead.
Washington and Pittsburgh last faced off in the preseason in 2007, with the Steelers pulling out a 12-10 victory at FedExField.
---
REDSKINS 2008 RANKINGS
Offense
Rank
Yards/Game
Total Offense
7
364.2
Rushing Offense
2
155.2
Passing Offense
18
209.0

Defense
Rank
Yards/Game
Total Defense
6
278.1
Rushing Defense
5
82.8
Passing Defense
11
195.4
STEELERS 2008 RANKINGS
Offense
Rank
Yards/Game
Total Offense
25
291.7
Rushing Offense
18
107.3
Passing Offense
24
184.4

Defense
Rank
Yards/Game
Total Defense
1
236.0
Rushing Defense
3
71.6
Passing Defense
1
164.4
---
FAMILIAR FACES ON THE STEELERS
Free safety Ryan Clark played for the Redskins from 2004-05 and established himself as a starting caliber defender with the Redskins.
Defensive backs coach Ray Horton began his NFL coaching career as an assistant defensive backs coach with the Redskins in 1994-96.
Running backs coach Kirby Wilson served in the same capacity with the Redskins in 2000.
---
REDSKINS-STEELERS NEWS & NOTES
-- Redskins On Monday Night Football
Since the inception of Monday Night Football in 1970, the Redskins are 26-29 all-time playing in the nationally televised Monday contests.
The last time the Redskins played on Monday Night Football was in Week 2 of the 2007 season. The Redskins defeated the Philadelphia Eagles 20-12 at Lincoln Financial Field.
The last time the Redskins played a home game on Monday Night Football was the 2006 regular season opener at FedExField. The Redskins lost to the Minnesota Vikings by a 19-16 score.
The Redskins and Steelers have played just once before on Monday Night Football. On Nov. 5, 1973, the Steelers won 21-16 at Three Rivers Stadium in Pittsburgh.
The Steelers own a 36-22 all-time record on Monday night games. They are 13-17 all-time on the road on Monday night, however.
In Week 4 this season, Pittsburgh defeated the Baltimore Ravens 23-20 in overtime on Monday Night Football at Heinz Field.
The Steelers have won 13 of their past 17 games against the NFC (including Super Bowl XL against the Seahawks). They had won eight consecutive games against the NFL prior to their 21-14 loss to the New York Giants on Oct. 26.
Antwaan Randle El, who played for the Steelers from 2002-05, faces off against his former team for the first time in the regular season.
Randle El was a second-round draft choice by the Steelers in 2002. He has plenty of great memories in Pittsburgh.
In four seasons in Pittsburgh, Randle El developed his skills as a wide receiver and was a key component in the Steelers' run to Super Bowl XL in 2005.
Randle El's Steelers beat Seattle that year by a score of 21-10. Jim Zorn was a quarterbacks coach on the team and Shaun Alexander was the Seahawks' running back.
Randle El's most memorable play? On a wide receiver option, he threw a 43-yard touchdown pass to Hines Ward to provide the final points ofn Super Bowl XL. He became the first wide receiver to throw a TD pass in a Super Bowl game.
Randle El, who signed with the Redskins as a free agent two months after Pittsburgh won the Super Bowl, said the '05 Steelers were a confident group, mostly because they knew they could compete with any team in the AFC that year.
"We had played Cincinnati twice already and we knew we could beat them [in the Wild Card round]," he said. "We played Indianapolis and we knew we could stay with them [in the Divisional Playoff round].
"And then there was Denver [in the AFC Championship game]--that was the only team we weren't sure about. But we had a game plan going against Denver like never before--on offense and on defense. It certainly worked out on the field."
-- Zorn's First Season As Head Coach
Jim Zorn is 6-2 in his first eight games as head coach. He is aiming to lead the Redskins to their third winning season in the last four years.
Zorn is looking to become the seventh Redskins head coach to record a winning record in his first year at the helm.
The list of first-year head coaches with winning records includes Ray Flaherty (7-5 in 1936), Dutch Bergman (6-3-1 in 1943), Dudley DeGroot (6-3-1 in 1944), Dick Todd (5-4 in 1951), Vince Lombardi (7-5-2 in 1969) and George Allen (9-4-1 in 1971).
Seven first-year head coaches finished their rookie campaign with a .500 mark, while 12 finished with a losing record.
Pittsburgh Steelers head coach Mike Tomlin began his coaching career in 1995 at Virginia Military Institute in Lexington, Va. He entered the NFL as a defensive backs coach with the Tampa Bay Buccaneers in 2001.
Tomlin was defensive coordinator of the Minnesota Vikings in 2006 and he coached current Redskin Fred Smoot.
As a player, Tomlin was a three-year starter at William & Mary froom 1990-94 and he finished his career with 100 receptions for 2,046 yards and a school-record 20 TD catches.
Tomlin was born in Hampton, Va. He attended Denbigh High School in Newport News, Va.
Washington has been equally efficient on the offensive and defensive sides of the ball this season.
The Redskins are ranked seventh in the league on offense and sixth in the league on defense. They are one of four NFL teams to rank in the top 10 in total offense and defense. All four teams are members of the NFC East.
The Redskins and Giants are the only two teams in the NFC to place in the top five in both offense and defense, while the Redskins net yards per game differential of 86.2 is second in the league behind only the Giants.
The Redskins' defense has held its last four opponents to less than 275 total yards of offense.
The last time Clinton Portis played the Pittsburgh Steelers, it was a tough day for the running back.
On Nov. 28, 2004, Portis posted six carries for just 17 yards against the Steelers and was visibly upset on the bench midway through the game.
Portis is off to a special season this year. He leads the NFL with 944 rushing yards on 187 carries. His seven rushing TDs are second in the league and first in the NFC.
Portis's 48 first downs on the ground and 52 overall also lead the NFL.
Portis was named NFC Offensive Player of the Month for October.
-- Leftwich Returns to D.C.
As a youth growing up in Washington, D.C., in the mid-1980s, Steelers backup quarterback Byron Leftwich would often sneak into RFK Stadium with his older brother Kevin to watch their beloved Redskins on game day.
Leftwich went on to be a first-round draft pick of the Jaguars, and has since played for the Falcons and Steelers. He has put his childhood rooting interests behind him, but he keeps plenty of ties to the Washington, D.C., area. He attended H.D. Woodson High School in the city.
Who was his favorite player growing up?
"Whoever played good that week," he said in a 2006 interview. "Sometimes it was Mark Rypien. Sometimes it was Darrell Green. Sometimes it was Earnest Byner. Sometimes it was Doug Williams. It was everybody, man."
The Redskins have elected six players as captains for the 2008 season. They wear a black "C" on their jersey during games.
On offense, Jason Campbell amd Chris Samuels are the captains.
On defense, Cornelius Griffin and London Fletcher are the captains.
On special teams, Rock Cartwright and Khary Campbell are the captains.
FedExField is the largest stadium in the NFL with 91,704 seats. It is more than 11,000 seats ahead of the second biggest stadium, Giants Stadium.
The Redskins set a single-game attendance record--90,910--in the Dec. 30, 2007 game against the Dallas Cowboys.
The Redskins have a bye on Nov. 9, and then host the Dallas Cowboys on Sunday Night Football on Nov. 16. Kickoff is 8:15 p.m. ET.
The Redskins defeated the Cowboys 26-24 in Week 4 at Texas Stadium.