FedExField | Washington Commanders - Commanders.com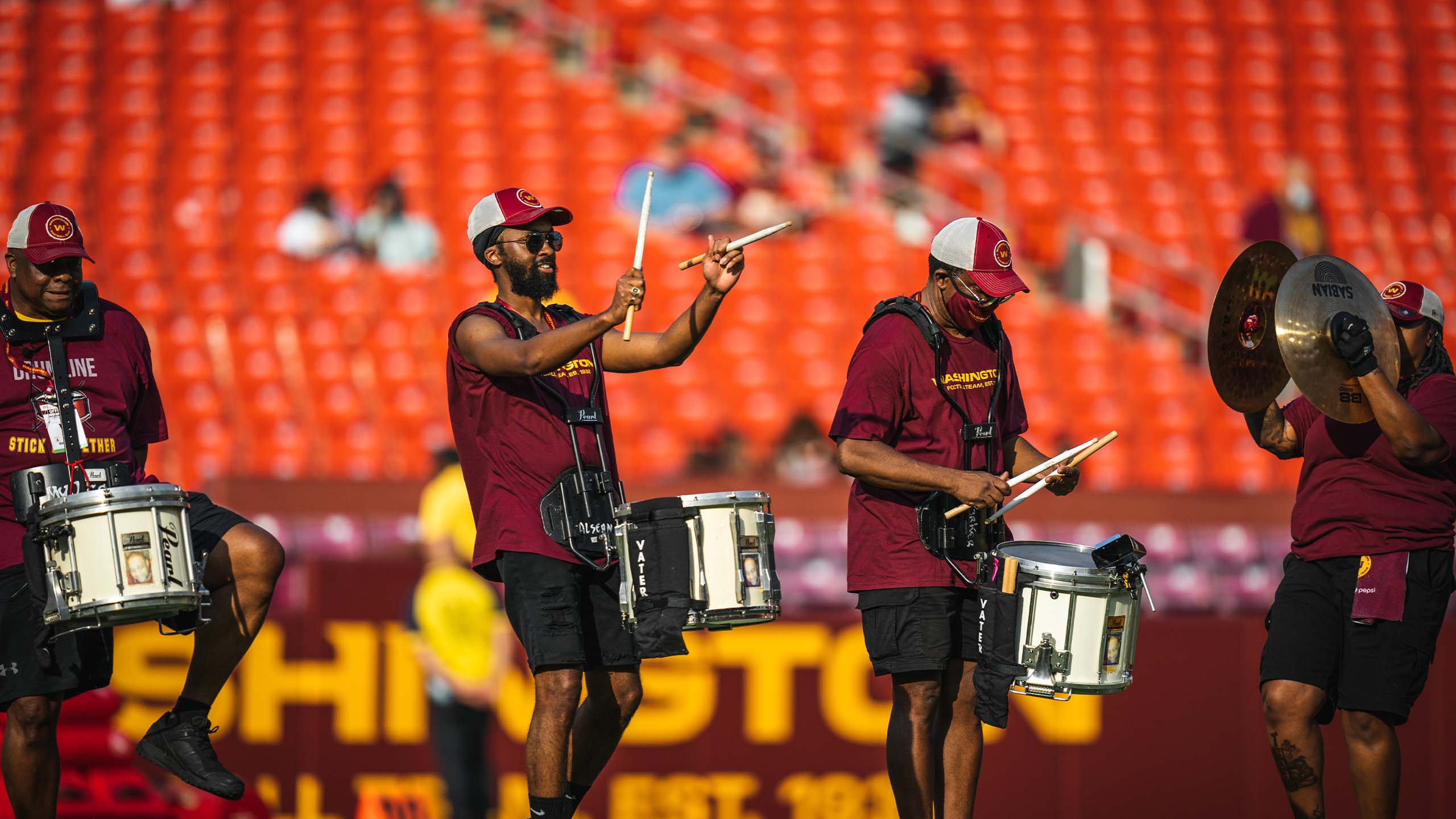 We will be accepting auditions for the following instruments:
Flute, Clarinet, Alto Saxophone, Tenor Saxophone, Trumpet, Mellophone, Baritone, Trombone, Tuba, Percussion (snare, tenor, bass, cymbal)
Frequently Asked Questions
Who comprises the Commanders Marching Band?

The Commander's Marching Band is made of 60 members who play various woodwind, brass, and percussion instruments.
---
What style of music does the Commanders Marching Band play?

The band will play traditional marching band fare as well as arranged popular music. The band will also play the team's updated fight song.
---
Where should I expect to see the Commanders Marching Band play?

The band will primarily play at Commanders at FedExField during home games and be featured pre-game, half-time and during game breaks. The band will also perform throughout the year at team events including, but not limited to, training camp, draft activities, and the team's welcome home luncheon.

At home games the band will perform in the stands and on the field
---
What are the minimum qualifications to audition?

Self-own or rent musical instrument, ability to stand for long periods of time (accommodation will be made for members with physical disabilities), must be 18 years of age or older. Reliable transportation to make rehearsals and performances. Must be a U.S. citizen or authorized to be employed in the United States

                          i.    Woodwind / Brass Instruments:


All woodwind and brass applicants must have their own instrument (except for tubas)

Ability to perform in all key and time signatures

                  ii.    Percussion Instruments:


Percussionists are expected to do a mix of traditional drumline, R&B, Go-Go, and other Pop styles with a bit of original choreography.
---
Are Commanders Marching Band members paid?

Yes, band members are paid for both rehearsals and performance days. Band members are considered part-time employees of the Washington Commanders.
---
Can I request the Commanders Marching Band for my upcoming event?

Yes, please contact marchingband@commanders.com
---
When are rehearsals and performances?

There will be a weekly night rehearsal at FedExField (Landover, MD) and/or Marching rehearsal at Commanders Park (Ashburn, VA) starting mid-June through early January.

Additional field rehearsals will be scheduled as needed during the season and performance weeks.

Performances will be at all Commanders homes games at FedExField.
---
Will uniforms be provided?

Yes, all uniforms will be provided for all performances.
---
What other benefits do band members receive?

Selected band members will be eligible to request up to two tickets per each season home game for friends and family.

Meals, beverages, and snacks are provided for the band on performance days.
---
What do I need to prepare for the audition video?

Brief introduction of yourself

2-minute prepared musical piece of your choosing

Required audition selection music

Perform scales 2-Octave F major and B-flat major
---
Didn't see an answer to your question?
---