Washington Football Team defensive end Chase Young was nominated for NFL Rookie of the Week presented by PepsiZero Sugar. Vote for Young, HERE.
Chase Young exploded off the line of scrimmage, blew past 38-year-old left tackle Jason Peters, who's only contact with Young was a last-ditch shove in the back, and engulfed Eagles quarterback Carson Wentz as he attempted to make a throw. The whole sequence took about 2.5 seconds, and it would have been faster if Wentz had not stepped up in the pocket.
The crushing hit resulted in a wobbly, hanging floater that linebacker Kevin Pierre-Louis settled under for an interception late in the third quarter Sunday. Trailing, 17-14, it appeared that the Washington Football Team was set up to take its first lead of the game.
The play was quickly negated -- fellow defensive lineman Matt Ioannidis jumped offsides -- but it served as a fitting example of Young's dominance in his NFL debut. Young racked up 1.5 sacks and forced a fumble while adding four total tackles while playing 78% of the snaps -- the most of any Washington defensive lineman. His overall presence was even greater as Washington overcame a 17-point deficit to secure a 27-17 victory.
"As advertised," Ryan Kerrigan said of Young after the game. "The guy has been talked about for a lot of the right reasons. He works hard and makes plays, so I wasn't surprised today."
No Washington player received as much hype this offseason as Young, who racked up 16.5 sacks last season at Ohio State. He was seen as the best player in the class and one of the best defensive prospects in recent memory.
Young's first impression was actually a miscue. With the Eagles facing a 3rd-and-5 on their opening drive, the overeager rookie jumped offsides, giving the opponent a first down in the red zone. (The Eagles scored a touchdown two plays later.) Young said he "wasn't really tripping over" the mistake thanks to the encouragement of his coaches and teammates, namely defensive line coach Sam Mills. "Next-play mentality," Mills reminded Young.
Young responded with a strip sack -- something he did a ton of while wreaking havoc at Ohio State. On 3rd-and-5 from the Washington 17-yard line, Young burst upfield, spun off a block by the running back and slipped past an offensive lineman before jumping towards Wentz. Wentz ducked to avoid the initial sack, but Young stayed with the play from the ground, grabbed hold of Wentz's right leg and popped the ball out with his right hard.
The Eagles recovered and eventually converted a field goal, but Young's speed, power and awareness were on full display. His teammates and coaches had seen this explosive skillset every day in practice, and now it was time for an opponent to experience trying to contain No. 99.
"He's got a very, very uncommon combination of speed and strength and quickness that is difficult for any offensive lineman to deal with," Washington center Chase Roullier said Thursday. "In my few reps that I've had to go against him, it's been difficult to have to combat the bull rush with his strength and how quick he is being able to take an edge. And that's something that I think he's going to move forward in his career with and really wreak some havoc in this league."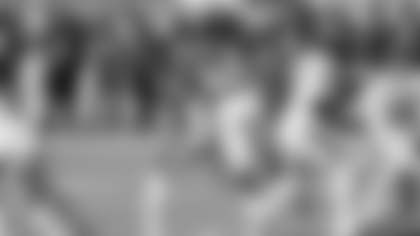 Young showcased his run-stopping prowess on the next drive, splitting a double team from Peters and Pro Bowl tight end Zach Ertz to bring down Corey Clement for a two-yard gain. Two plays later, Young quickly identified a screen and chased down Boston Scott to force an Eagles punt.
Perhaps his biggest play, though, came with Washington trying to close out a season-opening win late in the fourth quarter. Peters handled Young initially, but when Wentz stepped up in the pocket, Young used a vicious rip to set himself free. He and Daron Payne got there just as Wentz prepared to throw to force the fumble, and Kerrigan scooped up the ball to seal the victory.
"There's the best ever to do it over there with Ryan Kerrigan on my other side," Young said after the game. "I feel like when you have depth like we do, I feel like you definitely wear people down."
While Young finished with four quarterback pressures, four tackles and 1.5 sacks, the box score did not fully encapsulate his Week 1 excellence. Pro Football Focus named Young as its Rookie of the Week, both for his overall grade of 86.5 (highest among rookies) and his pass-rush grade of 81.4 (fifth at his position). His pass rush grade also ranked third among rookie edge defenders in Week 1 since 2006.
These accolades likely won't mean too much to Young, who tries to "block out the noise, the good and bad." Sure, it felt good to finally take the field following months of excitement and anticipation. But Young knows there's plenty of work to be done.
"I know it feels good, but I feel like our whole defense knows that we can be better," Young said. "I know, personally for myself, I made a lot of mistakes out there and I can be better. That's really where my head's at right now."